October 14, 2016
0

found this helpful
Please see your doctor immediately for your bug problem-bring a copy of your question here for your doctor to read. Your doctor will examine you and can recommend a referral to a specialist, if needed, or the county health department to identify and provide a plan to eradicate the bugs.
October 21, 2016
1

found this helpful
Me too for 3 years. Mean people say delusional. We know better. I spary my sheets and clothes with hair spray when I feel crawling, then use a heat gun. I turn on hair blow dryer in bed when I first lie down until I feel comfortable. Most recently after unimaginable attempts I cautiously tried a flea dip product called Paramite that I purchased on- line. I soaked paper towels and placed them in corners around kitchen floor. Then started soaking my clothes in diluted solution and wash/rinse several times. People will say dangerous/crazy. I say desperate. Don't give up. I have been suicidal over this problem. You are not alone.
October 24, 2016
1

found this helpful
Hi! yeah my husband & kids think I'm obsessed, finally someone has something 2. I 2 have cried,& thought of signing myself into the
Mental illness line @ the Hospital , We have a 3 plex my son thought he saw Carpet Beetle Larva under a chair that was left there. They came & sprayed they said they were goNE they have gone,then I started 2 notice tiny black bugs all most like lint with a bug. In it!!!! I had surgery around the same time & I felt gritty in between my fingers,toes and my head was itchy, and then I felt bites The spray company left sticky tabs came & got them, the guy took them back 2 his boss & he said it was something Bacterial!!!????? I went 2 the Doctor & during all this I got Pheumonia, he said the amount of antibiotics they gave would have taken it away if that was in fact what I had. I can feel them hover around my ankles & on me. I 2 spray my bed down but with Lysol kleenex my sheets twice a week, I have a shower. I use antibacterial soap Tetree shampoo,Tetree Conditioner and fells good for a while.
My laundry gets washed in borax 20 Mule.but still comes back with these biting bugs or insects that are almost invisible 2 the eye I also spray my couch & chair with lysol, but that only lasts for a while I spray & vacuum as well every or every other day but again it comes back. They bug guys say when my laundry was downstairs there must have been stored old food or cat & dog food where they must have got in my laundry it was down there in bags 4 almost a month till I could do my laundry again. Come 2 find out my father in law 92yrs young had cat food in an old fridge, how long who knows!!!! & the old rug down their got soaked 2 times when pipes froze in winter that & his Apartment that is the basement.They are coming back 4 a final spray in 3 weeks!!! That better B it. I have even called the public Health Board & the told me 2 collect samples so I did 2-day I will take them I will let U Know what happensBut 2-day some one told me 2 spray the original yellow ListerineHey I will try anything to get my house back!!! The war is on, & I will win
October 24, 2016
1

found this helpful
Wow I thought I was gonna put myself in the Mental Illness ward First wash your sheets,cases,comforter and go & buy Allergy pillow cases & matress,box's print cases if the Bed Bug ones are same price buy them thy also keep the bacteria & everything out I don't have b-bugs veer have but better safe than sorry.Then put each ones on & spray with 3 quarters Lysol Power&Fresh 1q warm water leave it on everything 2 dry I have not had a problem since!!!! I wish we could talk on FOOK OR MESSENGER I COULD TELL U a lot more answer back????
May 26, 2017
1

found this helpful
Please it's better to go to a doctor first. A friend of mine has dreflocks and he used dawn dishwashing liquid in his hair the died down the tub drain take pictures with you to doctors.
July 26, 2017
1

found this helpful
ok, not sure if this is you but I had fleas for 2-3 months had sprays done nothing, tried it all, little black specks jump on my legs itching, bites etc for months. no one could see any mites.I went to a dermatologist a week ago. she did not see any mites on face or hair said I had skin dysesthesia brought on by stress prob getting rid of fleas or a stressful situation. I've lost a lot of weight. It's where there may be a lesion in you nerves causing abnormal sensations like crawling biting burning pin pricks on the skin. it's hard to believe when we have thought bugs for so long. she sd the nerves can be right under the skin.I scratched myself silly.I went thru it all for months so had a hard time believing it.
she gave me some gabapentin 100 mg sd take 3-3 times/a day. I thought that it was a lot.It's a sedative. they use for shingles.I also got some triamcinolone acetonide cream (a steroid cream) for itching.It's a sedative. no bugs here. it is day 6 and things r so much better. still feel skin sensations on legs but know it's not bugs.so not 100% but sooooo much better. I can be somewhat normal. I hv to keep tell myself they aren't bugs, so don't hv to wash constantly. Give it a chance. it won't happen immediately but what a change. Please read about it. if u r the only one who has it, it prob isn't mites.
September 7, 2017
1

found this helpful
I get it. I have read much of what is currently happening in my home. I clean w a magnifying glass, use Borax Soap but am getting straight Borax soon. We have bombed (sp?) yet they persist. Thought about hairspray too but these things seem to first degenerate but then come back as if 99% Isopropyl Alcohol made them stronger! I watch it all under a microscope & cant believe what I see.
Please don't despair. Do not give up. You aren't crazy & neither am I. Trust your instincts, educate yourself & be solution oriented.
I've read quite a bit of things that supposedly work but cost a whole lot of money. One thing that SEEMS to be working is Micellar water. I hate to say the brand I am using & am not sure if it matters as there are others. Only recently have I had skin problems & am so embarrassed I don't want to be seen. The water seems to be helping though & I will order something to battle scarring that I know works. This all happened after a motorcycle accident & I had some fairly deep facial wounds. Prior to that, just trying to chase black dots out of my home & life.
This is what I do know. They adapt. One day they can't tolerate something, next day? Doesn't phase them. There are all shapes & sizes at times. It could look like a toast crumb, be any color under a microscope but appear black to the naked eye. Water has no affect. They like cool & damp, do not seem to like HOT, HOT WATER, Ammonia, Bleach, or Anti-bacterial cleaner but none of these kill them.
I have exposed them from a piece of lint. They turned into a difficult to see but undeniable clear blob & attempted to sneak off. This is all very slow.
They play dead. A LOT. However under the microscope there is much activity within what I call the blobs or organisms. At one time, they were cannibalistic & there seemed to be some fights. (I cannot believe what I am writing so do not blame you if you have not witnessed)
ANYWAY, good luck. Good faith & don't give up. I know I'm stronger than that, so are you.
We all know about Boric Acid & roaches but I'm almost afraid to try this. Their reaction to everything is atypical, resilient & scarily enduring.
My boyfriend can't handle any of this. 6'5", far too macho to show it but he can't handle this. It scares the hooey out of him & so he has taken to not coming home. In a way, I can't blame him. In a way, I very much blame him. Long story.
September 24, 2017
0

found this helpful
Going on 5 years I have these black spots every where and on my little dogs My sinus are impacted I went from very beautiful to very sick looking unhealthy tired of this life I have lost all my children and husband over these things If you use one thing that seems to work then they adapt to it I'm tired of the fight they won
September 25, 2017
0

found this helpful
If you bomb or spray that will only unleash the fury if you use medicine on your body they will adapt and you'll have to keep changing this at least three different kinds The doctor will only trying to avoid you they will not help
October 19, 2017
0

found this helpful
That is very true ,tea tree oil used to work for a while then it seems as like had no affect ,I heard mouth wash helps so I tryed it and it worked for about a week,I have now been rubbing a tiny bit of Colgate with a drop or two of water after a shower and it's working,not sure if it's something in the toothpaste or if it's the sticky part that limits their ability to move around ,my bites are.mostly on my face,also sometimes glitter particles, and when it's a bad outbreak I can see red blue and white fibers ,I know it sounds crazy ,but it's usually only one color on one outbreak and another color when ever inexperience another bad out break.And I HAVE LEARNED THE MORE YOU MESS WITH THEM,LIKE TRYING TO PLUCK IT OUT THE MORE INTENSE THEY WILL START TO MOVE AROUND ,I heard thousands of people have it,I'm just hoping someone finds a cure ,because I could feel my health slowly getting bad,working out and eating healthy does work but doesn't get rid of them it just minimises the bad outbreaks and the itching,I have been itching for 2 years it's hard because you don't want to make it obvious in public or on business meetings,if anyone has any tips or remedies please let me know,You just have to stay positive and don't let the circumstances convince you that you are crazy, something bad is spreading and I believe it's man made.
October 26, 2017
0

found this helpful
Honey you have just decribed my life almost too a T.I have been battling these bigs for a year n ahalf.I ha e neen told by emergency department at the hospital that theres nothing there n my local pfff he wants to send me to a mental hosptial.Im at my wits end n feel so so alone Iin my war against these bugs bit u hve gave me a glimpse of hope.Thanx
November 6, 2017
0

found this helpful
I have the same thing going on its driving me insane I went to diffrent docs and even they think im crazy or on drugs its traumatizing me and my family what did you do its like a nest in my hair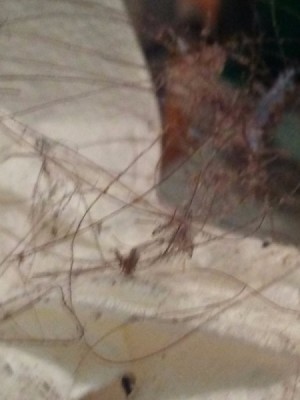 October 14, 2016
0

found this helpful
I am with DCA: I don't see any bugs in that photo. Perhaps if it were focused better, we might. But they are different sizes and colors.
Please see a doctor. The only bugs that a almost naked to the eye are called "No SeeUms" and they are indigenous to Alaska.
I hope these suggestions help.
Sandi/PBP
November 6, 2017
0

found this helpful
Ty but there is somthing there the lady that said its lint looking bug and glittery and feels them around her ankles when i scratch they pop i hear them sometimes they look like a aligator head i no i sound crazy but i have more pictures if you dnt mind no one believes me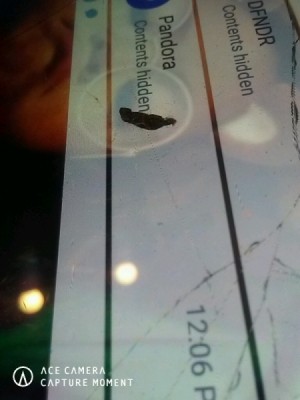 November 11, 2017
0

found this helpful
I have read that demodex mites look like tiny aligators. Maybe that will help?
October 25, 2016
0

found this helpful
Last night, after a hell day of spraying Lysol everywhere, it gets very expensive, I tried the Listerine in front of couch, on the floor & on my couch.swept my vynal kitchen floor 3 times a day is the norm. BECAUSE I HAVE CATS & SOMETIMES THE CAT LITTER WILL GET OUT LOF THEIR TRAY!!! But that's not the only things that get picked up,Strange white & black stuff 2. Every day my sink has to be cleaned several times a day with antibacterial soap. THE COUNTER TOP IS OLD & I think it is starting 2 rauwt I'not sure but I feel what ever this is in the cupboards, around my feet & ankles, same in bathroom counter top is new but cupboard is old. House is shout 80 yrs. Old Got my bed under control now Thank God, my 2 bedroom carpets are really old. We have 8 grandchildren so things have been spilt & cleaned but some I have never been aware of. I don't know. If they have been cleaned, I'm sure that could cause some bacterial stuff????My living room carpet is even older, in a couple of spots the carpet is so flat & black with dirt that I try to clean 4or5 times a day 2 no avail and scrb so hard my rota cuff surgery is in 2 days because I have hurt it even worse. Ht ever this is yesterday I felt a pin pick on my eye brow scratch it then put my nail which had something black in it on a white piece of paper. It rubbed of a tiny bit of blood, miniscule and the there was a tiny little triangle 2 a tear. Shaped bug. I know I am not crazy,angry, depressed comfused,in need of relief YES, My laundry is still coming back with tiny almost invisable tny black oval bugs,2 almost a 2 to 3 straight dotted thin,thin line some of these things are looking like glitter WOW I need some answers PLEASE HELP ME LOST IN N. FALLS CANADA
November 9, 2016
0

found this helpful
Annie,
Sorry to hear about your problem with black tiny bugs. I am having a similar problem in Kansas. Are they biting and crawling on you at night? Have you been able to catch any of them? I have placed sticky traps underneath my bed, and bingo one is stuck in there. I am not sure where to take this. I suspect in my case is bird mites. Have you seen an empty nest somewhere around the house? I found an empty nest five to 7 ft from my kitchen door, and I suspect when the birds abandoned the nest, the mites migrated to my apartment. I moved to an apartment two months ago, and I find that my allergies have acted up. My doctor did blood work and confirmed that is a major allergic reaction to mites. Since I don't have any marks just small bites that go away, she doesn't think it is an infestation, but I think it might be. I added filters to my vents, I also clean with hot water and salt. I have used neem oil, and lots of cleaning products. I am currently taking hydroxyzine and cortisone to stop the generalized body itch. I feel them crawling too. I thought I was going crazy and imagining things until I found this black bug. I also find small tiny black dots and white dots on my skin, on my sheets, and on my clothes. I suspect I am their host at the moment, but I am not sure this is possible. I find that warm baths with some neem oil and a bit of alcohol diluted in the water works to alleviate the itching. I have also used tea tree oil diluted with an unscented lotion. I suggest using salt because it is not toxic. I read about something called Diatomaceous Earth ( food grade), which is a silica powder to sprinkle around the house and it kills mites, fleas, and other small insects. Supposedly it is not safe if you breathe it. I read that baking soda can also do the trick by killing exoeskeletons. I spent most of my awake time trying to eradicate this and it is a nightmare. I also noticed that if i don't change the bedding, they start bothering me within 48 hours. I also vacuum, wash, wet dust, and try to keep all clothes enclosed after washing. I wish you lots of luck and keep me posted.
Marcela
November 30, 2016
1

found this helpful
I am also experiencing stings from little tiny black and white bugs. I feel like I am going crazy, unable to sleep with the sting of the bites every night. Have to get up to go to work regardless if I am exhausted or not. I am currently trying to get answers from 2 different exterminating Experts. They are too tiny to be bed bugs or fleas. they do die once smash when they are stinging me. I used a bomb spray but it didn't work either. I am so exhausted, I just want to rest a full night. Feel them crawling on me too. There has to be way to kill these nightmare bugs. I am actually from Texas.
December 25, 2016
0

found this helpful
Have you found out what the tiny black bugs are? I to feel I'm going crazy! They are in my scalp as well as my back and they bite. I have been treatofor head lice but I'm starting to believe this is NOT head lice! No lice reatments have worked including every single home remedy! The last 14 days I spend ALL day every day picking at my head, doing a treatment, throwing out beds and spending unimaginatable amounts of money on treatments, laundry soap, bleach, vinaigrette and other cleaners! You described exactly what I have been going through! Only mine jump!
January 26, 2017
0

found this helpful
I to would like to know!!! I am having the same issue! I thought I was alone in this. My kids think I am crazy. It started when I got a new bed spread. They are tiny and don't move. Black specks and I have bites everywhere.. head, kneel, back ugh!!! Nothing has worked. Washed everything with bleach sprayed, treated my hair with chemicals... I am going nuts
January 27, 2017
0

found this helpful
I feel your pain went through it and coming out of it because they feed off you so where ever you are lying at with no plastic they are in there mattresses and couches. Get some plastic for your couches and chairs I used nothing but raid products so I got some flea fogger and some enforcer for fleas and other bugs. Now my mattress because it wasn't covered at first they pretty much made a home. Then I bought plastic...Now this is what I realized over time was happening. I would go to sleep and some were dying because of the plastic and some were making it to my skin CRAWLING on me. Wasn't dawning on me yet but I would go to work carrying these bugs on me. I would be gone 9 hours 10 take a bath and they in my water mind you yes they are like black specks after the water ran out there were these specks .. I would smear it and it's blood in them sucking on me all day. I was repeating this horror everyday until I put my mattress out. I have had this mattress for 6 years and several people have slept on it. They smell blood too. You to be your own investigater asking when did it start where did start what's different and sometimes other people bring their critters too they are carrying on them. Hope it this helps
Hello, I'm in TX and having same problems. Did you find out what they are? Also did you get rid of them. They follow me everywhere I go. Now I got my house under control by cleaning and threw a lots of thing out including clothes.but my car and I can feel them work at worst. I think they are living on ceiling. I concentrate cleaning around my desk and file cabinets but can't do anything about ceiling so high. I'm exhausted. I'm scared. I'm desperate. By the end of day they are everywhere on my scalp and clothes. I have to go home with fully infested. Please someone tell us how to get rid of them.i don't see no one come back and post their progress....please please please help us.
I have same problem. Tiny little dot bug in my environment clothes everywhere. I vacuum everyday wash everyday soak clothes in ammonia but they come back. I sprayed vinegar and water mix everywhere in my house and felt normal for a few hours. But they came back. They must be in different shape depending on their stage of life. I see in black and also tinny white particle everywhere. I can feel them from my Laptop and iPhone. After started using coal soap and silver shampoo I feel a little relief. I covered my body with calamine lotion and spray DEET before go to bed. I don't itchy get bites during night but feel pinprick bites instead. What worst is atmy work. I can't clean crazy like my house and have very tall ceiling. They are living in the ceiling and fall on me as soon as walk in. I get them all over me by the end of day. Because I cleaned floor so well now they are targeting my hair and scalp. I spray 91% alcohol to my scalp but they keeps coming back. I can see glitter looking particles in my hands and clothes. They are maybe eggs. I thought they are maybe lice but CDC said body lice is easy to eradicate... I'm very clean person and wearing clean clothes everyday. Please someone help me.
January 28, 2017
0

found this helpful
oh my GOD i am going threw the same thing ! they are biting me not my husband and he thinks im nuts....I called 2 exterminators,vacuum every day ...washed clothing in borax....i have been to a dermatologist twice and lastly, the walk in er 7 times! still no answers there has to be someone or somewhere to help !
May 8, 2017
1

found this helpful
We too have had this problem since the latter part of 2016. We thought we had fleas. We had a flea treatment and it just made the situation worse. We have thrown away just about EVERYTHING! Pulled up and thrown away all of the carpeting (hardwood floors under it) area rugs, furniture and clothing. We are living out of storage bags and containers. They get into EVERYTHING including clothes, paper towels, toilet paper, paperwork. It has been so bad I was smoking a full pack or more of cigs a day. They are not bothering my husband as bad, but he is denial that we have some kind of infestation but does a 50/50 job to try and help. They are in my hair and when I put stuff on my hair I feel them crawling down my face, chest and back and they end up in places they don't belong! Doctors think I'm crazy and say they can't help me. Then it dawned on me that every time I smoked a cig something was getting on my little mustache hairs or if I wasn't wearing a hat would bite me on my head which feels like a sting or burning. This happens everytime anyone is smoking.
THERE IS DEFINITELY SOME FLYING OUT OF THE CIGARETTES! They look white on dark colors and black on light colors. We used to smoke Newports but they were bought out by R J Reynolds. I have called them twice. The first lady just took info and sent coupons. The second lady said it was probably a beetle and that they changed their packaging back in Oct '16. There is a cigarette beetle that will get into furniture but I'm not sure that is what it is cause they say they do not bite humans. I think either Aphids, White Flies or Carpet Beetles have gotten into them, but it is definately something! I have my attorney trying to find an independent lab to have them tested. WE NO LONGER SMOKE IN THE HOUSE BUT IT HAPPENS OUTSIDE TOO! Our yard is infested and even though we have removed most of our bushes and sprayed and sprayed it doesn't help cause every time we smoke they fly out. We are using windex on the ashes but some fly off before it is flicked in the ash tray. I'm desperately trying to quit and have tried several other types (Camel, Winston and American Spirit) THEY ARE ALL INFESTED but the American Spirit Menthol bother me the least but after 35+ years of smoking it is VERY HARD to quit. Going to Dr. Appt in 4 days to get the patch. We are using Kleen Green, Original Windex and EcoLogic Flying Insect Killer (Lemongrass Oil) that is safe around pets. We use laundry detergent, borax and bleach on clothes which works sometimes depending on the stage of life these insects are at. Some stages it does not work and then it starts all over again. They have even gotten into some brand new textiles sealed package or not some wash out some don't.
Hello, I'm having same bug and doing same thing like you do but I can't get rid of them. Do you have them in your car or work? My issue is at work they follow me everywhere...
July 15, 2017
0

found this helpful
I have same problem. I feel so isolated. They have begun to ruin my once very social life