October 14, 2016
0

found this helpful
I am with DCA: I don't see any bugs in that photo. Perhaps if it were focused better, we might. But they are different sizes and colors.
Please see a doctor. The only bugs that a almost naked to the eye are called "No SeeUms" and they are indigenous to Alaska.
I hope these suggestions help.
Sandi/PBP
November 6, 2017
0

found this helpful
Ty but there is somthing there the lady that said its lint looking bug and glittery and feels them around her ankles when i scratch they pop i hear them sometimes they look like a aligator head i no i sound crazy but i have more pictures if you dnt mind no one believes me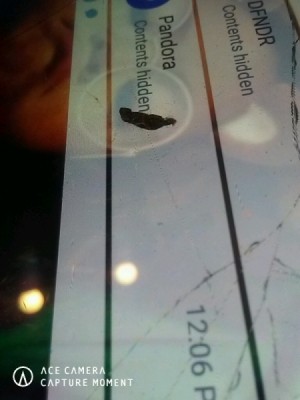 November 11, 2017
0

found this helpful
I have read that demodex mites look like tiny aligators. Maybe that will help?
October 25, 2016
0

found this helpful
Last night, after a hell day of spraying Lysol everywhere, it gets very expensive, I tried the Listerine in front of couch, on the floor & on my couch.swept my vynal kitchen floor 3 times a day is the norm. BECAUSE I HAVE CATS & SOMETIMES THE CAT LITTER WILL GET OUT LOF THEIR TRAY!!! But that's not the only things that get picked up,Strange white & black stuff 2. Every day my sink has to be cleaned several times a day with antibacterial soap. THE COUNTER TOP IS OLD & I think it is starting 2 rauwt I'not sure but I feel what ever this is in the cupboards, around my feet & ankles, same in bathroom counter top is new but cupboard is old. House is shout 80 yrs. Old Got my bed under control now Thank God, my 2 bedroom carpets are really old. We have 8 grandchildren so things have been spilt & cleaned but some I have never been aware of. I don't know. If they have been cleaned, I'm sure that could cause some bacterial stuff????My living room carpet is even older, in a couple of spots the carpet is so flat & black with dirt that I try to clean 4or5 times a day 2 no avail and scrb so hard my rota cuff surgery is in 2 days because I have hurt it even worse. Ht ever this is yesterday I felt a pin pick on my eye brow scratch it then put my nail which had something black in it on a white piece of paper. It rubbed of a tiny bit of blood, miniscule and the there was a tiny little triangle 2 a tear. Shaped bug. I know I am not crazy,angry, depressed comfused,in need of relief YES, My laundry is still coming back with tiny almost invisable tny black oval bugs,2 almost a 2 to 3 straight dotted thin,thin line some of these things are looking like glitter WOW I need some answers PLEASE HELP ME LOST IN N. FALLS CANADA
November 9, 2016
0

found this helpful
Annie,
Sorry to hear about your problem with black tiny bugs. I am having a similar problem in Kansas. Are they biting and crawling on you at night? Have you been able to catch any of them? I have placed sticky traps underneath my bed, and bingo one is stuck in there. I am not sure where to take this. I suspect in my case is bird mites. Have you seen an empty nest somewhere around the house? I found an empty nest five to 7 ft from my kitchen door, and I suspect when the birds abandoned the nest, the mites migrated to my apartment. I moved to an apartment two months ago, and I find that my allergies have acted up. My doctor did blood work and confirmed that is a major allergic reaction to mites. Since I don't have any marks just small bites that go away, she doesn't think it is an infestation, but I think it might be. I added filters to my vents, I also clean with hot water and salt. I have used neem oil, and lots of cleaning products. I am currently taking hydroxyzine and cortisone to stop the generalized body itch. I feel them crawling too. I thought I was going crazy and imagining things until I found this black bug. I also find small tiny black dots and white dots on my skin, on my sheets, and on my clothes. I suspect I am their host at the moment, but I am not sure this is possible. I find that warm baths with some neem oil and a bit of alcohol diluted in the water works to alleviate the itching. I have also used tea tree oil diluted with an unscented lotion. I suggest using salt because it is not toxic. I read about something called Diatomaceous Earth ( food grade), which is a silica powder to sprinkle around the house and it kills mites, fleas, and other small insects. Supposedly it is not safe if you breathe it. I read that baking soda can also do the trick by killing exoeskeletons. I spent most of my awake time trying to eradicate this and it is a nightmare. I also noticed that if i don't change the bedding, they start bothering me within 48 hours. I also vacuum, wash, wet dust, and try to keep all clothes enclosed after washing. I wish you lots of luck and keep me posted.
Marcela
November 30, 2016
1

found this helpful
I am also experiencing stings from little tiny black and white bugs. I feel like I am going crazy, unable to sleep with the sting of the bites every night. Have to get up to go to work regardless if I am exhausted or not. I am currently trying to get answers from 2 different exterminating Experts. They are too tiny to be bed bugs or fleas. they do die once smash when they are stinging me. I used a bomb spray but it didn't work either. I am so exhausted, I just want to rest a full night. Feel them crawling on me too. There has to be way to kill these nightmare bugs. I am actually from Texas.
December 25, 2016
0

found this helpful
Have you found out what the tiny black bugs are? I to feel I'm going crazy! They are in my scalp as well as my back and they bite. I have been treatofor head lice but I'm starting to believe this is NOT head lice! No lice reatments have worked including every single home remedy! The last 14 days I spend ALL day every day picking at my head, doing a treatment, throwing out beds and spending unimaginatable amounts of money on treatments, laundry soap, bleach, vinaigrette and other cleaners! You described exactly what I have been going through! Only mine jump!
January 26, 2017
0

found this helpful
I to would like to know!!! I am having the same issue! I thought I was alone in this. My kids think I am crazy. It started when I got a new bed spread. They are tiny and don't move. Black specks and I have bites everywhere.. head, kneel, back ugh!!! Nothing has worked. Washed everything with bleach sprayed, treated my hair with chemicals... I am going nuts
January 27, 2017
0

found this helpful
I feel your pain went through it and coming out of it because they feed off you so where ever you are lying at with no plastic they are in there mattresses and couches. Get some plastic for your couches and chairs I used nothing but raid products so I got some flea fogger and some enforcer for fleas and other bugs. Now my mattress because it wasn't covered at first they pretty much made a home. Then I bought plastic...Now this is what I realized over time was happening. I would go to sleep and some were dying because of the plastic and some were making it to my skin CRAWLING on me. Wasn't dawning on me yet but I would go to work carrying these bugs on me. I would be gone 9 hours 10 take a bath and they in my water mind you yes they are like black specks after the water ran out there were these specks .. I would smear it and it's blood in them sucking on me all day. I was repeating this horror everyday until I put my mattress out. I have had this mattress for 6 years and several people have slept on it. They smell blood too. You to be your own investigater asking when did it start where did start what's different and sometimes other people bring their critters too they are carrying on them. Hope it this helps
Hello, I'm in TX and having same problems. Did you find out what they are? Also did you get rid of them. They follow me everywhere I go. Now I got my house under control by cleaning and threw a lots of thing out including clothes.but my car and I can feel them work at worst. I think they are living on ceiling. I concentrate cleaning around my desk and file cabinets but can't do anything about ceiling so high. I'm exhausted. I'm scared. I'm desperate. By the end of day they are everywhere on my scalp and clothes. I have to go home with fully infested. Please someone tell us how to get rid of them.i don't see no one come back and post their progress....please please please help us.
I have same problem. Tiny little dot bug in my environment clothes everywhere. I vacuum everyday wash everyday soak clothes in ammonia but they come back. I sprayed vinegar and water mix everywhere in my house and felt normal for a few hours. But they came back. They must be in different shape depending on their stage of life. I see in black and also tinny white particle everywhere. I can feel them from my Laptop and iPhone. After started using coal soap and silver shampoo I feel a little relief. I covered my body with calamine lotion and spray DEET before go to bed. I don't itchy get bites during night but feel pinprick bites instead. What worst is atmy work. I can't clean crazy like my house and have very tall ceiling. They are living in the ceiling and fall on me as soon as walk in. I get them all over me by the end of day. Because I cleaned floor so well now they are targeting my hair and scalp. I spray 91% alcohol to my scalp but they keeps coming back. I can see glitter looking particles in my hands and clothes. They are maybe eggs. I thought they are maybe lice but CDC said body lice is easy to eradicate... I'm very clean person and wearing clean clothes everyday. Please someone help me.
March 25, 2018
0

found this helpful
Go get an electronic lice comb at Wal-Mart. Use Vonage to wash your hair and body t0hen normal bath dry hair and use that comb. I use it on the bed and the lining of your clothes they live there in the seams
I'm planning to put Devon dust on my clothes outside and leave see if they will hop off
I have it bad I had a cyst on my tail these things attacked it
Omg it's like he'll I will lay that lice comb on it I can feel them come out of the sore. That's my worst problem. Iron clothes also.
October 26, 2016
0

found this helpful
Your not crazy. I have them to u cabt see them. But tbey are not there. Little black spects biteing an makein it uncomfortable .there every where hair. Clothes. rugs everywhere .HELP I WANT THEM GONE
July 21, 2017
2

found this helpful
They are mites!!! You have mites!!! They love to crawl into cigarette packs...papers, clothing, cupboards, around windows especially n under sofa n in fabrics on ur animals in ur hair n clothing n just everywhere. You must get Kleen Green, I get the 32oz concentrated as it makes 2 gallons. Spray the Kleen Green around ur windows n thresholds of doors. Under all baseboards n mop floors w 90% alcohol. I use a swiffer n paper towels to mop with. Mix u up a spray botttoe of blue dawn, alcohol (90%) n hot water, I call it Napalm it's homemade insecticide, miticide. Also a bottle of diluted vinegar n water (white) you can clean ur hair w the vinegar solution n I mix my paper towel w my "Napalm" too n rub it all thru my hair n over my body when I get up in the AM n before bed. I do this over top of the washer lid but spray it first w "napalm" to catch n kill n count or verify how many I've got. N wipe them up n put ALL papertowels in gallon ziplocks. Never just throw pp towels in trash. U have mites babe like me. I'm finally beating these things after a YEAR!!!. Contact me if u want more info. I'm at jewelm699@yahoo.com - I'm Jewel. Kleen Green is THE only miticide that works for me so far. After three exterminators n hundreds n hundreds, no, thousands of dollars later. Also, try to close off rooms n contain them to smaller areas. But don't turn off air vents. Keep it cold as u can. I wipe down my sofa n plastic chairs in the AM w Napalm n vinegar solution into floor n have mop
Ready to mop the area. I usually do the kitchen n dining first so there is a "safe zone" for animals n humans too. Be sure u do windows n spray Napalm in tabletops n underneath n baseboards etc... unless u have ur KG. Then use that. Wait a moment n mop up w alcohol. Throw all papertowels in gallon ziplocks. Then move on to living room
N so on. I gather all bedding off of sofa. Chairs in 13 gallon hefty trash bags n have laundry water ready. I spray bedding s Napalm n outside of bag as well n load it up n into washer n sink it down carefully n quickly...keep bag turned down so nothing gets bk up in ur face. Keep feet n bottom of legs wiped. Now clean living room n spray down where bedding was n wipe into floor n mop it all spray ur KG in all baseboards n doorways etc...windows n cracks n crevices. It's great stuff. Email me if u need more info. Jewel. Kleen Green, Vinegar n Napalm. You CANNOT put Kleen Green on animals but u can add to blue dawn n shampoo them w it... make a ring around their neck first then bathe them n rinse. careful of eyes... u can bathe w KG too with eyes.. n it's slippery don't fall down!!! Kleen Green rocks!!!!
January 28, 2017
0

found this helpful
oh my GOD i am going threw the same thing ! they are biting me not my husband and he thinks im nuts....I called 2 exterminators,vacuum every day ...washed clothing in borax....i have been to a dermatologist twice and lastly, the walk in er 7 times! still no answers there has to be someone or somewhere to help !
May 8, 2017
1

found this helpful
We too have had this problem since the latter part of 2016. We thought we had fleas. We had a flea treatment and it just made the situation worse. We have thrown away just about EVERYTHING! Pulled up and thrown away all of the carpeting (hardwood floors under it) area rugs, furniture and clothing. We are living out of storage bags and containers. They get into EVERYTHING including clothes, paper towels, toilet paper, paperwork. It has been so bad I was smoking a full pack or more of cigs a day. They are not bothering my husband as bad, but he is denial that we have some kind of infestation but does a 50/50 job to try and help. They are in my hair and when I put stuff on my hair I feel them crawling down my face, chest and back and they end up in places they don't belong! Doctors think I'm crazy and say they can't help me. Then it dawned on me that every time I smoked a cig something was getting on my little mustache hairs or if I wasn't wearing a hat would bite me on my head which feels like a sting or burning. This happens everytime anyone is smoking.
THERE IS DEFINITELY SOME FLYING OUT OF THE CIGARETTES! They look white on dark colors and black on light colors. We used to smoke Newports but they were bought out by R J Reynolds. I have called them twice. The first lady just took info and sent coupons. The second lady said it was probably a beetle and that they changed their packaging back in Oct '16. There is a cigarette beetle that will get into furniture but I'm not sure that is what it is cause they say they do not bite humans. I think either Aphids, White Flies or Carpet Beetles have gotten into them, but it is definately something! I have my attorney trying to find an independent lab to have them tested. WE NO LONGER SMOKE IN THE HOUSE BUT IT HAPPENS OUTSIDE TOO! Our yard is infested and even though we have removed most of our bushes and sprayed and sprayed it doesn't help cause every time we smoke they fly out. We are using windex on the ashes but some fly off before it is flicked in the ash tray. I'm desperately trying to quit and have tried several other types (Camel, Winston and American Spirit) THEY ARE ALL INFESTED but the American Spirit Menthol bother me the least but after 35+ years of smoking it is VERY HARD to quit. Going to Dr. Appt in 4 days to get the patch. We are using Kleen Green, Original Windex and EcoLogic Flying Insect Killer (Lemongrass Oil) that is safe around pets. We use laundry detergent, borax and bleach on clothes which works sometimes depending on the stage of life these insects are at. Some stages it does not work and then it starts all over again. They have even gotten into some brand new textiles sealed package or not some wash out some don't.
Hello, I'm having same bug and doing same thing like you do but I can't get rid of them. Do you have them in your car or work? My issue is at work they follow me everywhere...
July 15, 2017
0

found this helpful
I have same problem. I feel so isolated. They have begun to ruin my once very social life
September 3, 2017
0

found this helpful
U are NOT CRAZY! These things are for real and I've got them to and believe they came from the care home I work at! If u apply lotion to your skin that seems to kill them Or make them come out of your skin? Not certain which but their on residents at work too! Yes in your clothes bed everywhere! I'm using Klean Green that must be purchased online and does seem to help with itching etc but not gone!! If u find an answer please let me know
November 16, 2017
0

found this helpful
Have you found out what these are? Been battling these for months now. I thought maybe body lice because of issues in clothing and sofas but washing and drying doesn't help. They are in my car too. No matter what I do they are everywhere. I only wear Crocs right now so that I can wash them daily. I keep listereen in my shoes. So far that kills the ones biting my feet. Cedar cider kills them but has started causing me rashes. I spray with vinegar water or 91 proof alcohol for sofas, carpet and beds everyday. I am going to get plastic for sofas and beds tomorrow, I have four gallons of sterifab I am going to soak my car in but I have already used Windex, bed bug spray, steamed with steamer, dusted de and sprayed with salt water and vinegar. Car looks like a warzone. All clothing is bagged that isn't in storage and only have couple outfits, PJs sheets and towels that wash regular. I have added vinegar to rinse cycle, put bleach in even my coloreds and dried for three hours to still have them. Frustrated. Trusting God but frustrated. Any answers from anyone out there?
October 14, 2017
0

found this helpful
These unidentified tiny black bugs have been making my life hell for 3 years now. They're outdoors, indoors, in your car, your appliances, your pets and you. The only relief I get is from cold water. I soak my laundry rinse cycle in icy water. Just freeze little plastic bottles and let them float around with the final rinse but remove them before spin cycle. Also I wear some clothes inside out as the seams are a favorite egg laying spot. Never leave food uncovered. They'll get in it quickly. They're absolutely everywhere and nothing detours them except fire. I did read that Sun brand all color powdered bleach helps fade the unsightly scars their burrowing creates. I need help finding a final solution. Thank you
October 19, 2017
1

found this helpful
Does anyone have white looking hairs follicles and sometimes a few micro glitter looking things
November 16, 2017
0

found this helpful
In my clothing yes, my skin no