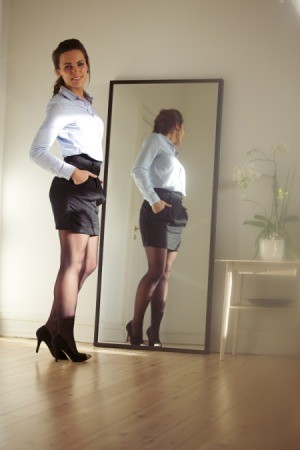 I guess this could be called a 'confidence in myself' tip. Like probably nearly all women, I tend to worry about appearance before I leave the house. I stand in front of the long bathroom mirror and agonize over things like: "Does the color of this shirt look good with the pants", "Are the pants too long?", "Does my hair look a mess?" well, you know the sort of thing! I've been doing this not just once, but several times over.
Now I've decided that this is both time wasting and unproductive and am training myself to go and look once only. The shirt is fine, the pants are fine, my hair is fine. I'm confident enough to face the world and not to worry that others may be looking and making critical remarks (which they are probably not doing at all anyway!)
By Ellie from Melbourne, Australia
Comments

Marty Dick
Bronze Post Medal for All Time! 169 Posts
March 31, 2008
0

found this helpful
Top Comment
Stand in front of that mirror and announce loudly to yourself..."I am a handmade original and there is not another like me anywhere!! I look terrific!"
Read More

Comments

My adult sister dumped all over me telling me what she has thought of me all her life and how I wreck everything for her. All of which is not true. To make a long story short I haven't spoken to her for 3 years and have decided she is narcissistic and don't want her in my life. How do I rebuild my self esteem so I can feel good about myself?
Steven
Answers

suzanne
Silver Post Medal for All Time! 277 Posts
December 17, 2006
0

found this helpful
Best Answer
your sister is the one who has the problem and even though it is hard to remember that. you must. do you treat people how you would like to be treated?do you help others if you can? do you go to work every day and not depend on others to support you?
then you are a good person . is this all that makes a good person , no it's not but these are good qualities to have to name a few. i haven't spoken to my family in a long time but that was there choice not mine. does that make me a bad person. no
i am a good person.i like to help people. i am always there for my friends and family and for others if they need me.my family has the problem and they will have to live with their decision
don't carry the burden your sister has thrown on you.
let it go.
i wish you well

Paula
Bronze Feedback Medal for All Time! 156 Feedbacks
December 17, 2006
0

found this helpful
Best Answer
Steven, Be proud of who you are, because there is NO ONE else in the world like you. You need to project how you want to be perceived. Make eye contact with people and smile, smiles are contagious! Compliment people with sincerity, look for something good to say in every situation. You need to look at yourself and find out what qualities you like in yourself, acknowledge them, and be proud of them.
Always look for new ways to improve yourself, maybe donate your time to some charities, or take a class at a college. There is a related link called 10 tips to kick start your self esteem, type it into the search and read it, I think you may find it helpful. A New Year is just around the corner, make this your fresh start to a new you!! Good luck and best wishes, Paula

Holly
Silver Post Medal for All Time! 364 Posts
December 18, 2006
0

found this helpful
Best Answer
You could start by giving yourself a sympathetic pep talk.
Avoid your sister until she gets her act together, but do send holiday greeting cards and gifts to her kids so no one can accuse you of ignoring her.
Then live your life to the fullest. The painful feelings will come and go, and understand that this will happen for the rest of your life, but less so in the future.
Don't give her the power to continue to hurt you.
Accept the feelings when they come, and say, "I understand where these feelings come from, now go away and stop bothering me."
The acceptance should lower your blood pressure and the rejection will re-build your confidence.
Sometimes bad feelings are more a matter of habit, so you need to cancel them and substitute another thought which is pleasant EVERY time a bad thought happens.
We all have this emotional garbage; you are in good company. It takes 6 weeks to change a habit, so start now!
By Glinda (Guest Post)
December 18, 2006
0

found this helpful
Best Answer
You can begin to feel good about yourself, when you can learn to forgive, I have learned this the hard way. Forgiveness is something that comes from within, and usually it is not because the person deserves to be forgiven, but, it is something we have to do within our own heart. When you can truly forgive, then your self esteem will grow, because you think more of others than yourself. That makes us a big person.
Forgive your sister no matter what she is like. Then let her know you forgive her, (even if she is negative about it). And keep an open door there with her, just don't push alot of visitation if there is friction. I had to do this with my in-laws. Forgive and forget. And don't hold grudges, that is bad for the old self-esteem also, I hear it gives you wrinkles from worry.

December 18, 2006
0

found this helpful
Best Answer
Sounds like you know the truth. Adults and older people do not always have a better grip on reality. You've realized that she is not telling the truth, that she has reasons of her own for dumping on you, and that you don't deserve her (ahem). Good for you. If I had realized all that about my emotionally abusive dad when I was a teenager, I would have had a much easier life.
Keep going, now. You are old enough to be able to decide what's true and what's false. Self-esteem-destroying things are mostly false. When you find yourself believing a negative, hurtful lie, fight it with a positive truth. For me, "I'm ugly and nobody likes me" changed to "I'm a normal young woman with clear skin and great hair and a pretty voice, and I have some really good friends." "I can't make these difficult changes" changed to "I can do it over time if I take things bit by bit." "I don't have a guy to love" turned into "I'll keep looking for the right person and I'll know him when I see him." And, "I can't live on my own" changed to "Living on my own is normal and healthy, and I'm normal and healthy, so I can do it."
This works. I promise.
By Carol in PA (Guest Post)
December 19, 2006
0

found this helpful
Best Answer
This is not as uncommon as you think. I have a sister who tries to run my life, and I've talked to others who have sisters they cant stand as well.
Please remember that this is HER problem and not yours. What she has said is a reflection on her and not on YOU. You would do well to go for a few therapy sessions. They are well worth the money. It doesnt mean there is anything wrong with you.
For self help, a journal helps. Each day list things that you are thankful for and that you like about yourself.
True wholeness comes once you are able to forgive your sister and go on with your life. You need to be able to abide her presence just for small amounts of time. imho... When you stay mad at someone it doesnt hurt them. It hurts you. Eventually anger turns into depression.
Take good care of yourself. There are many of us who care.

January 21, 2007
0

found this helpful
Best Answer
I think you took the best first step by putting distance between you. Surround yourself with positive friends and family. When she dumps on you, realize that she is unhappy and taking it out on you.
She may be jeoulous of attention you have gotten from parents from simply being male. This can happen and it is not the child's fault. We were four girls and my parents were FUN we went to ballgames with family and dad was proud of his girls. Of course 4 sisters was WAR sometimes to this day I find the advantage in numbers as in when one sister is miserable and mean then oh well 3 other sisters.
We all go through different stages in life and sometimes just clash. We forgive and go on and we try to be decent to each other. Good luck and stay strong.
Answer

this Question

How to do I get back my self confidence? I have been hit with some setbacks that have rocked me to the core, my self confidence right now is at zero. Does anyone have any tips on getting it back?
By Lynda from Kearny, NJ
Answers

Grandma J
Silver Feedback Medal for All Time! 270 Feedbacks
July 21, 2010
0

found this helpful
Best Answer
Just listening to an interview on the radio with the local public health nurse on a subject called psychological first aid, which the need can come from disasters, grief, illness, etc. You need to find someone who can listen to you talk, sometimes that is the first basic need. If you need more assistance, it does not suggest a neighbor or family, but a pastor, social worker, others who are trained in helping.
My issues always stay the level of talking to a friend. Join a volunteer situation, read to kids at the library, volunteer at the local nursing home, etc. Those are starters without a lot of commitment until you are ready. As you build your self confidence, you can take bigger steps in making goals.
One of my sons is a TKD Master and confidence building block. He often gets students who make great strides in finding themselves and self respect. Finding a class like that, or self defense class will help with your assurance.

March 7, 2014
0

found this helpful
Best Answer
Okay, I'm going to come at this from a different angle. Long story, short, is while I was in counseling/therapy, my therapist encouraged me to look outside of my situation. I thought about how I could do this and decided to volunteer at our local senior center. I was seized by fear that I had nothing to offer, boy was I wrong. While my goal was to be of assistance to the members of the center, the most amazing thing was, my self confidence grew in leaps and bounds.
The gratitude of those I worked with, blew me away, so much gratitude, for so little I had done. I felt valued and accepted, and my transformation was nothing short of amazing. And being able to help someone else and focus on their needs, took my eyes off of myself. It really reprioritized my life, giving back was an awesome feeling, with the realization that everyone, even me, has something to offer. Look for somewhere that can meet you time constraints, you'll literally be amazed at how many options there are to volunteer all around you.
Answer

this Question