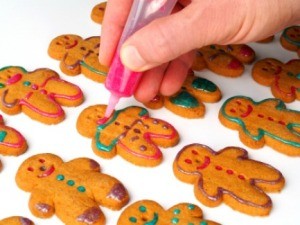 When frosting cookies or cakes with butter cream frosting, and you want to put sprinkles on, they roll right off! This just happened to me. I had a moment of inspiration, went and grabbed my water spray bottle from the ironing board, put fresh water in, and gave the remaining cookies a spritz. Voila! The sprinkles stuck! Don't use too much spray, just enough to lightly coat the frosting surface. Have fun.
By Kim from Crawford, CO
Read More

Comments
Anyone have cute ideas for decorating store bought cookies? This decorating is not for the kids to do. I need to make them for a fair our church is doing in the community. I have a specialty I usually make for this event, but my oven is out this year, so I want to do something creative with store bought cookies, and make them special and memorable.
Answers
July 26, 2011
0

found this helpful
You start with vanilla wafers. I warm some corn syrup slightly in the microwave (so it is very thin), then brush half of the wafers with it, and sprinkle them immediately with sesame seeds. On the un-seeded cookies, I layer as such, using canned frosting for "glue": cookie (good side down), one chocolate coated thin mint, some canned frosting tinted red squeezed through a plastic bag with a small hole; some canned frosting tinted mustard yellow squeezed through a baggie; some coconut tinted green by putting it in a jar with a few drops of green food color and shaken well), and a seeded cookie--good side up. Voila! Miniature "burgers".
July 26, 2011
0

found this helpful
Ritz type crackers, using peanut butter to make sandwiches out of them. Then melt chocolate candy melts and dip the little crackers in that, and put them on a baker's rack or something to let them drip a little bit. You could sprinkle some different colored sprinkles on them before the chocolate gets dry. Or you could buy come of the decorator tubes of colored frosting and use one color to make a little flower on each one and use the tube of green to make a couple leaves.
July 28, 2011
0

found this helpful
I've bought brownies, both squares and brownie bites, frosted/un-frosted both. Put them on a cooling rack with wax paper under neath. Melt a small amount of canned chocolate frosting in the microwave until very liquid. Don't over melt as it makes it too thin. Drizzle the brownies with the frosting, covering completely letting the extra drip off onto the wax paper. Let cool slightly.
On some of the bite size, I gently pushed a sliced almond or pecan half in the frosting. On the brownie squares, heat white frosting and drizzle it back and forth, making a grid pattern. You can use the nuts as decoration on these too.
During Christmas, using food coloring, tint the white frosting red or green. Halloween, orange and yellow. Easter, pastel colors. 4th of July, red, white and blue. Sometimes, I use M & M's, or other candy pieces as decorations, i.e. crushed candy canes, etc.
You can sell these individually or several on a small paper plate. They look cute and most everyone likes a brownie now and then. Great to take to pot lucks and picnics.
July 28, 2011
0

found this helpful
I was gonna type out the Hamburger Cookie "recipe" but I see that Jilson has beat me to it. These cookies are a hit with everyone, they love them. They buy them just to look at them.
I did not do the sesame seed part and they still look enough like hamburgers to make folks flip out! You could also flatten some green Starburst candy to make a pickle peek out from underneath the buns. They are a lot of fun to make also.
Answer

this Question