When hunting for a job, do not confine yourself to the newspapers, or online ads, as less than 30% of the available jobs are ever posted there. One of the reasons for this is the cost, and another is the time that would have to be wasted screening applicants.
One way to find a job is to get out and truly pound the pavement. I have seen MANY help wanted signs out there, and even if it isn't your dream job, it may be the one that gets the bills paid until something else can be found.

Next, network, network, network! Let ALL of your friends, family, friends, and acquaintances know that you are looking, and would very much appreciate any leads that they can give you.

If you are using a resume, make sure that it is neat and concise. You may want to tailor each resume to point out how your training and experience suit that specific position, and don't forget that volunteer work also gives you some great experience.

Once you do get an interview: be on time, be polite, look professional and learn all that you can about the position, and company beforehand. Remember to thank the interviewer for their time immediately after the interview. Of course you should always smile and make good eye contact during the interview.

Do not start out asking about salary and vacation days, instead let them know what you can do for the job through your previous training, experience, and also eagerness to learn. Find ways to illustrate that you are a team player and easy to get along with. It is an employers market so it is up to you to show them that you are someone that they will be very happy to have working for them.

Wait a day or two and send a note to the interviewer, thanking them for their time. It will leave a pleasant memory of you in their mind even after you are gone. Good luck and God speed.

By Shari from Greer, SC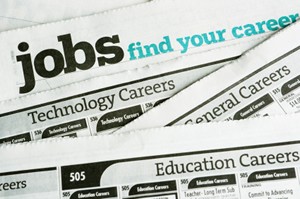 Answers:
Tips for Job Hunting
Go to "usajobs.gov" online to look for a job. This was on TV. Good luck. (02/14/2009)

By k w
Tips for Job Hunting
Thank you for your wisdom. I recently cut down on hours at my job purposely because my body isn't handling the work very well and I am only 50 this year. Years of standing and walking on concrete has hurt my feet and is stiffening my hips. I am a sole provider for my wife and I and although I love to do art, I am skeptical that it may pay the bills. I appreciate your words of instruction and will try to apply them whenever possible. Thank you and God bless. Anatole (02/15/2009)
By anatole