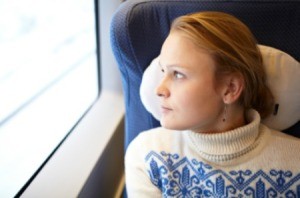 To all my wonderful friends on Thrifty Fun, I wanted to let you know I moved clear across the USA! I am in Yorktown, VA for a year, working on the craft kits business, and staying with some friends. I have a craft room, bedroom, and a humongous four bedroom three bath house to myself about 75% of the day.
I lost my job and home, and sold or gave away half my things, put the other in storage and took a train from Portland, OR to Chicago, then Chicago to Yorktown, VA. The train ride was not that great, so I wanted to share a few things I learned if you find yourself traveling over several days.
Take music, a book, a moshy pillow, a donut (if don't want a comotose bottom), and your own food, if you are thrifty or just broke like me. My daughter bought me an mp3 player, and the crying babies and constant loudspeaker announcements were not so bad.
Pack light. My two check on bags would have been free from Portland to Chicago, but would have cost me money from Chicago to Virginia.
I finally broke down and bought a meal the second day out, having pretty much run out of cold food. For a hoagie bun and watered down turkey and cheese "food", a bag of chips, cinnamon roll, cup o noodles, and a Pepsi was $17.50, yeah, I hear ya!
There was a rod under the seat so no matter how you tried to lay or sit, you couldn't sleep very well.
I weigh about 200 lbs, and it was all I could do to "back" into one of their "econo-potties", so I sometimes waited for the disabled one.
They pretty much talk to you like you were cattle, ordering you here and there, reminding you that if you get off for any reason and don't reboard in time, you will have to pay for another ticket.
So, take things to do, sleeping pills help your body ignore the rigors of sleeping sitting up for two or more days, and when you can, sit as far away from speakers as you can.
Once I was here, I was in love with the area. The humidity was horrible, but when it's gone, you have Crape Myrtle and Mimosa trees and some of the nicest people I have ever met!
I am sending one shot of the house from that back yard.
Source: Just sharing where I am!
By Sandi/Poor But Proud from Yorktown, VA
Read More

Comments
I am planning a family trip to Disney World, FL with my kids and grandkids. Our kids are traveling by airplane but I'm traveling by train with my husband and 89 year old mother-in-law. We have never traveled by train and don't know what to do once we arrive. Can you give me some traveling tips and direct me to a good vacation planning tool?
By Jeannie
Answers
February 8, 2011
0

found this helpful
Pack tons of tea bags, instant coffee, sugar, dry creamer, instant soups, instant oat meal, instant anything that needs to be made only with hot water as you aren't charged for the hot water or the glass cup it comes in.
Also, pack your own styrofoam cups for hot tea and coffee to take away with you from the dining car. Plastic glasses for drinking water furnished in the dining car or the bathroom sink, large styrofoam cups for instant soups or oatmeal in the morning [you may have to buy a carton of milk for your cereal IF needed] & silverware that you can wash in their bathroom sink and keep until the next meal and repack when your through traveling. The dining car is terribly expensive, this is how my under 10 year old daughter and I (a widowed mother) traveled years ago.
We had a lot of strange looks from folks sitting around us but it worked and cost us nothing and the train only supplied the hot water so, it didn't cost them anything either!
Of course, you will want to leave a tip with the waiter/porter taking care of your supply of hot water; perhaps $1 per person eating. So for three meals, for three people, you will only spend $9 a day. Much better then $10+ dollars per person per meal.
Keep us informed and good luck . You will love traveling by train. You'll be able to see things that you can not see from the interstates or other roads.
If you take a camera 'do not take photo's out of the window with the flash on' as the flash will glare off the window ruining your photo. I learned that the hard way. :(
Also, bring light summer blankets to cover yourselves with as it can be very, very cold in their air conditioned cars. Guess it is cheaper to keep them cold then to keep them warm. Besides everyone is different so what is hot to you may be cold to someone else and vice versa. It is much better to be prepared then not to be and wish you were.
Pack a lot of change too, to use in the vending machines in the train stations and bring something to read.
~Hope you and yours have a great time.~
February 11, 2011
0

found this helpful
When traveling always take a group picture B 4 you begin to sightsee in case someone gets lost. That way you don't have to try & remember who wore what. Or everybody can wear the same outfit & then all you have to do is look down. You still need a recent pic. Let me know how things turned out & have a safe trip.
Answer

this Question