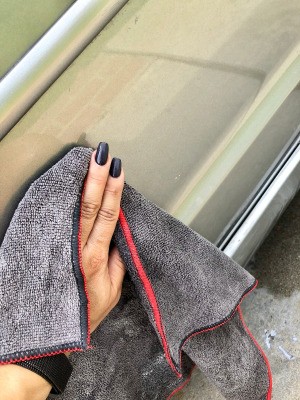 My friend and I came up with this list after waxing his car and learning through trial and error (and success).
1. Start with a very clean and dry car. Use clean microfibre towels to apply and remove the wax.
2. Wax the car in a shady area. Wax dries quickly, so the sun is your enemy when it comes to time for removal of wax. Try waxing in a garage or under a big tree.
3. Work the wax on and off in small sections. If you put wax on your whole car, by the time you get to taking it all off, you'll notice very stubborn bits of it do not want to come off. Eventually, with elbow grease, they will come off, but it takes unnecessary time and effort. The photo I uploaded here shows tiny specks of white wax that had hardened and took forever to remove. This was was the biggest lesson learned.
4. Mr. Miyagi from The Karate Kid may have suggested waxing on and off in circular motions, but that could leave streaky swirls. Try straight lines. No streaks!