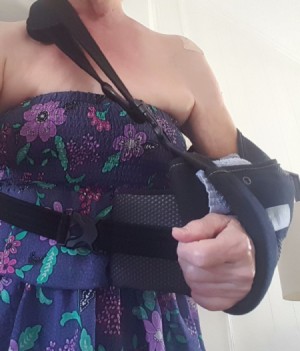 After having surgery on my shoulder for a torn Rotator Cuff two weeks ago, I've learned a few useful things that might help you one day.
The best idea actually came from my husband! Faced with the need to help me get into and out of slacks and a button-down shirt every day for six weeks, he suggested wearing those strapless, elastic top sundresses.
They're perfect! I can pull one up or down without removing the sling and they're so much more comfortable. Since the sun dresses aren't something I'll wear for long, I bought several from a local thrift store and saved money.
Another tip is to line the sleeve of the sling with a soft cloth. It keeps the sling from irritating your skin. The shoulder strap can be bulky and uncomfortable, so whenever I'm sitting still or sleeping in a recliner, I unhook the strap which is quite a relief.
Last of all, when it feels like you will be in that horrible contraption forever, remind yourself that each day is one day closer to being well. This too shall pass.