November 4, 2017
1

found this helpful
Your so lucky that you just had a sling. I broke my hand and wrist and had to have a full heavy plaster cast. I live up on the Arctic Circle so wearing strapless and sleeveless anything is impossible. I wrapped my arm and hand in plastic bags and attached them with rubber bands when I showered.
When going outside I used plastic bags and a big men's wool sock when going outside and used a pair of pliers to zip up my jeans and jacket. It was only six weeks but it felts like months but we survive.

November 5, 2017
1

found this helpful
Wow, you sure had it worse than I do! Are you healed up and out of your cast now?
I've started physical therapy, so I'm getting there. Thanks for your reply.

October 18, 2019
0

found this helpful
Thank you & your husband so much for this info my shoulder operation is next week & I never thought of those dresses, but thats perfect idea!....thanks for sharing, cheers

June 28, 2020
1

found this helpful
Im a week in after shoulder surgery...this is a great idea but I dont have boobs big enfu to keep them up !

June 28, 2020
0

found this helpful
I wish my shoulder looked as good as yours!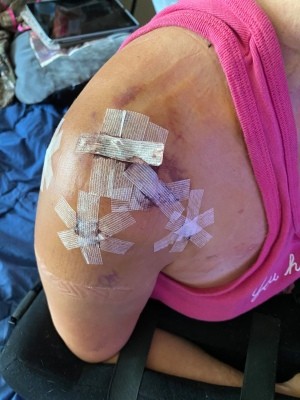 June 28, 2020
0

found this helpful
I wish my shoulder looked as good as yours!

July 8, 2020
0

found this helpful
Today is 10 days post arthroscopic surgery, two almost complete tears, and I am doing good.
I followed subestions for strapless dress and tops. Great idea and perfect timing, July. Hot.
I Also took older tank tops and cut top of surgical side, stepping into, shimmied up with he,p from hubby. Sorry, typing isn't good left handed.
A comfy recliner will be your best option for sleep...get it before and get used to it. Trust me.
Oh, spray deodorant a must. Using an old t-shirt, cut a strip and sew to make a tube for your arm for inside of sling, another good suggestion.
Learn to do things such as washing, brushing teeth, using the toilet with your non surgical hand. It takes a lot of practice!
As soon as you an, get up and move, take short 5-10 main walks. Does your mind & body good.
Thanks you for all your suggestions.
ALWAYS REMEMBER, THERE'S A LIGHT AT THE END OF THE TUNNEL.
January 9, 2021
0

found this helpful
Absolute must. When you get chaffing, which this contraption will do, try the following. Betadine (iodine solution kills bacteria) very soothing. Its yellow but washes right off. After it dries, follow with A and D Ointment.
Even more soothing. Your rash will heal in a matter of a couple days and its feels instantly better. I learned this from diaper rash on my sons as babies and subsequent road rash from cycling in recent years. Works great.

July 20, 2021
0

found this helpful
Amazon sells post-surgical shirts. They snap across the shoulder and all the way down the side. One brand even has a strip you can hold in your teeth while you snap the shoulder closed. Keeps the flap from falling to your back, never to be snapped lol. I'm 11 days post and these shirts have been great.

July 22, 2022
0

found this helpful
I fell in the bathroom and fractured my shoulder back in February, had shoulder replacement in March, and was in a sling for about 6 weeks. I was so glad to give that up.
The skin around the surgery got very dry and flaky, so I used "Pretty Feet and Hands" cream, and then I treated it with Aquaphor or cocoa butter. I wore some of my husband's Tommy Bahama shirts for a while. Most of my tops are pullovers, and there was no way I could wear them. I can now.
I went braless for about 3 months, and I still don't wear a bra when I'm at home. I can't use both hands to hook one in back just yet, so when I need to wear one, I hook it, step into it, and pull it up.
Still doing physical therapy twice a week. I covered the scar with a fake tattoo. I'm not a fan of tattoos, but it looks better than that gnarly scar!

July 22, 2022
0

found this helpful
Jodie, I love the idea of hooking your bra and stepping into it. I learned that trick years ago. It works much faster and easier for me to put it on that way. When I wash my bras and put them away, they are fastened and ready to put on.
I know you are glad to have that shoulder repaired. Hope it is a lot better now.

July 28, 2022
0

found this helpful
Another easy way to put on a bra is to buy extensions and step into the bra.