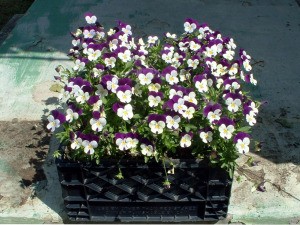 A lot of people may not know that viola and the pansy which is derived from the viola, are perennials. In their natural habitat, they will come back year after year. Their natural habitat has a climate much cooler than most parts of the States.
Nurseries sell these plants as annuals, and with good reason. Rarely will they live in the States past late May or mid June. To thrive, they need full sun. In late spring and early summer, the sun becomes too strong for them and they succumb to the intense heat. On occasion, I have been able to extend their lives for another month or six weeks by moving them to a cooler, partly shady area in late spring.
Viola and pansies are sold in the fall and again in early spring. As winter approaches, the fall stock begins to look bedraggled, and most nurseries will reduce the price of these plants, drastically. Now is the time to buy!
My picture shows viola which were purchased last fall. Throughout the winter, they managed to keep a few blooms here and there, but "Oh come spring!"
Mild sun and warmth revives these babies. Now in mid spring, they have filled their container and are no less than a mass of blooms. My cost?....less than a dollar.