Toad Photos
Photos
Share on ThriftyFunCheck out these photos. Click at right to share your own photo in this page.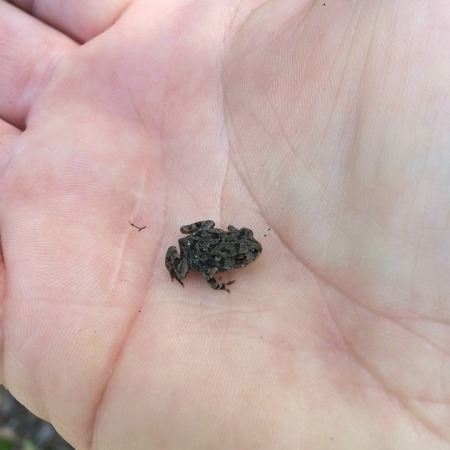 Photo Description
I found this little hopper while walking on a trail in the park. I am pretty sure it is a southern toad. It is hard to tell when they are this young. This little toad is a newly metamorphosed toadlet and will have to wait 2 to 3 years before it can reproduce and start the process over again. Female toads will usually lay between 2500 to 4000 eggs in long, coiled, jelly-like strands in wetlands, ditches, and even tire ruts. Eggs will hatch in a few days and become tadpoles and within a month they undergo metamorphosis into little toadlets like this one. Toads usually emerge in great numbers and stay near the water source where they were hatched. I am sure there were many more around me that I did not see. Toads this size are a favorite meal for the newly hatched hognose snake, which is another completely different story.
Photo Location
Carolina Beach State Park, North Carolina
Read More Comments
My husband was outside watering when he saw the dirt move. As he looked closer he saw that it wasn't dirt at all. It was this cute baby horned toad. He brought it inside to show to the family. Amazing how tiny it is! We let it go right after the photo shoot :-)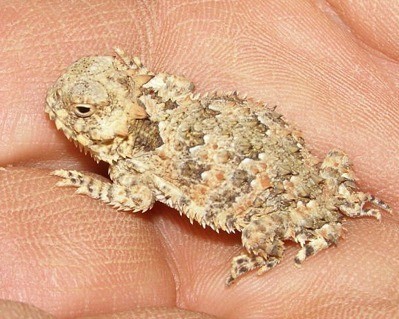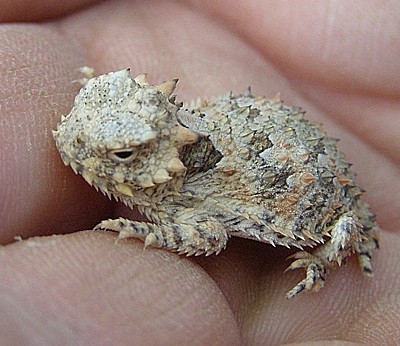 By Patty
Read More Comments
Although it's not the most beautiful feature on my patio, it's one of the most entertaining. Even though I have always known toads are a good form of insect control, I'd never been very fond of them.
That is until this little fellow I named Fred started showing up on our patio every evening and morning.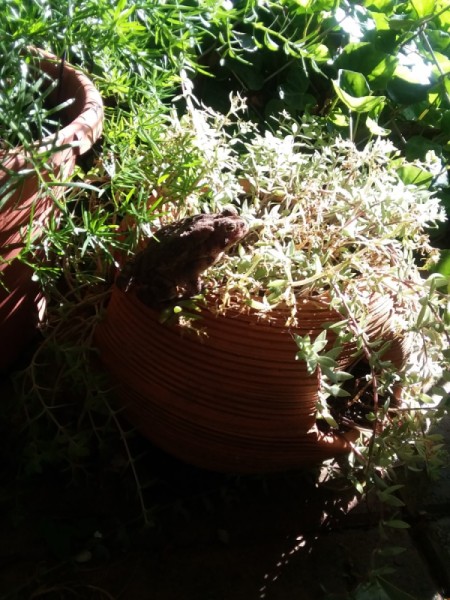 Read More...
While building a raised bed garden with cinder blocks, we discovered this little fellow trying to blend in with the colors of the block, while at the same time doing his best "Yoda" impersonation. I think he succeeded in both.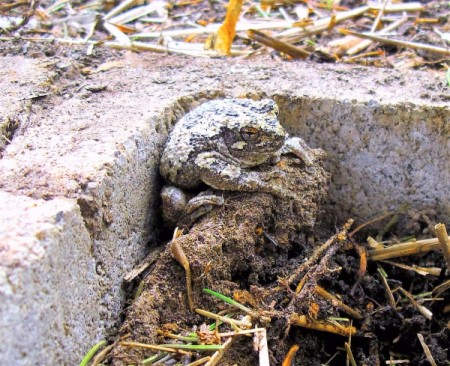 My kids found this cute little black toad in our yard and I had to take a picture of it, of course. :) The kids love to have me take pictures of their finds.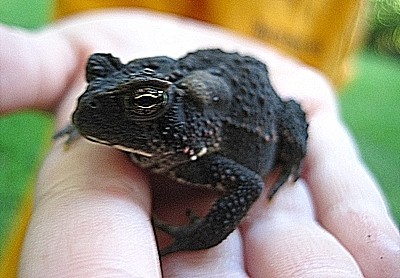 Read More...
Archives
ThriftyFun is one of the longest running frugal living communities on the Internet. These are archives of older discussions.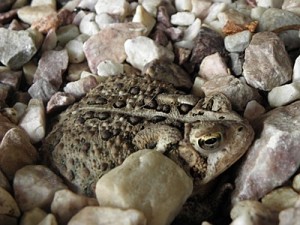 While working under the deck. My husband came running for me to get the camera. There in the rocks was the biggest toad just trying to blend in.
By cindy
Answers:
Wildlife: Toad
I love those Bufos, especially because they eat centipedes! (08/12/2010)

Wildlife: Toad
When I was a kid we had an old toad that would hang around the foundation of our house in the summer (must've been cool there). He was about as big as a softball and he was solid black, my mom called him "Mr. Toad". I don't know just how old he was but he was cool to have around. He'd eat mosquitoes and other pesky bugs! Cool pic, by the way! It just reminded me of my toad from childhood. Thanks! (08/12/2010)

By eva
Wildlife: Toad
He blends in really well, we used to have these toads that would hang out under the streetlight and eat junebugs. There were two and Mom called them Pete and Repeat!
(08/13/2010)
By Robyn Fed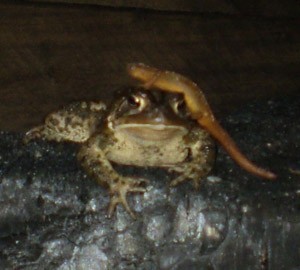 The toads come to live in a small area outside my basement sliding glass doors. I caught this toad last summer wearing a salamander hat. Toads are such clowns. I could spend hours watching them.

By Peggy G from Yulan, NY

Answers:
A Toad With a Salamander Hat
They REALLY are clowns. We have bufo toads here. They eat centipedes. YEA! (05/11/2009)

A Toad With a Salamander Hat
What a darling picture! I have a few toads that stay on my carport and, hopefully, eat mosquitoes, but I've never seen one with a salamander on his head. Thanks for sharing it with us and God bless you. (05/12/2009)
By Pat Giles
Advertisement
Published by ThriftyFun.
© 1997-2020 by Cumuli, Inc. All Rights Reserved.
https://www.thriftyfun.com/Toad-Photos.html