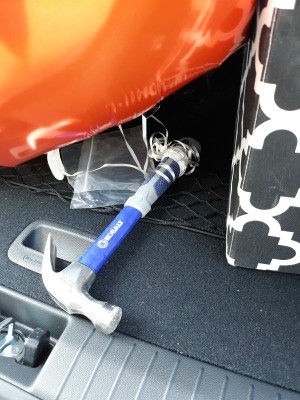 I buy lots of helium balloons. All of the birthday parties in my family are hosted by me, and I handle all of the decorations, party planning and food. Who doesn't love grandma's cooking!
So as to arrive home from the dollar store with all of my helium balloons, before I leave the house, I toss a hammer in my hatchback. What? Yes!
Hold your bunch of balloons tight, about 10 or 12 inches away from your "bouquet". Tightly wrap the rest of the length of ribbons around the handle of your hammer and place into your trunk, hatchback or back seat. The hammer is heavy enough to act as a weight to keep things where they belong. I have tried all kinds of ways to corral balloons, tieing them to different parts if the car, but this is the best way I have found, and no knots to untie. When you arrive home, simply pick up your hammer and get into the house. No escapees should head toward the sky!
Have fun decorating for your next party!