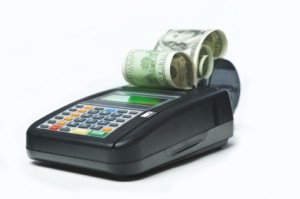 One trap that many of us fall into is thinking about spending money and using credit as different, when both affect our monthly budget. We may buy something on credit that we would never consider paying cash for. We might even buy things using a debit card, essentially the same as using cash, that we would think twice before we handed over actual bills.
I've been using Quicken to keep track of my budget for the last several months, and one of the first things that struck me was how it categorizes every dollar I spend as an expense, whether it was paid for using cash, check, my debit card, or a credit card. If I spend $50 at the grocery store, it is reflected in my food budget no matter which card I used.
A credit card is a great tool to have in an emergency. If you have a flat tire, you need to get it fixed and don't want to worry about whether you are going to bounce a check or not. Using a credit card allows you to pay off this unexpected expense over a couple months. Credit cards can also be useful for online purchases since they provide more protections than a debit card. But, many of us use our credit cards far more routinely. Any time an expense which doesn't fit right into our budget comes up we charge it. Sometimes we do this because something is on sale and we want to lock in the price. It is very easy to run up a balance on the card, and then we are wasting money on interest payments rather than on things we actually need.
When you go to pay for something with a credit card, ask yourself if you would buy the same thing with cash? Since you will probably end up paying interest on your purchase, ask yourself if you would pay half again as much in cash? Stop thinking of the credit card as a way to avoid paying for things out of your monthly budget.
Try to get into the habit of paying off your credit cards in full every month. You can have the peace of mind knowing that you can take care of your family in an emergency without impacting your budget with the expense of interest every month.
About The Author: Fletcher is one of the founders of ThriftyFun. You can usually find him feverishly typing code to make the site more responsive and stable. He is crazy for Legos, has a degree in mathematics, and is always trying to be more frugal.
Do you have any tips on how to think about credit and spending? Let us know in the discussion.