I have 5 rabbits that I have raised since they were babies. These adorable rabbits are my pets and I don't breed them for profit or to eat. So when one of them gets sick, I have to find a way to cure them.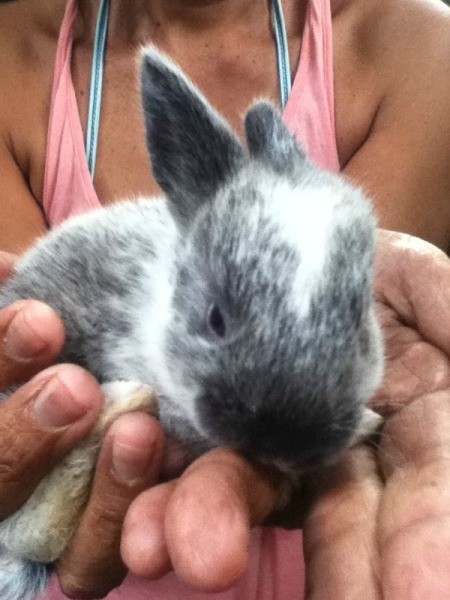 Recently I noticed that two of my rabbits were digging at their ears. I saw some black spots in the ears that I had thought was dirt. At first I just cleaned the area with a cotton ball dipped in some water.
After 3 weeks the ears started to have a crust on them and were black. After researching on the Internet I learned that the two rabbits had ear mites. I tried the different remedies to clean the ear mites. However, none of them seemed too work well.
Afterwards, I decided to try combining the different home remedies to clean the rabbits' ears. Here is what I found worked the best for me.
Mix 1 tablespoon of honey with ¾ cup of warm water.
Use a cotton ball and dip it in the honey and warm water.
Apply the honey mixture to the inside of the ear. Be careful not to rub too hard and remove the scabs on the inside of the ear. This will cause the infected area to bleed and become infected.
Repeat this process for the next 2 days.
On the 6th day use a syringe and baby oil. Fill the syringe with baby oil.
Slowly squeeze the syringe to apply the baby oil to the inside of the infected ear. Afterwards, drop 3 drops of baby oil into the ear canal of the rabbit's ear.
Repeat this process again on day 8, 10, 14, and 20.
You will notice that the ear mites are gone and the rabbit's ears appear to be clean.
However, you will still need to add the baby oil to the inside of the rabbit's ear. You will add the baby oil again on the 24th day and the 30th day. This kills the remaining eggs that still haven't hatched.
During the time you are treating the rabbits' ears, it is important to remove them from their cage. Afterwards, use your garden hose and a scrub brush to clean the cage. Each time you treat the rabbit's ear you will need to clean their cage.
Keep the infected rabbits away from your other rabbits. If the infected rabbits rub their ears on the cage the healthy rabbits can be infected with the ear mites. That's why its so important to clean their cages, each time you treat the rabbits. This prevents the ear mites from coming back.