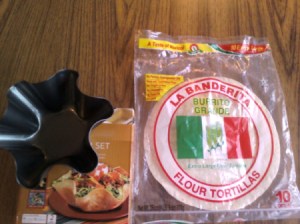 For quite some time I've wanted to own a tortilla pan because I love, love, love taco salads in those deep fried tortilla bowls (shells). I see the pans all over but was too stubborn to pay $9.99 for them, plus I really don't need 4 pans which is how they're packaged. It just so happened that our area box store had them featured in their sale add for $4.99, so I broke down and bought them. And as luck would have it, another store just happened to have large flour tortillas marked down to half price, thus both confirming and giving me permission to make the pan set purchase.
Last Saturday, I baked my first shell for dinner and added just a pinch of garlic power, (shaking it all around the inside of the shell) after it came out of the oven. Because it wasn't deep fried, I thought maybe it would taste like something was missing, so I figured that adding a little garlic powder might help.
It's now Saturday again, and last night I enjoyed my fourth salad in the baked tortilla shell. Usually my salads fill the bottom of the 10 inch paper plates I use, but on Thursday night, I noticed something. That night, I put everything on the paper plate first instead of waiting until the shell was done and then filling. I could only fit half of the amount of lettuce and fixings, (not just taco salad fixings, but chef salad fixings and chicken salad fixings too) in the shell. I had no choice other than to wrap up the remaining half of salad and put it back in the fridge, which I finished up last night.
On the weekends, I work at a shelter that just happens to have a donated physicians' scale in one of the bathrooms. Because I can never resist the temptation to step on the scale, this morning, just like every Saturday, I did my usual "weigh in". To my surprise, I've lost three pounds since last Saturday. That may not seem like a big deal but I'd rather lose it than gain it. I couldnt help thinking was it because of the salad bowls? I've had four of them in six days, and they're so good and so filling. So is it a visual thing? Is it because I'm seeing that the tortilla shells are filled to the brim but in actuality I'm only eating half as much as I normally would? I don't know but I like it!
I just push the flour tortilla into the pan, bake it for thirteen minutes while I'm pulling together the lettuce and other goodies, and eat until I'm falling out of the chair full, but I lost weight? How nice is that!