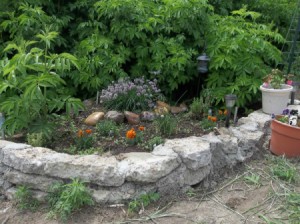 I thought I came up with it all by myself and that it was terribly original, but after patting myself on the back for months, my permaculture book has informed me that this wonderful, free-to-the-point-they-may-pay-you-to-haul-it-off building material is called "urbanite". Hmmmm...
So here's the tip. I came into a good quantity of used, busted up concrete rubble. Trash, really. But looking at the unfinished (bumpy, rocky and not smoothed) side of the pieces of rubble, I thought to myself that I could just turn them rough-side-up and use them like stones (which we have a scarcity of in these parts) and build some nice planting beds out of them.
We stacked the first layer how we liked it, then laid out the second course. After mixing concrete (I'm sure mortar mix would be as good or better, but plain ol' Sakrete from Home Depot was cheap), we added wet concrete to the joints, and buttered the top of the bottom rocks with it before laying the second course on and filling in the joints again. It's a good idea to let it have a day or two to dry before you fill and plant them. My husband thought I was nuts before he saw the semi-finished project. Now he's a concrete rubble, excuse me, "Urbanite" fanatic and helps me haul it home by the truckload.
We are lucky enough to have our small town bring us all the leaves that they sweep up, which we compost, and so we also filled the beds for free with black compost.

Sometimes one can even find someone tearing out a sidewalk or some such thing that will happily deliver it to your garden for free to save themselves a dump fee to dispose of it at a landfill.
It works great and is VERY permanent!