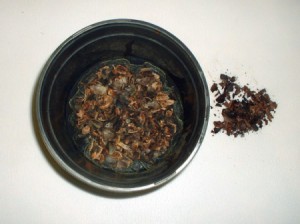 If you have a pecan tree, or if you buy pecans in the shell during the holidays, you can put those shells to good use.
Some of us have houseplants such as Ficus, Dieffenbachia and others, that might remain in the same pot for years. Providing proper drainage is essential to the health of these plants.
Cracked pecan shells are light weight and will last for many years when used as a drainage medium in potted plants.
When repotting a plant or potting a new one, I add a layer of pecan shell pieces (an inch or two, or more, depending on the size of the pot), to the bottom of the pot before adding soil or other medium.
Another tip: Several people have suggested using coffee filters for lining the bottom of pots to keep soil from leaching out. This could be good for an African violet or other small plant. For a large plant, you will need something else.
So, before I add the pecan shells, I add two layers of nylon mesh landscape fabric which were cut using the top of the pot as a template. You can expect the shells and fabric to last for ten, if not twenty, years.