Before you begin to iron, run the iron over a sheet of waxed paper. It will help the iron glide more easily. Also, always keep the plate of the iron clean.
By Ron from Cortez, CO
Comments
December 5, 2010
1

found this helpful
Top Comment
I don't iron much anymore if I can help it, but I kept my iron clean with this method in my younger days when I was ironing at home for siblings as well as for my own children and husband. Back in those days we used Bread Wrappers because they were waxed paper.You just had to make sure you ironed on the wrong side of the wrapper and put it on an old cloth cleaning rag so the writing on the bread wrapper didn't come off on the iron or the ironing board cover. We also used to use an old pop bottle with a sprinkler on top to dampen the clothes because we didn't have steam irons. And we would sprinkle them with water and roll them up and put them in the basket and let them set until they were damp. And if you got busy at something else before you got them ironed, you could put them in the refrigerator for a short time (maybe overnight) so they didn't dry out.
Guess that is what they called "The Good Old Days!"
Harlean from Arkansas
February 2, 2011
0

found this helpful
I guess that really was back in the good old days. I found that if I get something stuck on the iron, I set it on high and while scorching hot I would wipe it off with a paper towel. It comes right off. Just be very very careful not to burn your fingers! Thanks for the tip.
p.s. I too don't iron much anymore, just curtains and such. ;-)
February 2, 2011
0

found this helpful
Thought you'd all like to see the iron I use. ;-) I don't know what year it's from but still works great. I got it from a friend of a friend when they were moving around 10 years ago and have used it ever since. There's no hard pressing because it weighs 4lbs!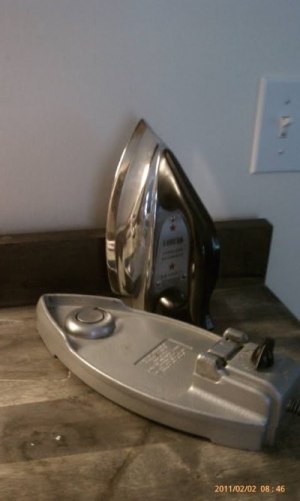 February 2, 2011
1

found this helpful
That is exactly how we ironed when we were younger! My mother used to make us iron everything!!! God forbid if we went out of the house without our clothes being ironed, even our play clothes. So now, here it is, 50 plus years later and she doesn't even own an iron anymore! Me, well let's just say I am OCD about ironing . I even iron the clothes from the dry cleaners or the ones that I take out of the closet.
Well, they got wirinkled hanging in there! So see what the "good old days" caused me. A damnation to hell that I have to constantly iron everyday. My sister is the same way. LO.L Mention the word "iron" to her and it's like yelling "fire" in a crowed building. And we both still use a bottle of water to dampen our clothes with! Sometimes we still refrigerate them! Ah...the good ole days!
Read More Comments