Use a Binder to Organize Recipes
Solutions
Share on ThriftyFunThis guide contains the following solutions. Have something to add? Please share your solution!
I have made a "recipe notebook" out of a 3-ring binder and clear insert pages to hold all my recipes that were loose in my kitchen drawer. I have also written down my recipes "from memory", that I know how to make, but never bothered to write down. This way my girls will have all of Mom's recipes when I'm gone.
By vguy from Earle, AR
I start gathering all my favorite holiday recipes a month before Thanksgiving or Christmas. The recipes I plan to use are then placed into plastic page protectors, then those pages are placed into a plastic binder that can be wiped clean. This works very well to keep everything organized and protected and next year you will have a reminder of what you cooked the year before. :-)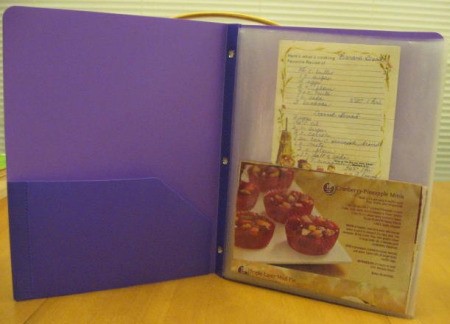 November 10, 2005
2

found this helpful
I've started to organize my recipes together as meals. I know that I always serve my Mexican rice recipe with my black bean casserole so now I keep them printed out on one sheet and then stored in my 3 ring binder. I always serve apple crisp with my Cracker Barrel casserole. So I have apple crisp with my desserts for the times I just want to make it alone, but then also as a dinner menu with the other so I always know where it is.
By Melanie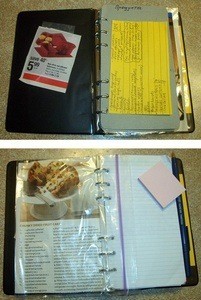 I try to plan dinners in advance by choosing recipes and listing needed ingredients on a shopping list. The shopping list is always written on a sticky note and attached to a first insert (card stock) of my mini binder (7" x 4.5") which is always with me in my purse.
I attach the sticky note to a handle of a shopping cart at a grocery store. I put the recipes I am shopping for in the same binder in Ziploc sandwich bags. The recipes stay in the binder until I have time to prepare them. The protector gives some durability to the magazine clippings and also protects them from the kitchen grease when I am actually cooking (I attach the Ziploc bag with a recipe to my refrigerator with a magnet).
By Elena from Edmonton, Alberta, Canada
I have a bookcase in my dining room filled with cookbooks that I have bought over the years. It is difficult, however, to remember which cookbook my favorite recipes are in. So I created my own cookbook with all my favorites.
I bought small 3-ring binders at an office supply store along with plastic sheet protectors that accept 5.5 x 8.5 inch sheets of paper (the size is exactly half a sheet of regular 8.5x11 paper). I created categories such as appetizers, beverages, etc. and put each acid-free sheet in the protectors. I can now find my favorite recipe in seconds.
Because I enjoy trying new recipes, I now have three volumes of recipes that I have tried and pronounced favorites. I continue to add to the volumes each month. Now, no more spending precious time trying to find a favorite recipe in all those books that I have collected.
To make it easier to see the recipe I am working on, I bought a cheap metal picture stand for about $3. Now my small 3-ring binder cookbooks are propped up on the counter, which makes it easier to follow the recipe.
By onelivewire from Rocky Point, NC
My three daughters were always asking me to share some of my favorite recipes, so I surprised them one Christmas by printing some of my favorites on acid-free paper, and putting them in small 3-ring binders that contained plastic sheet protectors. As they sample other favorites I have added over the years, they can take home more recipes to add to their own personal cookbooks.
Most families have recipes passed down through the generations - some written down and others stored in our brain. I don't want to assume that my daughters will remember them, so putting them in the cookbook ensures they will be passed on for future generations to enjoy. In addition to preserving the recipes, it allows me to enjoy the process of decorating the cookbook covers, inside papers and each recipe page with pictures.
By onelivewire from Rocky Point, NC
To keep my recipes clean, I place them in a plastic sheet and organize them in a large three ring binder. When I use one, I take it out of the binder. When finished, I wipe up any spills then return it to its place in the binder.
Read More...
I like to print out recipes I find online and I figured out a good way to organize and store them. I print them out so they take up a full page and then three hole punch them. I have two thick 3-ring binders, divided with tabs to make sections.
Read More...
Related Content