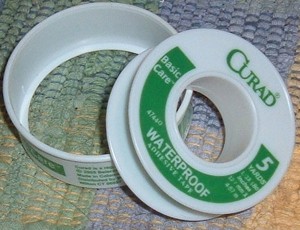 I finished up the tape in this dispenser today and my brain kicked into overdrive.
You can keep hemming tape, ribbon, lace, crochet thread, rickrack or just about anything linear and small/flat/round and keep it safe. Label the front or sides and either stack on a shelf, put in a drawer, or hang from a pegboard.
If you don't use that much tape, ask the local plumbers to keep them for you when they are done. Their plumbers tape is in the same dispenser. Once, I even found them at the local big box store for .25 each!
Anyone else have a great idea for these little gems?
By Sandra from Salem, OR
Read More Comments