Uses for Empty Tape Rolls
Solutions
Share on ThriftyFunThis guide contains the following solutions. Have something to add? Please share your solution!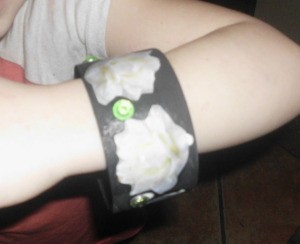 When our tape rolls are empty, I let the girls decorate them and wear them as bracelets.
By coville123 from Brockville, Ontario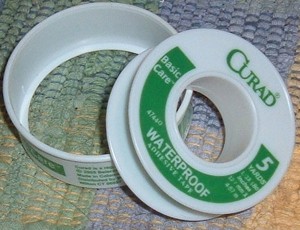 I finished up the tape in this dispenser today and my brain kicked into overdrive.
You can keep hemming tape, ribbon, lace, crochet thread, rickrack or just about anything linear and small/flat/round and keep it safe. Label the front or sides and either stack on a shelf, put in a drawer, or hang from a pegboard.
If you don't use that much tape, ask the local plumbers to keep them for you when they are done. Their plumbers tape is in the same dispenser. Once, I even found them at the local big box store for .25 each!
Anyone else have a great idea for these little gems?
By Sandra from Salem, OR
January 3, 2007
1

found this helpful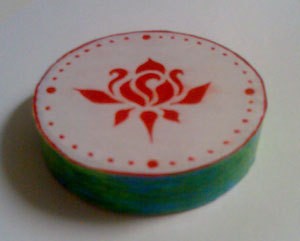 This one stems from the fact that I now have to use masking tape across the top of my daughter's nappy for it to stay on! It's a home made percussion instrument. A finger drum.
It could take anywhere between an hour and a few days depending on how much time you have, how detailed you want it to be and how many interruptions you get!
Materials:
one used masking or sticky tape roll about the size of a ladies bangle
two sheets (or one A4 cut in half) of plain paper
craft glue
scissors/ craft knife
uncooked rice or something similar (for rattle effect)
Texta/pen/quick drying paint
Last, but never least in my book, some clear nail polish, (or what ever your preference is for varnishing.)
Directions:
Lay the first piece of paper down on a flat surface. Place the roll down flat. The edge that is the top from a bird's eye view is where you need to put glue all the way around. Then flip it over, glued side down, onto the paper.
When the glue has dried, cut the paper to become flush with the outside edge of the roll.
If desired, decorate the paper you have glued to the roll. It is best to use a medium that won't warp or pierce the paper. I used pen, (gently) and Texta. I think a quick drying paint applied lightly would work a treat :o)
Varnish that piece that is glued to the roll, but not the roll itself. That may come later depending on what you choose.
Put the roll paper side down and put some uncooked rice or dried beans, unwanted light beads, etc. inside the roll.
Glue the exposed outside edge of the roll and place the second piece of paper on top of it. Carefully flip the whole thing over so that the weight of the roll helps the glue to set in the right places the will make it a stronger structure.
Repeat steps two, three, and four.
The outside curbed edge of the roll that is still exposed, you may, or may, not want to decorate. If you do want to it could be best to do first, so long as your method does not encroach on the finger drum's "skin" later.

Apologies if you have started already!

All I did for that bit was glue a strip of the same paper I used for the "skin" of the drum, the length of an A4 sheet and trimmed to fit. Then decorated with Texta, and another lot of my trusty old nail varnish! My partner has very wisely suggested using ribbon, and I may try that next time.
This is a fairly fragile object. If you put a lot of time into it and have become quite attached (not by way of glue I hope!) to it, I would not recommend giving it to children. Similarly, it has small pieces, so, in-case of breakage, I would not recommend letting small children play with it. Also any rowdy friend/partner you might have that has a tendency to "test" things, a little too hard, would be well advised to stay clear.
All that being said, if you tap very gently, it does make a lovely noise that would work well with a microphone, and when shaken becomes a very nice rattle.
By Banshee from Tasmania, Australia
Related Content