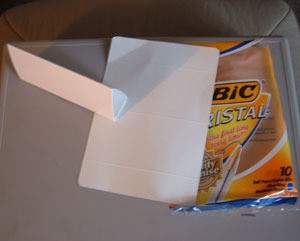 I opened a pen package today and was going to save the white board inside for signs, then realized they had little folds in the ends and the middle. Curiosity took over and I folded them, to find that they make a perfect little pyramid!
So, here are some possible uses that I thought of, and you can all get those wheels spinning and go from there...
Before you fold and tape it, use a darning needle and string some string through the very center of the middle line, tying a knot at the end. Then, turn it over and put stickers of whatever you like, or photos of celebrities, kids, friends, dogs, cats, etc. on the middle two sections. Fold it and tape it and hang it from a lamp edge or some place high. If you get several, or make a pattern out of the original and make a bunch out of poster board, you can have a neat mobile!
It's also cool for sitting on your computer top with photos on it.
Use it to hold up a recipe card on top of the box.
Use it for a temporary business card holder at a show or bazaar.
Cut it in half length wise and decorate each one as a bell for ornaments.
Enjoy!!
By Sandra from Salem OR
Comments
Read More

Comments