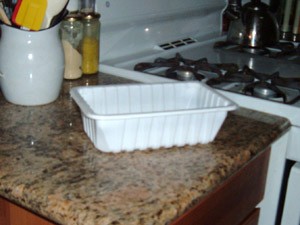 I get these when I buy ground turkey. For more things than I can count, they are wonderful.
I have used them for potting plants. I put water in them, freeze it, and keep desserts and veggies cold. They are great for keeping index cards in for recipes and tickler files. CD cases fit in the narrow way, so you can use them for your desk or entertainment center.
They are perfect for cleaning anything from tools in oil, to silverware in Tarnex, to jewelry in cleaner, and more.
Gotta drain something? It fits under just about any sink and car undercarriage. Fit patterns and crafts inside. Keep vitamins and medications up and away from kids, but still organized. It's the best chicken/fish flour coater there is, cos' it is not round. They can be used to corral little toys, pet supplies, office supplies, and keeps toiletries together in a suitcase.
The best thing about them is they are free, and recyclable!
Now, can you think of more things to use them for?
Poor But Proud!
Source: Just using my head for more than a place to hang my hat!
By Sandi/Poor But Proud from Salem OR
Comments
Read More Comments
I wash and save the white plastic trays I get my meat in from the super market and use them all around the kitchen, bathroom and even on my computer table. In the kitchen, I sit one under the oil bottle(s) near the stove and one is used for sitting any utensils on that are being used while cooking or prep work.
Several are used in the bathroom for setting things one that might leave a mess on the counter, one even for the liquid soap dispenser. The one on my computer table holds my water bottle and also my coffee and contains any accidental spills and leaves no residue should the bottle sweat as they sometimes do.

These plastic trays can be washed by hand many times and if they get too bad, just toss them out and get another one. Being that they are white in color, they pretty much go with any decor and as long as they are kept clean, who will even bother to notice.

By Melody from White City, Oregon

Editor's Note: These are hard plastic trays, not the white styrofoam trays.

Answers:
Reuse Plastic Meat Trays Around The House
I like recycling, but there's too much risk involved in reusing a porous item that was in contact with meat. No matter how much you clean it, germs will still linger.
It'd be a nice idea otherwise, though. :) (03/15/2009)

Reuse Plastic Meat Trays Around The House
Yes, there is a danger in the meat trays being contaminated, but you can use the trays baked goods come on! Our local stores use the same white styrofoam trays for cookies, pastries, etc. that are used for meat products, so you could use those without worry!
(03/15/2009)

By carol
Reuse Plastic Meat Trays Around The House
I agree with the above replies but would like to add that these trays are highly flammable and should never be used anywhere near a stove or other heat source!

They're even more of a fire hazard if they're used to catch oil drippings near the stove. I'd use an old plate for that instead. (03/15/2009)

By d horner
Reuse Plastic Meat Trays Around The House
I would never reuse the meat trays, sorry, good luck. (03/15/2009)

Reuse Plastic Meat Trays Around The House
We do most of our grocery shopping at Aldi's, and most of the vegetables are packaged with plastic wrap and dark colored plastic trays.

So these would be much safer to use than trays that come in contact with meat products. (03/15/2009)

By Marjorie
Reuse Plastic Meat Trays Around The House
We have plastic trays, not styrofoam, and I use them for the garden. I sow seeds in them and use them a saucers for small pots. Very handy! (03/15/2009)

Reuse Plastic Meat Trays Around The House
I know an artist that uses washed styrofoam trays to mix his oil paint mediums and saves on buying foam plates.

I've used them for holding potato peelings and other raw vegetable scraps and they're great for scraping food off dinner plates and bones and fat from meat that's going to be discarded.
When the men work together on projects outdoors, I put a bar of soap on the styrofoam tray with a pail at the pump to wash hands before lunch.

(03/15/2009)

By Myrna
Reuse Plastic Meat Trays Around The House
I use plastic lids from whipped cream for my coffee cups at the computer. They make terrific coasters. (03/15/2009)

By Marty Dick
Reuse Plastic Meat Trays Around The House
"Plastic wrap, foam meat trays, convenience food dishes, and egg cartons have been approved for a specific use and should be considered one-time-use packaging. Bacteria from foods that these packages once contained may remain on the packaging and thus be able to contaminate foods or even hands if reused."

Reuse Plastic Meat Trays Around The House
I use the trays for similar things like that also. I save ones that are different colors and shapes. The basket types (usually fruit comes in them) are great for note pads and loose change etc. (03/18/2009)

By Susan
Reuse Plastic Meat Trays Around The House
I don't think the poster was referring to foam meat trays. There are some nice plastic ones these days. I myself have saved some to use around the house. I even ran them through the dishwasher. I used a couple to organize items in my desk drawer and one to store note paper. I wouldn't think that for purposes such as the ones I've mentioned, it would pose any danger. I did wash them very well. I do not know if all the ones I saved even had meat in them, may have been produce. (03/18/2009)

Reuse Plastic Meat Trays Around The House
I haven't seen plastic meat trays at all! Only Styrofoam. I have saved the Styrofoam ones to hold things that get thrown on the counter tops to keep from scratching it. Like keys and little junkie stuff that end up in corners. Also to hold pens and pencils. The lip edge keeps them from rolling onto the floor. (03/18/2009)

By Ariela
Reuse Plastic Meat Trays Around The House
I use the plastic containers that I get mushrooms in. For ages I kept them and kept them, hating to throw them away, but knowing that they couldn't be recycled. Now I wash them, line them with kitchen towel and stand sauce bottles and such in the fridge, oil bottles, all sorts in them. They are also good for when children are painting. Stand their water jar in the plastic container and there is room for brushes etc. too. (03/29/2009)

By Aileen Grist
Read More Comments