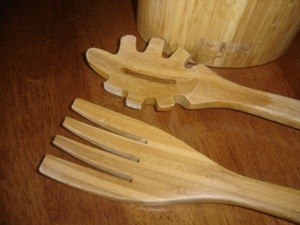 Recently I purchased a set of bamboo utensils at Costco. I have an older set that I have had for years, better that wooden spoons. However this set had nothing but problems.
One was broken in the package so we exchanged it for another box. This should have been a warning to me. A few days later, one of the tines broke off of the "fork" utensil. Not wanting to bother with another exchange, I just tossed it. One day, my husband found a chunk of wood in his stew and I couldn't figure out how it got there! A few days after that, we had more wood in our chili. I looked at the spoon and there were thin strips gone from several places. So I took the whole thing back and got a refund. But before I did, I examined the two sets side by side.
The older set (Chefmate) shows horizontal lines every often, where the "join" of the original bamboo stalk would have been. They have been sanded out of the whole stalk and are very durable and smooth. These are from my kitchen and are used often. I think I have had them well over a year, maybe even two. I probably bought them at Target.
The newer set (Bamboo Classics) is made up of long strips of bamboo that have been glued together (laminated), like you might use to make a cutting board. For a cutting board, this style is fine because all you are using is the surface. But for utensils, they can't take the abuse and crack along those lines. I also think that whatever glue they used was softened when I used the spoons to stir the hot liquid for chili or stew, making it even easier to break. And I don't want to even think about what the glue they used was made from and how it was probably transferred into my food.
So, a word to the wise. If you are buying bamboo items for cooking or serving, look for the telltale bamboo markings along the length of the item. Avoid anything that is laminated (made of little strips) or you might be picking wood out of your dinner too.
By Jess
Read More

Comments