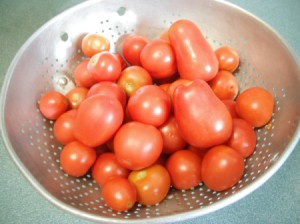 We planted tomato seed in our little green house and had some beautiful plants. We thought we had purchased Better Boy seeds and I gave away gobs of plants telling my friends that they were Better Boy tomato plants.
To our disappointment they turned out to be cherry tomatoes and Banana tomatoes. I had to make calls and express my regrets.
Now, they are getting ripe and I plan to make tomato juice and put it in the freezer. I am enjoying snacking on these sweet cherry tomatoes.
The skins are tough so I have to remove that from my mouth after chewing on it.
I haven't had a lot of experience with cherry tomatoes and I just discovered an easier way to eat them. I bite on the stem end and squeeze it like I do when eating Scuppernong grapes.
Actually some of them even taste like grapes. What I thought was a failure has turned out to be a good thing.