A new generation of disposable plastic has arrived and it's going to revolutionize the way we produce and dispose of thousands of products. Derived from renewable plant-based raw materials, these newly developed plastics are not hazardous to produce and decompose when discarded. So does this mean we've finally seen the last of our conventional, non-biodegradable, toxin-leeching, petroleum-based plastics? Not exactly.
The Good News
Bioplastics are synthesized from corn, soy, sugar cane and other crops. In North America, two components of corn starch, Mater-Bi and Polyactide, are the most common resins used in the manufacture of bioplastics-usually fashioned into food packaging. Bioplastics are certified "compostable plastics" according to standards set by several international organizations. To become certified, plastics must meet the following conditions:
Biodegradable under the right conditions the plastics must break down into carbon dioxide, water and biomass at the same rate as cellulose (paper).
Disintegrate once fully broken down, you should not be able to distinguish the plastics from other compost.
Eco-Toxicity: as the plastics biodegrade, they must not produce toxic substances and their compost must be able to support plant life.
In addition to their compostability, unlike petroleum-based plastics, bioplastics are made from fast-growing renewable resources. Unlike most of their conventional counterparts, bioplastics can also be recycled into the same or different products indefinitely.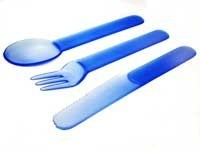 In addition to their compostability, unlike petroleum-based plastics, bioplastics are made from fast-growing renewable resources.
The Not-So-Good News
As with every new technology, it takes time to work out the bugs. When given the option, most consumers prefer bioplastics to conventional plastics, usually because they perceive that they are better for the environment. The problem is how to properly dispose of them. Unfortunately, it isn't as simple as setting them out with the recycling or throwing them on top of the garden compost pile.
Bioplastics take different amounts of time to decompose based on the type of plant material used to make them. To speed the process along, they need to be composted in a commercial facility where higher temperatures are reached in a shorter amount of time. Because the majority of the population does not have access to these commercial or industrial composting facilities, many bioplastics end up in landfills. Here, a lack of light, heat and air can keep them from degrading. Recycling isn't currently a viable option either. Until the use of bioplastics becomes wide-spread, most recycling facilities can't justify the cost of accepting them.
Another concern is that it takes enormous amounts of energy and chemicals to grow and process the corn needed to make these "eco-friendly" substitutes. In addition to the large energy required for production, most of the corn used to make bioplastic has been genetically modified. To address these two concerns, some manufacturers are now purchasing green power to off-set their energy use and are offering GMO-free options to consumers.
How to Use Bioplastic Now
Despite some problems, there are still situations where bioplastics are the best alternative. In the case of outdoor festivals and fairs, for example, vendors cannot usually wash or reuse disposable foodservice items. Bioplastic food containers and service ware (cups, plates, utensils, etc.) can be used, collected and eventually sent to large municipal composting facilities afterwards. Bioplastics garbage bags may also be the best option for yard and garden waste that is destined for municipal composting sites because the bags can biodegrade alongside the plant waste.
New bioplastic materials and technologies are constantly being invented, perfected and brought to the market. Eventually bioplastics will make up a large percentage of the plastics in the marketplace, helping us reduce our dependence on petroleum and reducing our impacts on the environment.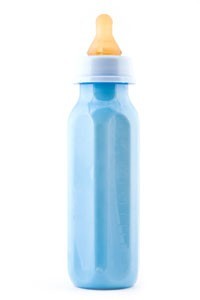 Plastic is everywhere. We eat from it, drink from it, build with it, and our children play with toys made from it. Some of us even wear it. Unfortunately, the production, use, and disposal of plastics are all fraught with serious health and environmental consequences. Since plastics won't be going away anytime soon (give or take 1,000 years in your local landfill), here are some steps you can take to use them more safely.
Understanding the Numbers
Plastics are manufactured from petroleum, and different types of plastics are manufactured for different type of uses. For example, some plastics are made specifically to contain foods and beverages. Others are manufactured for building. Whatever their use, most plastics are stamped with a number between 1 and 7, that codes them according to their ability to be recycled.
Note: The #7 stands for any plastics that fall outside the 1-6 code. While #7 (PLA) is safer, #7 (Other) is dangerous.
The "Safer" Plastics
It isn't the plastics that are so bad, it's the chemicals added to them during the production process that are dangerous to our health. These additives give plastics their various characteristics, like strength, flexibility, rigidity, and so on. No plastics are completely safe to use, because all of them can leach chemical additives. Plastics coded #1 (PETE), #2 (HDPE), #4 (LDPE), #5 (PP), and #7 (PLA)* are currently considered the safest to use (at least for now), because they are the least likely to leach chemical additives into what we eat and drink.
Spotting the "Safer" Plastics
#1 (PETE): Polyethylene terephthalate ethylene
Used for water, soda, juice, and shampoo bottles; some detergents; peanut butter containers.
#2 (HDPE): High-density polyethylene
Used for opaque milk and water jugs, bleach and detergent bottles; cleaning product containers; plastic bags.
#4 (LDPE): Low-density polyethylene
Used for plastic wrap, grocery store bags, some baby bottles.
#5 (PP): Polypropylene
Used for some food containers; plastic squeeze bottles.
#7 (PLA): Polylactic acid and other bio-based plastics made from soy, corn, potatoes, and wheat.
Used for deli-take out food containers, cold beverage cups, straws, disposable cutlery, food wraps, and bags.
The "Unsafe" Plastics
Plastics coded #3 (PVC), #6 (PS) and #7 (Other) are the plastics to steer clear from. They all contain known or suspected carcinogens seriously detrimental to human health. Ironically, these plastics are also usually not recycled.
Spotting "Unsafe" Plastics
#3 (PVC): Polyvinyl chloride or vinyl chloride
Used for plastic cling wrap; to hold cooking oils and cleaning products; for plastic squeeze bottles, children's toys (banned or restricted in several European countries), water pipes, and phonographic records.
#6 (PS): Polystyrene
Used in Styrofoam carryout containers and opaque disposable cutlery.
#7 (Other) Usually PC, Polycarbonate (the plastic containing BPA recently in the news)
Hard plastics used for baby bottles and "sippy" cups, 5-gallon water jugs, sports water bottles, metal can liners.
Dos & Don'ts for Using Plastics More Safely
DON'T mix hot foods and plastic. Never serve hot food or drink from plastic containers, and always allow food to cool down before transferring it to a plastic container, or covering it with plastic wrap.
DON'T microwave food or beverages in plastic containers, or covered in plastic wrap (this is true even of for plastics labeled "microwave safe".
DON'T allow plastic wrap to come in direct contact with your food (especially fatty foods).
DO toss out old, scratched plastic containers. These can leach chemicals more readily into food and drink.
DO wash plastic containers by hand using a soft sponge. The hot water and detergents used by dishwashers can break down plastics, which increases their ability to leach chemical additives.
DO switch to glass or stainless steel containers as plastic containers wear out.
January 21, 2009
0

found this helpful
My husband takes the honey in the plastic bear and microwaves the whole plastic container every time he wants to use a little honey. Is this healthy or safe to microwave it so often in this plastic container?

Kathy
Answers
By guest (Guest Post)
January 21, 2009
0

found this helpful
A lot of people are saying that it isn't safe to microwave plastic. It is fine. You see, plastic is made from petroleum based sources. Over time, it out-gasses, making it brittle. The gasses that it releases aren't the greatest, but they are going to be released whether or not you microwave them. Microwaving it won't hurt anymore than leaving the honey in the container. It would take a very very very long time for it to have a negative effects.
January 21, 2009
0

found this helpful
I am guilty of doing this myself. Never thought about safety issues of microwaving the plastic. My problem was that the plastic bottle got too warm and went out of shape--it listed to one side and the bottom was no longer flat--it wouldn't stand upright.
Problem solved--I transferred the honey to an empty glass jelly jar. No more worries about the plastic container. Do the same thing and your husband can microwave all he likes.
January 22, 2009
0

found this helpful
Certain plastics are indeed carcinogenic when heated in the microwave so you probably should find out what kind of plastic container the honey is in and do a little research about it.
My other thought is that heating and reheating is 'cooking' the honey over and over again and is probably depleting the honey of nutritional value.
Might be best to just transfer the honey in to a large mouth glass jar and scoop out with a spoon.
January 22, 2009
0

found this helpful
If you have the plastic that is hard/brittle, misshapen, you have the kind of plastic advised NOT to do this with. If the plastic stays soft and pliable, it is safer. Again, to keep using the microwave, just jar it. Infact, find a bee keeper and get it FRESH. A whole different favor. By the time you buy it in the store it has been so filtered that the flavor from each 'capture of pollen' has gone elsewhere. I have even gotten it from the beekeeper to strain and sort royal jelly, etc. Talk about learning experience and flavor! I buy about 25 lbs a year for family use, cooking, etc. And plain old stick your finger in the jar.
January 22, 2009
0

found this helpful
One more info about plastic. There was the recall on certain plastics containing the chemicals that are harmful. As with anything, there are different kinds of plastic. Even baby bottle of certain kinds were found to contain the harmful chemicals.
January 22, 2009
0

found this helpful
I myself would think that just squirting out a portion into a glass measuring cup and then microwaving would be better. That's what I do with pure maple syrup on pancake morning. I buy it in a fairly large container that stays in the frig. I just pour some into my small pyrex measuring cup and heat that way. I don't put plastic in the microwave anymore if I can help it. I don't think it's good for the food or the plastic container. Also I would wonder if heating and reheating the whole bottle of honey over and over is good for the honey....not sure about that but why would he need to heat all of it each time?
January 22, 2009
0

found this helpful
Pour the honey into a glass syrup or vinegar carafe and then the plastic wont be an issue. Reheating honey over and over might cause it to crystallize eventually (like cooking sugar or syrup, I'm guessing) but glass is better all around if you ask me.
January 22, 2009
0

found this helpful
I also agree that microwaving that bear container is fine. Of course, if it is melting the container, that is not fine, but more for the mess factor than any other reason.
If the honey has been pasteurized, the reheating in the microwave is not going to make any difference to the honey, except to make it liquid.
If the honey has not been pasteurized, heating might destroy some natural "stuff" in the honey, but I personally wouldn't be overly concerned with this.
January 22, 2009
0

found this helpful
If he does it too often or too long he's going to melt your little bear! Believe me,,,my poor little bear died that way.
By Jeanne (Guest Post)
January 23, 2009
0

found this helpful
No, it is toxic. Try plunging bottle in hot water first. Any plastic microwaved is very toxic.
By Terri H. (Guest Post)
January 25, 2009
0

found this helpful
Don't do it! All the research on cancer sites tell you never to microwave anything in plastic as it releases toxins into your food. Only use glass or ceramic/porcelain.
March 15, 2009
0

found this helpful
Plastic plus microwave seems like a bad idea to me, we all get enough toxins. I'd put it into a mason jar if it were my honey er guy er both. If you don't have the squeeze thing around then no arguments can ensue. :o)
Answer

this Question

...