A new generation of disposable plastic has arrived and it's going to revolutionize the way we produce and dispose of thousands of products. Derived from renewable plant-based raw materials, these newly developed plastics are not hazardous to produce and decompose when discarded. So does this mean we've finally seen the last of our conventional, non-biodegradable, toxin-leeching, petroleum-based plastics? Not exactly.
The Good News
Bioplastics are synthesized from corn, soy, sugar cane and other crops. In North America, two components of corn starch, Mater-Bi and Polyactide, are the most common resins used in the manufacture of bioplastics-usually fashioned into food packaging. Bioplastics are certified "compostable plastics" according to standards set by several international organizations. To become certified, plastics must meet the following conditions:
Biodegradable under the right conditions the plastics must break down into carbon dioxide, water and biomass at the same rate as cellulose (paper).
Disintegrate once fully broken down, you should not be able to distinguish the plastics from other compost.
Eco-Toxicity: as the plastics biodegrade, they must not produce toxic substances and their compost must be able to support plant life.
In addition to their compostability, unlike petroleum-based plastics, bioplastics are made from fast-growing renewable resources. Unlike most of their conventional counterparts, bioplastics can also be recycled into the same or different products indefinitely.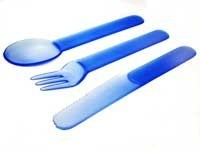 In addition to their compostability, unlike petroleum-based plastics, bioplastics are made from fast-growing renewable resources.
The Not-So-Good News
As with every new technology, it takes time to work out the bugs. When given the option, most consumers prefer bioplastics to conventional plastics, usually because they perceive that they are better for the environment. The problem is how to properly dispose of them. Unfortunately, it isn't as simple as setting them out with the recycling or throwing them on top of the garden compost pile.
Bioplastics take different amounts of time to decompose based on the type of plant material used to make them. To speed the process along, they need to be composted in a commercial facility where higher temperatures are reached in a shorter amount of time. Because the majority of the population does not have access to these commercial or industrial composting facilities, many bioplastics end up in landfills. Here, a lack of light, heat and air can keep them from degrading. Recycling isn't currently a viable option either. Until the use of bioplastics becomes wide-spread, most recycling facilities can't justify the cost of accepting them.
Another concern is that it takes enormous amounts of energy and chemicals to grow and process the corn needed to make these "eco-friendly" substitutes. In addition to the large energy required for production, most of the corn used to make bioplastic has been genetically modified. To address these two concerns, some manufacturers are now purchasing green power to off-set their energy use and are offering GMO-free options to consumers.
How to Use Bioplastic Now
Despite some problems, there are still situations where bioplastics are the best alternative. In the case of outdoor festivals and fairs, for example, vendors cannot usually wash or reuse disposable foodservice items. Bioplastic food containers and service ware (cups, plates, utensils, etc.) can be used, collected and eventually sent to large municipal composting facilities afterwards. Bioplastics garbage bags may also be the best option for yard and garden waste that is destined for municipal composting sites because the bags can biodegrade alongside the plant waste.
New bioplastic materials and technologies are constantly being invented, perfected and brought to the market. Eventually bioplastics will make up a large percentage of the plastics in the marketplace, helping us reduce our dependence on petroleum and reducing our impacts on the environment.