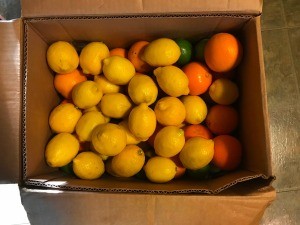 I had an interesting problem recently in regards to food. In response to the coronavirus outbreak, Oregon closed all bars and restaurants in mid March. They could still provide take-out or delivery but many places shut down for the duration. Because this was relatively unexpected, the businesses had a great deal of produce and refrigerated food to get rid of before it went bad.
A dear friend who owns two bars brought me a bag of excess food: lettuce, carrots, onions, blue cheese, avocado, etc. I also got a big box of lemons, limes and oranges. From this bounty, I was able to make Greek salad (tomatoes, cucumber, peppers, red onion) and guacamole (avocado, onion, jalapeños, tomato, limes).
I still had a ton of food to use up but I hadn't been shopping yet that week so I plan meals around what was left.
The next day, my husband comes home with two big bags of food. His employer is also shut down and is in the same boat. I got more heads of lettuce, tomatoes, avocados, carrots, onions (so many onions), 3 heads of celery, more citrus, etc. It was a tad overwhelming.
This continued for a few days, with my husband bringing home excess food every night after work. It was more than I could easily fit in my refrigerator. Here is what I did to use up as much as possible.

Citrus: I have a citrus juicing attachment on my Kitchenaid so we juiced all the oranges and limes. I froze the lime juice to use in a recipe later and we drank the orange juice with breakfast. The lemons were also juiced and we took zest from 12 of them to make lemoncello and lemon bars. The remaining juice was made into lemonade.

Celery: I took one head of celery and made a creamy celery blue cheese soup. Another head was chopped up for the mirepoix I was making (1 part celery, one part carrot, 2 part onion) for the freezer. I was able to use up the third head in soups and other meals.

Onion: I had both red and white onions. I chopped up some of both to add to my mirepoix and froze some chopped onions separately. I sautéed them in bacon fat and made a quiche with shredded cheese that we received. I made several soups and stews that contained onion, some of which I froze for later. Sliced onions were also used for salads and were added to our scrambled eggs. I had originally planned to make pickled red onions but I managed to use them all up.

Carrots: Not only did I receive several large whole carrots but my husband also grabbed a couple large bags of carrot sticks. I chopped up the whole carrots for my mirepoix mixture. These frozen bags will come in so handy when I don't have fresh ingredients. My husband took out our juicer and combined the stick carrots with ginger, apples (also from work) and a head of romaine lettuce. It makes a refreshing addition to breakfast. Most of the rest of the carrots were added to my regular soups, stir fry and meatloaf.

Tomatoes: I used a few tomatoes for my Greek salad and a couple in the guacamole. More tomatoes were turned into tomato soup, diced for tacos, or other salads.

Peppers: I got bell peppers, poblanos and jalapeños. The Greek salad used up most of the bell peppers. I made tacos and used the spicy peppers and more when I made a taco soup with the leftovers.

Greens: I got several heads of romaine, a head of iceberg lettuce and a head of cabbage. In addition to juicing the romaine, I have been using the lettuce for salads, tacos or sandwiches. The cabbage was used in a stir fry and added to the taco soup. We didn't manage to eat all of it before it went bad but we sure tried.

Dairy and Eggs: I received both blue cheese and shredded cheddar cheese, half and half and eggs. The blue cheese was used in the celery soup as well as being made into a blue cheese dressing. The shredded cheese was used in a quiche, which also used up eggs and half and half. More cheese and half and half was used in a casserole of mac and cheese. I still have sealed cartons of egg whites to find a use for but they should keep for a little while longer.

Condiments: My husband also brought home some flavored oil and sauces. I got a pineapple soy sauce, which I used to make a stir fry with the other veggies. A barbecue mop sauce was added to my meatloaf as was a horseradish dijon. Honey mustard dressing was used to coat chicken tenders before baking. And the garlic oil was used to start all sorts of meals.
My refrigerator and countertops are finally getting cleared out and my freezer is full. It certainly helped our food budget and it was sort of fun figuring out how to use it all up. I'll post some recipes soon.
This list doesn't include everything we received and I did give some of the excess away. We did our best to use up everything. The avocados were the hardest as only my husband and I will eat them. I should have frozen them too.