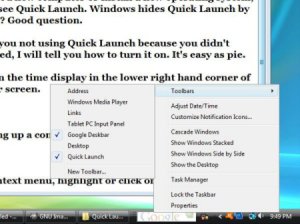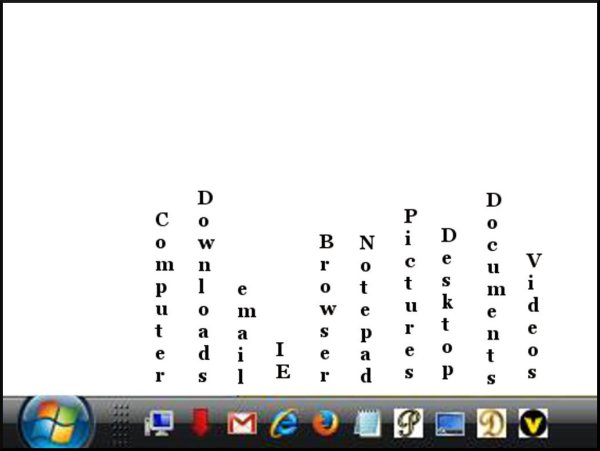 In the above picture are some of my one click shortcuts in Quick Launch. You can add what you like and as many as you like.
When I got my first computer, I went to the Start Button for everything. If I wanted to open the Pictures folder, I clicked on the start button. This brought up the Control Panel. From the Control Panel, I selected Pictures. I used this method to open everything.
Then I discovered I could open all Windows folders and much more, right from my desktop with one click. No need to go to Start and then Control panel.
This is accomplished by using Quick Launch. Quick Launch was introduced with the XP operating system and has been a part of every Windows operating system since. It makes accessing most everything twice as fast.
The reason I'm posting this tip is because unless you are the inquisitive type and like to explore your computer and all its features, you may not be aware Quick Launch even exists.
When you get a new computer or install a new operating system, you will not see Quick Launch. Windows hides Quick Launch by default. Why? Good question.
For those of you not using Quick Launch because you didn't know it existed, I will tell you how to turn it on. It's easy as pie.
Right click on the time display in the lower right hand corner of your monitor screen.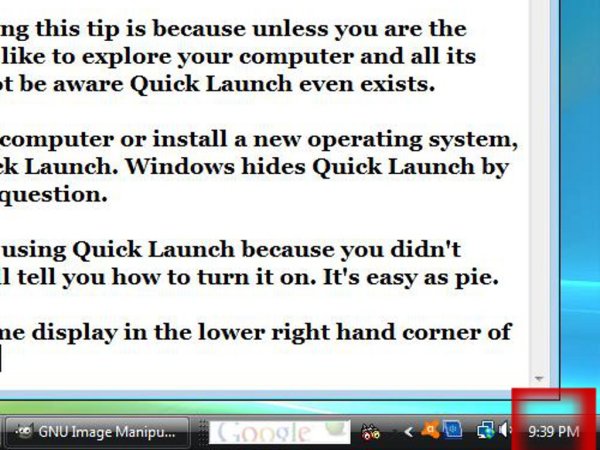 This will bring up a context menu.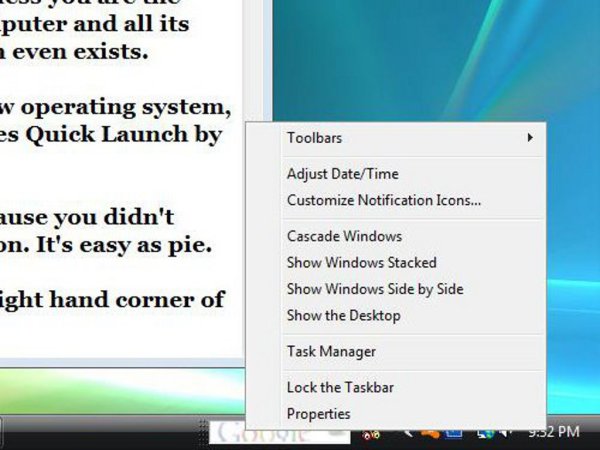 From the context menu, highlight or click on Toolbars. To the left will be another context menu. Click on Quick Launch. You should immediately see the Quick Launch across the bottom of your screen.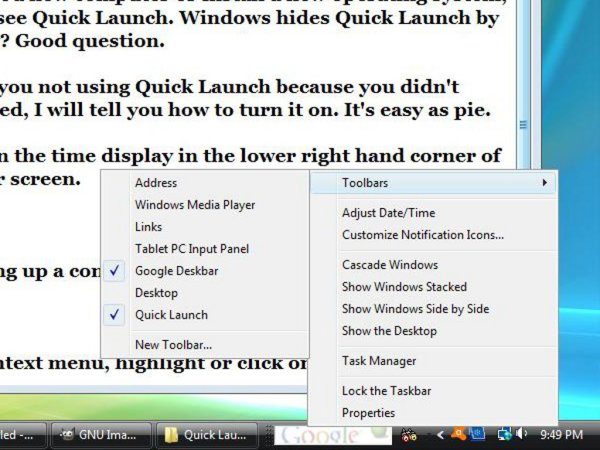 When you first launch Quick Launch, it will only display the windows/folders you have open on your desktop at that time. You must manually add all the shortcuts you frequently use. You can add shortcuts for all Windows folders as well as shortcuts to your browser, email or any other Internet site you choose. I will show you how to do this in my next post.
Desktop shortcuts are great, but if you're like me, sometimes they're covered up with open pages. The Quick launch shortcuts are always on top and visible.