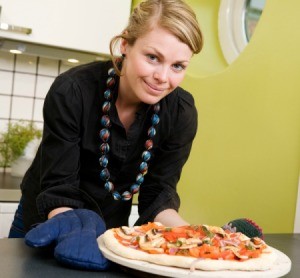 When I had wanted a baking stone, and it was rather expensive, so, I thought about using red clay saucers, like red clay pots can bake bread in them, and I knew that pots and saucers can be fairly large. I was told to get red clay pots and saucers that are not painted or coated, just plain red clay.
I basically coated oil all over the saucer like I would with cast iron, and I baked them low for at least 4 hours. Whenever I saw that the saucer looked dry looking, I spread some more oil on it, until it stopped leaving dry spots. Make sure that you use a potholder when reapplying oil, the saucer is hot. I also spread the oil inside and outside, completely covered with the oil.
I really like and use it now for baking, and for many different things, they clean off easily, most of the time, with just a cloth or paper towel, or dampen anything stuck with a little water, and it quickly wipes out clean, and give it another wipe with fresh oil, and I store it in the still warm oven that is turned off.
The pizza crusts are amazingly perfect, like bought pizzas, rolls, round loaves of homemade bread, chips and cheese. I also have two smaller saucers, for personal pizzas, chips and cheese, crustless quiche pies, small pies or tarts, many things can be baked in them. For the smaller ones, they fit right on to a plate, and it keeps the food warmer longer while eating. Saucers come in many different sizes, so look for sizes that will fit anyone's needs.
Source: I believe I got the idea of Martha Stewarts clay pots for baking.
By Kathryn Visser from Rockford, MI
Read More

Comments
We have owned a Pampered Chef baking stone for years and have loved cooking with it. We have always cared for it per the instructions, but have recently noticed that food items no longer slide off like they used to. When we cook a frozen pizza, it sticks all the way around the edges and has to be loosed before it will slide off. What caused this to happen and what can we do to remedy the situation? Thanks!
By Randy from Sioux City, IA
Answers
April 23, 2011
0

found this helpful
Best Answer
If you have a self-cleaning oven, just put the stone in when you clean your oven and it comes out like new.
April 25, 2011
0

found this helpful
Best Answer
Try not to use soap on a stone, but you can use baking soda. What I do is, make a paste of baking soda and water, then I spread it on the stone and let it sit in a low heat oven setting, say 150 to 200 til the paste becomes dry, then I take it out and scrap with the scraper. If your stone has a "lip" around the sides, you can add a little more water to the mixture. Continue to do this til all the baked on oil is scraped off. To prevent access oil from building up, add a little salt to your everyday cleaning of the stone.
Answer

this Question
Do you need to heat the baking stone before baking cookies on it, or just use it like you would a normal pan?

M.D. from Bozeman, MT

Answers
By (Guest Post)
September 8, 2008
1

found this helpful
Best Answer
I got my stone from Williams Sonoma and it said to preheat the stone, however, I never do it as it could break if a frozen pizza is placed on it. I know several girls who have had their Pampered Chefs stone break on them by doing this. As one other poster said, for cookies its usually recommended to use a cooled sheet.
Answer

this Question

I have a very nice, large (14 inch), round baking stone. It looks like pink fired terra cotta. (no pic this time). I've used it a few times for baking biscuits and crescent rolls and it works fine. And of course, it would be perfect for a large pizza.
I clean it with a wet cloth with just a tiny bit of dish detergent and then rinse. As it is porous, I'm afraid it will 'take on' the scent of the detergent.
I can season a cast iron fry pan to perfection, but have no idea how to season a baking stone. That is, even if they can or should be.
Ideas, Y'all?
Answers
October 28, 2018
0

found this helpful
We have one and hubby loves it for pizza. I have put my pie pans (glass) on it to catch spills and defuse heat evenly, when I make apple pie.
Our cleaning rules are hot water, no soap, ever; never use sos or anything like that. Scrub gently with a sponge or clean dish rag. Occasionally he'll put a few drops of vegetable on it, but basically use, wash, air dry, store in on its side.
When he makes pizza he sometimes uses corn meal, but sometimes not.
He loves it. It is too heavy for my arthritic hands, but I do adore the pizzas!!!
October 28, 2018
0

found this helpful
You dont have to season it at all. I use corn meal on mine and when it is cool I wash in warm water. It will darken with use, and that is what they refer to when they say it is seasoned.
October 28, 2018
0

found this helpful
No seasoning for a baking stone. Best thing is to use it often :)
November 1, 2018
0

found this helpful
I have had a baking stone in my oven for years and just brush it off (crumbs onto a cookie sheet) as it is too heavy and awkward for me to remove.
I use it frequently and have never thought about seasoning it and it does not seem to have changed except to darken with use.
I think I will just leave it as is because it seems to level out the heat during any baking process and helps to make great pizza.
December 17, 2018
0

found this helpful
I was advised to NEVER use any chemicals, including detergents because the stone will absorb them . . . I wiped mine with a very thin amount of warm olive oil, then cleaned with a soft rag and cool water to remove any excess oil. Wish I had another one.
Answer

this Question