Using a Straw in a Soda Can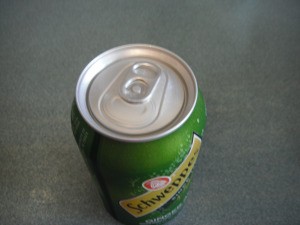 I don't like putting my mouth on a can to drink soda. When I have soda in a can, I prefer to use a straw. However, if you just put a straw in the hole, it will move about and it's hard to manage when you are holding the drink in one hand and doing something else with the other hand.
A long time ago, I found a way to hold the straw in the can and it does not move. Just for curiosity, I looked on line and found that I have been doing it wrong. There is another way to put the straw in the can.
I like my way better, but I will let you choose which way you like best if you are not already doing this.
Supplies:
can of soda or juice
straw
Steps:
Pull the tab open.

Press the tab down flat to the can and turn it around so the hole in the tab is over the opening on the can.

Stick the straw through the hole on the tab into the soda can.

My Way:
Open the can.

Do not turn the tab around. Stick the straw in the hole that is made when you open the can.

Press the tab against the straw just a little.

It holds the straw tightly and you can enjoy every sip down to the last drop.
When the can is empty, you can see how snug this method holds the straw by lifting the can with the straw, but don't leave the straw in the can. Remove the straw and put the can in your recycling container.
Published by ThriftyFun.
© 1997-2023 by Cumuli, Inc. All Rights Reserved.
https://www.thriftyfun.com/Using-a-Straw-in-a-Soda-Can-1.html