Value of 1768 Britannica Encyclopedia Set?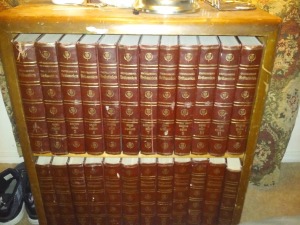 I have the complete set of the 1768 Britannica encyclopedaedia. My mother purchased them when I was a girl. I'm 62 now. They are in arguably leather covers and the bookcase still like new.

Add your voice! Click below to answer. ThriftyFun is powered by your wisdom!
February 8, 2018
0

found this helpful
Best Answer
If you want to sell the book for the best price possible, you'll need to go to an auction house. They are basically the only ones who can get a fair value for a set of books like yours. Considering they are in good condition except for the 2 I see on the bottom, you should receive a nice price for these. I just a little curious, did your mom purchases these as used books. I think that you might have miss typed the date on these books and instead of 1768 it should be 1968. I would check again. Because if they are from 1968 which they look like, this one could be possible then they aren't much at all.
Your book cover is not the same as the cover of a book back in 1768. However, searching online the colver of your books looks more like a book purchased in 1968.
I'm sorry but you can only get around $25 for these at the most. They are just old and not highly sought after.
February 6, 2018
0

found this helpful
I'm seeing them on eBay from $100 to $400 for the set
February 6, 2018
0

found this helpful
I would take to a book dealer. It is very old and is probably worth a lot.
February 10, 2018
0

found this helpful
You can look on the contents page of your set and find the actual publication date.
Judging from your comments (bought for you when you were a girl) it seems possible the publication date may be 1960-1964.
Most of these sets are still plentiful and there is not a high demand for any encyclopedia sets as most everything is available over the Internet and usually in more detail.
Sets do sell on auction sites (eBay, Amazon) but they may be listed for months or even years before they sell - if they ever sell.
Shipping is very high especially when a cabinet is involved so many sellers will list a set as "pick-up only" as they do not want to ship.
Local auction sites like Craigslist is a good place to list a set for sale as you can start the price higher and lower it if no one shows and interest.
If you decide to try and sell, you will have to be patient as you will probably not have a fast sale.
A good starting price might be $150-$250 dollars and lower it as you see fit.
Here are a couple of listings from eBay (one has ended) but neither set sold.
The listing mentioned as selling for $200 on the Britannica site is for a 3 set new reproduction of the original 1768 set. Britannica does not answer questions about the value of any set.
March 9, 2019
0

found this helpful
I have a set similar to this. They were published in 1951 as the 1768 Encyclopedia Britannica. You can probably only get $50-75 for the set
Add your voice! Click below to answer. ThriftyFun is powered by your wisdom!
Published by ThriftyFun.
© 1997-2021 by Cumuli, Inc. All Rights Reserved.
https://www.thriftyfun.com/Value-of-1768-Britannica-Encyclopedia-Set.html