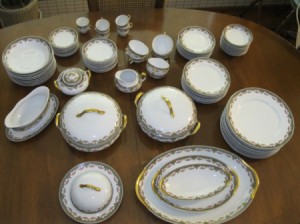 I have a set of U.C. Limoges china I would like to sell. It has the wreath on the back. I'm trying to determine a fair market value. It was used for holiday dinners many years ago, and shows some minimal signs of wear. It has been stored indoors for many years, and I would say it is in very good condition. We discarded any chipped pieces; 87 pieces remain:
10 dinner plates
11 salad plates
8 bread and butter plates
10 fruit/ dessert bowls
10 soup/salad bowls
6 cups
10 saucers
5 demitasse cups
8 demitasse saucers
3 sizes of platters, the largest being about 18 inches long
cream pitcher and sugar bowl
gravy boat
2 covered vegetable bowls
1 covered cheese/ butter dish
Also, I'm wondering if I would do better selling the entire set together, or selling smaller groups of pieces. For example - selling the three platters together, or the individual covered vegetable bowls, which are a good size. I've sold many items on Craigslist, which is easier than eBay and free, but I'm guessing I would mostly get responses from dealers wanting to resell and offer a low price. Any input would be much appreciated.