March 12, 2018
0

found this helpful
I am familiar with a lot of doll brands but this is not one that I recognize. I believe it is a brand that is produced to be sold to an open market - sort of a "no brand" item. These are usually sold wholesale in large quantities to one distributor who then sells in smaller quantities to small specialty stores or to stores like Toy Biz.
These stores cannot afford to buy higher priced "name" brands but can sell nice dolls like this and still make a profit.
Many of the well known brands of dolls have a price "set" on their merchandise and merchants cannot sell below that set price until they reach a certain "age" and then merchants are allowed to reduce the sale price.
Your doll's true value may be low and it may be difficult to sell on eBay (due to the large number of dolls available) but since this is a native American doll you could probably sell it on Craigslist.
Craigslist is easy to use and you could start your asking price at $45-$55 and if no one shows an interest, just lower it until she sells or you change your mind.
Be careful with showing someone your doll (maybe meet in a public place) as personal safety has to be a priority.
Here is an interesting site that has information about value of dolls.
A doll appraiser on eBay charges $4 dollars and gives a lot of information. Here is a link in case you are interested.
March 13, 2018
0

found this helpful
This doll is mass produced and won't bring a high resale value. People list these types of doll online every day.
You'll be lucky if you can sell this for $10 to $25. You'll need to consider the shipping cost if you sell this online.
March 17, 2018
0

found this helpful
Thank you for all the reply's about the doll. there was only 112 made of Divya, so hopefully I can find a high price than original that says $19.99. Thank you everyone.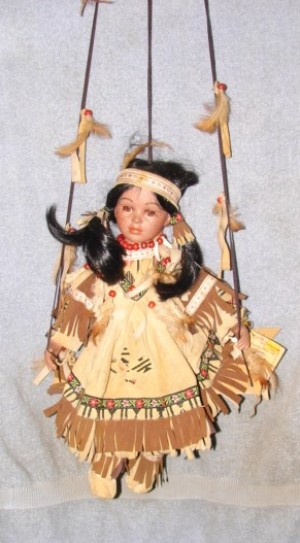 March 15, 2018
1

found this helpful
Nobody should buy these dolls save they actually love to look at them/hold them. Possibly before industrialisation these things had tangible value, but mass production has taken the value out of it through creating a market glut.
People elsewhere have already commented on this particular doll-purveyor's 'value'.
here are other thoughts from a doll expert:

the fact is, a lot of these so-called 'collector' dolls do not have a lot of value. The market is saturated with them and the demand is just not there. This professional doll site has this to say about it: "Modern porcelain collector dolls sold from about the 1980s to present, were meant to appeal to adult doll collectors, not children. The theory was; buy it, keep it in the box or debox, but keep it unplayed with, after some time passes, you'll be able to sell it for more money than your original purchase and make a profit. Dolls were easily found in department stores, grocery store toy aisles, card shops, toy stores and on TV from QVC etc. The quantities sold of each collector doll could be large, it's the sheer quantity of all available porcelain collector dolls today, that is determining the current value, as they flood the market place, online and elsewhere..... Sad to say, but these dolls are now available in such large quantities they have little to no value today." dollreference.com/porcelain_collector_dolls.html