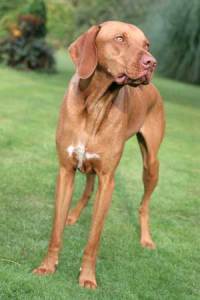 Breed Description:
The Vizla is an attractive and lively hunting dog, medium in size, with a lean and muscular athletic build. This versatile and talented breed can track, point and retrieve, all with equal skill and vigor. The Vizsla is a high energy dog that is happiest when working in the fields. Gentle and responsive, this breed makes a reliable hunting partner and affectionate companion. Group: Sporting group.
Purpose of Breed: Hunting and retrieving game
Country of Origin: Hungary.
Average Size: Ranges from 22 1/2 to 25 inches and 48-66 pounds.
Color(s): Dark gold with rusty highlights.
Coat Type: The Vizsla has a short, dense and smooth coat that is close-lying to the body, without a wooly undercoat.
Grooming: This breed's short, smooth coat needs brushing two or three times per week to stay in top form. Like all outdoor dogs, it should be checked for parasites when groomed. This breed requires standard care for eyes, pads and nails. Ears should be examined and cleaned frequently.
Exercise Needs: Vizslas are a very high energy breed and need ample amounts of physical and mental exercise to stay healthy. Exercise should take place on a lead or in a safely enclosed area.
Temperament: The Vizsla is a multi-talented dog that in addition to excelling in the field, is also an alert and responsive watch dog. The owner of a Vizsla should be an active and energetic person to ensure this dog gets the substantial amount of mental and physical stimulation it needs. This breed should not be confined and will become destructive without the proper outlet for its energy. Gentle and loving by nature, the Viszla makes an affectionate partner and companion.
Common Ailments: Susceptible to skin problems, hip dysplasia and epilepsy.
Life Expectancy: The expected life span of the Vizsla is 10-14 years.
Trivia: The Vizsla is also sometimes called the Hungarian Pointer was first imported into the United States in the 1950s.
More Information: Vizsla Club of America, Inc.