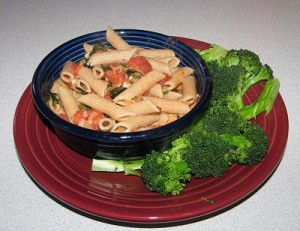 This is a quick, tasty, and fancy looking dinner that is fairly inexpensive to make. I find that if I spend a little more money and cook nice meals like this regularly, we don't want to go out to eat, saving money in the long run.
Ingredients:
12 oz. pasta (whole wheat regate, for example)
1 Tbsp. extra virgin olive oil
1 Tbsp. butter
3 large cloves garlic, minced
2 green onions, minced
1 cup vodka
1 cup chicken broth
1 (28 oz.) can crushed tomatoes
salt and pepper, to taste
1/2 cup heavy cream
1 cup fresh basil leaves, cut in strips
feta or freshly grated Parmesan cheese
Directions:
Put large pot of water on high heat for pasta. When water boils, add salt and pasta. Cook until al dente and drain.
Meanwhile heat a large skillet over medium heat. Add olive oil, butter, garlic, and green onions. Saute for 3-5 minutes.
Add vodka and cook to reduce by half, approximately 2-3 minutes.
Add chicken broth and tomatoes. Bring sauce to a boil, then reduce to a simmer. Season with salt and pepper.
Stir cream into the vodka sauce. When sauce comes to a boil, remove from heat. Toss hot pasta with sauce and basil leaves and serve with a vegetable of your choice. I like to top with some feta cheese or freshly grated Parmesan. It'd also go well with a nice piece of crusty bread as there is usually a little bit of sauce left to sop up.
Source: Original recipe was a Rachael Ray 30 minute dinner. I've made some modifications.
By Stephanie from Hillsboro, OR
Comments
Read More Comments