Julia
Bronze Post Medal for All Time! 146 Posts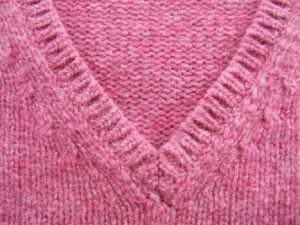 We used to do a lot more hand washing of fine fabrics, including delicate lingerie and nice sweaters, than anyone does today. I grew up doing laundry the old-fashioned way for the most part, but today, I use the convenience of automatic washer and dryer for everything except nice sweaters and delicate clothing, which I still treat the way my mother taught us to do.
Wash in mild soap and cool water, rinse well, and either dry on hangers, line dry, use gentle cycle of dryer, or flat-dry on towels. Although those things may have changed a little over the years, we still rinse the same old way to get the sweetest smelling and softest sweaters. The final rinse should have some Tone or other sweet smelling bath soap rubbed into the water. Not much, just a little bit to slightly cloud the water is fine.
Rinse the hand washed items, and place on several thicknesses of dry towels (pay attention to the colors you're using) and allow to dry flat. We use the tops of washer and dryer for this. If you roll the wet clothing in a dry towel first, but do not twist, just gently squeeze out all the water possible before laying them out onto dry towels, you'll find your clothing will stay looking like brand new and retain their lovely colors for as long as you treat them this way.
There are a few tricks our grandmothers and mothers used that no technology is going to make better, and this is one of them.
Source: My Mother and every other lady I knew when I was a child.
By Julia from Boca Raton, FL
Read More

Comments

Does anyone have a suggestion on how to wash a wool sweater without a dry cleaner? My daughter loves her Christmas present, but I cannot afford to keep getting it dry cleaned.
By Jackie from Buffalo, NY
Answers

February 6, 2010
0

found this helpful
Simple: use a mild soap or detergent and wash and rinse in thee same temperature water (but not hot warm or cold is best) just swish the sweater around and squeeze a few times do not wring spread out on a large towel and roll very tightly, repeat the last step until your towel is just damp should not take more than 3 towels.
Let sweater dry flat on the bed on a dry towel. Hot water will stretch the sweater.

February 6, 2010
0

found this helpful
One of the tricks I learned, was that because wool is hair, you can use hair products to clean it. When you wash your wool hats or sweaters, wash them with shampoo. In the rinse water use a tiny bit of conditioner as a "fabric softener." Just be sure to rinse all the conditioner out of your garment when you're done. You'll have wool that's softer than ever before and it won't get that winter static either. Good luck.

February 8, 2010
0

found this helpful
You could use "Woolite" or Dryel. I kind of like kffrmw88 answer. That would save you money.

(Guest)
Gold Post Medal for All Time! 846 Posts
February 8, 2010
0

found this helpful
Be sure not to wash wool items in hot water and 'do not place washed items' in the dryer or they will shrink.

February 9, 2010
0

found this helpful
My mom taught me a long time ago -before gentle cycles- to wash a sweater by hand gently in a sink of barely warm water and delicate soap. Swish it gently, maybe rub a spot a bit. Rinse to remove soap. Wring out very gently and lay it flat on a fluffy towel.
Roll up the towel to remove excess water. You can use another towel and repeat if necessary. If it's a delicate sweater lay flat to dry on a rack or table that won't get ruined. Or hang it on the back of a chair or on the railing.

Cricket
Bronze Post Medal for All Time! 205 Posts
February 9, 2010
0

found this helpful
I use Dryel sheets on my sweaters. It's so easy and safe. I put like colored sweaters in the dryer on medium heat, throw in a Dryel sheet, and tumble dry for about 20 minutes. They come out wonderfully soft and fresh smelling. Plus I don't have to worry about shrinkagae, colors bleeding or any of the other hazards of washing them.
If they get a spot on them the Dryel sheet packet tells how to treat that too.

Cricket
Bronze Post Medal for All Time! 205 Posts
February 9, 2010
0

found this helpful
When I absolutely have to wet-wash a sweater, I hand wash it using baby shampoo. It's extremely gentle, and very inexpensive too since I buy it at the $1 store. Also just a small amount of hair conditioner (also from the $1 store) will make it come out nice and soft. I use the same method that Coolcook described so well.
Also Deeli pointed something out too. Once a sweater has gotten wet, don't put it in the dryer or it will shrink and get out of shape.

February 9, 2010
0

found this helpful
Woolite and do not wring dry. Lay the sweater flat on a towel and roll up into the towel to soak out all the excess water - you may have to use 2-3 towels. Lay on flat surface to dry. You may have to stretch the sweater to its original size and pin in place so that it will dry to correct size.
Do not use hot water as it will shrink. Shrinkage can go from a size 12 to a baby size.

February 9, 2010
0

found this helpful
I used to collect antique clothing and learned a great deal about handling delicate fabrics. I was taught to NEVER use Woolite as it leaves a residue.

February 9, 2010
0

found this helpful
Thanks to you all! Say a prayer I am going to try to wash her sweaters tomorrow. :o) Thank you all once again for the great ideas. Jackie

February 9, 2010
0

found this helpful
There is a website called How to Clean Stuff I believe the address is www.howtocleanstuff.net You might find your answer there. Good luck :-)

Maryeileen
Bronze Request Medal for All Time! 59 Requests
February 11, 2010
0

found this helpful
wasshrunk: could you share exactly how you handle delicate fabrics?
Answer

this Question

Onesummer
Bronze Post Medal for All Time! 219 Posts
I got 2 pretty sweaters (cardigans) for Christmas and would like to know how to properly wash them. The last time I owned a sweater I washed it and it came out looking dull with lots of tiny balls and lint on it. Any advice?
By Onesummer
Answers

January 23, 2013
0

found this helpful
Look along the seams of the sweaters to find the care guidance label. Laundering information may be printed or in symbols so I'm posting a link to the international laundry symbols charts:
laundry.about.com/.../International-Laundry-Care-Symbols...
After you've found and deciphered your label, browse the laundry pages for more information on laundering sweaters-the guide has posted a lot of excellent information on all kinds of laundering situations.
Answer

this Question