Webster is 13 years old medium, soft orange fur cat. Webster belonged to my husband before we got married. He likes to sit by the window and watch the birds and squirrels.

By CaroleeRose from Madison, AL
Answers:
Webster the Cat
He's absolutly wonderful. I just want to reach out, pick him up and cuddle him. (04/17/2009)

By yarnlady
Webster the Cat
That is such a great picture! Thanks for sharing! (04/17/2009)

By jannieb
Webster the Cat
It looks like "Old Webster" is just plain tuckered out from reading all that mail! :0) (04/18/2009)

By MCW
Webster the Cat
I love the way you wrote "he belonged to my husband before we got married"...like now he belongs to you! Great pic. (04/18/2009)
By dh8
Webster the Cat
Webster looks like a very literary cat. Please read him something on my behalf. He's lovely, really. (04/18/2009)

By thriftyboo
Webster the Cat's not fooling anyone!
As most of you know, we don't own cats - they own us! For the lucky humans, an especially nice cat will consider us to be their primary care giver, and give us an appreciate nudge and loud purr when it's feeding time.

To the untrained eye, Webster appears to be fast asleep (They're so cute like that). In actuality, he has one eye opened (hidden from view) and he is studying up on "How to catch especially fast birds" and "How to free yourself from the repressive bonds of being a house pet by learning how to use the electric cat opener."

My two cats, "Marchello" and "Da Bruiser" wrote a book entitled "The cat opener mystique" and then they kicked me out of the house but not before forcing me to sign a promissory note stating the mortgage and utility payments would come out of my "now frozen" bank accounts to be used for the payment and upkeep of the homestead. A special addendum states that they house will remain a constant 98 degrees all year round. "Animal Police Germantown MD", from the acclaimed TV show, have been hired (at better than minimum wages, I might add - seems the kitties have been dipping into my 401K) to stand guard to prevent me from sneaking in and lowering the thermostat.
I looked in through the window yesterday to see how they were doing, and Marchello had his sweet little head resting on a book, not unlike Webster. But the title sent chills up my spine. It was entitled "HAVING HUMANS FOR DINNER." from the old twilight TV show!

Do any of you know a good lawyer who can help me get these two "kitty monstrositie" moved out of my house?

At first I wanted them gently removed but now I'm not so sure - perhaps a midnight run around 3:00 AM by my trusted canine friends, Nick the Greek (a very lazy beagle) and Tony the dachshund leading them into the local IAMS market into the basement where they'd have all those toys to play with and all those IAMS food choices! I really would like to get back into my house without further bloodshed (mostly mine) but I'm at my wits end! Help me please! I told the dogs that they didn't necessary have to be gentle. Have you ever seen a dog smile?

But If the opposite happens, and Nick the Greek and Tony the Dachshund decide the that cats' cause is "right and just" and decide to stay in the house with the cats, I will have no choice but to move back to my last home just outside of Naples Italy, take my losses like a man, and continue to love cats - as long as they stay outdoors!

Thanks for listening to me - it's hard to be funny at 4:00 a.m. - way to many typographical errors to correct. (04/19/2009)

By Mike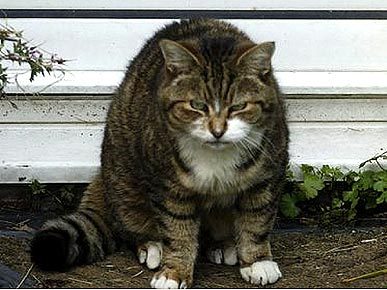 Webster the Cat
My recent surname was Webster and I just love ginger cats. He looks so relaxed and cuddly. Great picture, thank you. (04/19/2009)

By bookworm4
Webster the Cat
Thank you for sharing Webster's story. He is precious and I am sure he's loaded with personality. Give him some scratches from me!
Jennifer from Northern Virginia (04/19/2009)

By ILuvDobes
Webster the Cat
Webster looks so content. I just want to snuggle him! Picture Purrfect!

Grandma Jan and Kato the Wonder Dog (04/19/2009)

By javajano
Webster the Cat
Delightful picture. Thanks for sharing. (04/19/2009)

By louel53
Webster the Cat
Great picture (04/20/2009)

By knewton37
Webster the Cat
Webster is a sweetheart, I can tell. We too have a ginger kitty (Tee-Vo), who looks identical to your Webster. They are just the most wonderful pets (masters in disguise) and rule us so gently and lovingly that we are forever hooked. Thanks for sharing him with us. Incidentally, we are slaves to seven kitties (all rescued and strictly indoor residents). They keep us in line and on our toes for sure and are just the greatest entertainment, and most loving housemates.

Also want to say I enjoyed Mike's reply and delightful little story about his two "monsters". It's so nice to find other cat people to speak with. Best to all cat lovers. Julia (04/21/2009)

By PookaRina
Webster the Cat
Oh, I just wanna smoosh my face in his soft belly! He looks adorable and so sweet. I had an orange cat and he would daily go and bother the mean dog on the block, haul his big fat body at speeds that did not seem possible then jump on several things until he was swinging from the gutters and we would have to scare mean dog and rescue Huevos de Oro (golden eggs is literal translation) No one could believe the speed our little fat cat would run. And then he would curl up in a sunbeam looking like the most innocent creature! Well please love on, kiss, hug and hold Webster for me! He is gorgeous. (04/25/2009)

By meoowmom