Week 1: Homemade Chicken and Rice Soup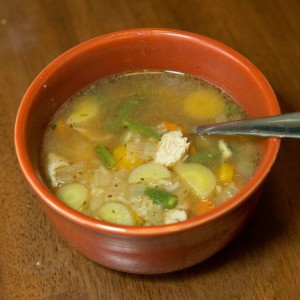 Our first recipe of the year is a classic for cold and flu season. If your family is suffering from delicate stomachs, sinus congestion or scratchy throats, this soothing soup is sure to be appreciated.
This recipe calls for the addition of apple cider vinegar. Lemon juice would be a wonderful substitution, adding flavor and vitamins.
If you have any tips and tricks for making chicken and rice soup, please share them with us.
Recipes
Share on ThriftyFunCheck out these recipes. If you have made this recipe please submit a photo and let us know how it worked. Or, add your own recipe variation.
My youngest was home sick from school this week so I made him a batch of a very basic chicken and rice soup to make him feel better. I recommend lots of garlic and a long slow simmer to cure any cold.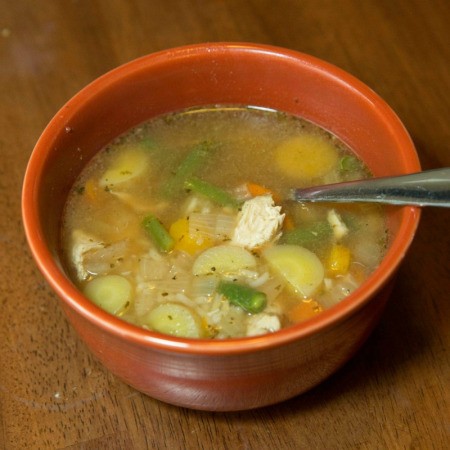 Total Time: 1 + hours
Yield: 6-8
Ingredients:
1 lb chicken tenderloins
4-5 cloves garlic, minced
1 onion, finely chopped
3 carrots, finely chopped
1 cup green beans, roughly chopped
2 Tbsp olive oil
4 cups chicken broth
salt, pepper and Italian seasoning, to taste
1 Tbsp apple cider vinegar
2 cups cooked long grain rice
I would have added celery if I had any on hand. Other good additions would have been mushrooms, tomatoes, potatoes, peppers, parsley or any fresh herbs.
Steps:
Heat a heavy bottomed pot on medium and add 1 Tbsp. olive oil. When the oil is heated, add the chicken and cook until browned on both sides, 2-3 minutes per side. It doesn't need to be fully cooked as it will simmer in the soup.
Remove chicken from pan, cover and set aside. Add 1 Tbsp. oil to pan.
When the oil is heated, add the onions and cook until just softened, 2-3 minutes
Add vegetables. Sauté briefly after adding the next ingredient; garlic, carrots, green beans.
Add chicken broth and seasonings. Bring to just a boil and reduce heat to low.
I used a package of chicken tenderloins for this soup but I would have rather used a rotisserie chicken. Remove the meat, cook the bones down into broth and simmer
Comments
January 10, 2019
0

found this helpful
Mmmmm...Nothing like homemade chicken soup!
The winds are howling after a snowstorm here....sounds like the perfect day to make it!
Thanks Jess for the suggestion for todays menu!
January 10, 2019
0

found this helpful
It's so easy. I should make a pot this weekend too!
January 13, 2019
0

found this helpful
Old fashioned medicine before there was any medicines for colds. I still put on a chicken in a pot when anyone in my family says they have a sick one in the house. After a few hours, they are at my door picking up their (Mom's Medicine)...ha, haha!
January 18, 2019
0

found this helpful
Yep, there is something about chicken soup that not only feeds the body but warms the sole. Great Job Jess!