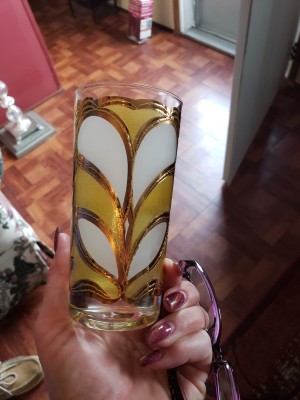 Have a set of 6. Please tell me if anyone knows what they are worth?
Georges Briard - artist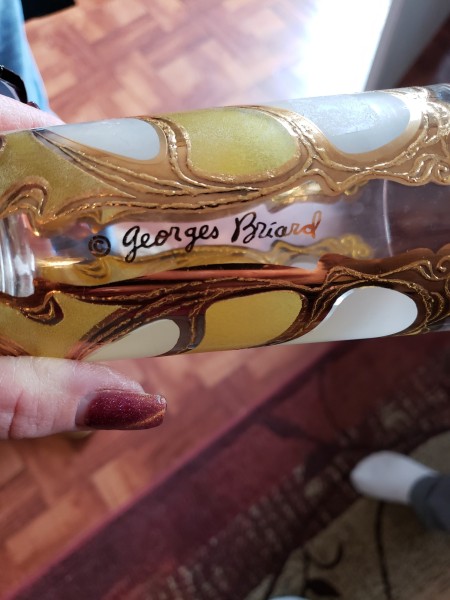 Answers

Judy
Gold Post Medal for All Time! 677 Posts
February 11, 2021
0

found this helpful
Best Answer
Georges Briard sets of glasses have sold on eBay in the range of $50-100.

February 11, 2021
0

found this helpful
Best Answer
These are beautiful glasses.
The name on your glasses is called 'his signature' and was supposed to be on every item designed by him.
Georges Briard is a very good name but I have not been able to find this particular pattern online either listed for sale or sold. This means it would be very difficult to place a value on your glasses as Georges Briard glasses (all sizes) are listed for sale from $40 to several thousand and we would only be guessing which end of the scope your glasses should fall. This would be very unfair to you to give a price because we may be way too low in our estimates.
The following link is to a very high end selling site (that most likely knows more about the value of each pattern designed by Briardso than most sellers) so take a look at how varied their prices run and you may be able to understand why I'm saying that we may quote you a very incorrect price.
retrosolstice.com/.../georges-briard
I believe you should try to find out your pattern name if at all possible so you can maybe find out more about this design. You can try sending your pictures to Replacements (with height of glass and type if possible) because they have a lot of items designed by Briard. Here is a link; it's very easy to complete. You ca also ask them if they would be interested in buying your glasses. If so, their figure will be very low but you will at least have a starting point.
www.replacements.com/crystal_dentify.htm
Here is a little information about Georges Briard. He never made/produced any of his famous items; he was only a designer and sold his designs to different companies (but mainly one company).
"Georges Briard designs became hugely popular throughout the 1950s to 70s, so it is prominent through many eras, but is most notable for the Mid Century Modern, Atomic & later 70s Kitsch designs. The Georges Briard signature can be found on everything from glass, ceramics, metal, wood, glasses, trays, coffee pots, dishes & more...
At the beginning of Briard's career, he would purchase blank glassware from companies like Libbey and Anchor Hocking and embellish these blanks with his designs. Being a designer, not a manufacturer of glass, he later realized he could license his name to companies who would, in turn, produce his designs on glassware. His "designed and signed" wares were stocked at noted department stores, including Neiman Marcus and Bonwit Teller. Briard, an award-winning mid-century designer, died in 2005."
If you will post back with any information on pattern, etc someone may be able to provide more help with the value.
Another member, PGHgirl, may be able to provide a lot more information so watch for her answer.
You can also post your picture and question on Reddit and most likely someone will be able to provide some information. Reddit is somewhat difficult for new members but you can always ask a commentator for help.
www.reddit.com/.../

Ana
Bronze Post Medal for All Time! 140 Posts
February 12, 2021
0

found this helpful
Best Answer
LOVE LOVE, this set of Georges Briard Glasses. Georges Briard - known as JaKub Brojdo- born in Ukraine and raised in Poland. Brodjo- became a American award winning designer, producing high end for department stores like Neiman Marcus & Bonwit Teller.
Still very popular today and sought after , these glasses could go for as high as $300. You have a very unique set, you could also try bid/auction to drive up the price. Here are what others are asking on eBay-
www.ebay.com/.../bn_118047377

Pghgirl40
Bronze Feedback Medal for All Time! 196 Feedbacks
February 12, 2021
0

found this helpful
Best Answer
The Briard line was highly prolific and was one of the most coveted wedding gifts in bridal registries for many years. In 1959 the Boston Globe said the line would be the up and coming gift for brides and they were correct.
I am not often stumped by a Briard pattern, but this one is not one I have seen before. It may be from the 1960-1970s Europa series.
I am going to defer the question to a Facebook group that has over 2000 members and they know rare and obscure much better than I do.
MCM & Vintage Barware Whats Dis? (there are little bar glass icons in the name).
You have to ask to Join and then you can post photos and your question. Please post back if they are able to confirm the series and give you the name.
If they aren't, you could always try to sell them as a "Rare" pattern on eBay using the colors, size and that it is signed in the description. I would start it at a 7 day auction at the lowest value you want to realize for it and then go from there.
The catches to selling them online is they are VERY, VERY, VERY fragile and each glass must be boxed careful, stuffed with packing peanuts in the glass, wrapped in bubble wrap, then peanuts so it doesn't touch the box (with at least one inch around the INSIDE Box, then again 1 to 2 inches of packing peanuts so the inside box does not touch the edge of the outside box.
So you are not losing money on shipping, after you take photos wrap and package this so you know the size of the boxes needed and the final measurements and weight.
If this is a truly rare pattern--which since none of us can find it it may be, having it get to the new owner in one piece is critical to the success of the sale.
Post back what you learn! Thanks for sharing!
Answer

this Question