Myrna
Bronze Feedback Medal for All Time! 168 Feedbacks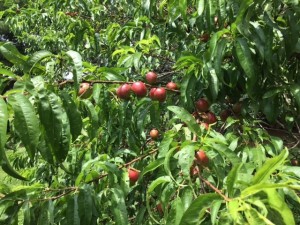 We moved to KY and this fruit tree is in our backyard. We would like to know its name. The fruit size is approximately 2 to 2 1/2" circumference and remains this size. It has a pit like a peach. We were told it is a variety of apple; it's white inside and the outer peeling is tough. The fruit comes on early and this picture was taken a couple days ago.
The mature tree is not very large. The fruit not picked will harden and shrink turning black before it falls to the ground and is hardened. Sure would love to know the name of this kind of fruit. It is edible, but I haven't eaten any yet.
Answers

June 27, 2021
0

found this helpful
Best Answer
I think this is a nectarine.
The Prunus persica variety nucipersica (or var. nectarina). It is commonly called nectarine. This is a glossy-skinned varieties.
Nectarines often erroneously believed to be a crossbreed between peaches and plums, or a "peach with a plum skin". Nectarines belong to the same species as peaches.
Nectarine skins are more reddish than those of peaches, contributing to the fruit's plum-like appearance.
en.wikipedia.org/.../Peach#Nectarines
"A genetic variant of common peaches, the nectarine was most likely domesticated in China more than 4,000 years ago, and nectarine and peach trees are virtually indistinguishable."
www.britannica.com/.../nectarine

June 29, 2021
0

found this helpful
Best Answer
According to the leaves, your tree definitely belongs to the species Prunus persica.
Since the surface of fruits is smooth (although your photograph is not very good quality, but I noticed that the fruits are shiny), then this is definitely Nectarine tree (var. nucipersica).
There are many varieties (types) of nectarine. Here is a description of White Nectarines: "White nectarines are small fruits, averaging 5 to 7 centimeters in diameter, and have a round, oval, to heart-like shape with a prominent central seam or suture extending lengthwise from the stem to the base.
The nectarine's skin is smooth, taut, and thin with a white base, covered in red-pink blush."
specialtyproduce.com/.../White_Nectarines_4211.php
(5 to 7 centimeters corresponds to approximately 2-2.7 inches)
So, I have no doubts that this is a nectarine tree, most likely a White nectarine, but there are many types of nectarines with white flesh, for example Snow Queen Nectarine.

Iceskater
Silver Answer Medal for All Time! 320 Answers
June 23, 2021
0

found this helpful
I think this is either a "creek plum" or "mayhaw". Most likely the latter since the fruit develops early as you mentioned. Each requires a reliable water source.

June 23, 2021
0

found this helpful
Although your picture is not very clear (fruit and leaves kinda run together and photo cannot be enlarged for a better view) I believe the wild apple trees bear individual fruits and it looks like this one has fruit close together running on the branch?
It might be something in the plum family but plums do not usually have a 'hard skin' like an apple.
I would suggest you take several pictures and send then to your county extension agency as they will know for sure what you have and also provide information on how to care for your tree.
www.gardeningknowhow.com/extension-search

June 28, 2021
0

found this helpful
Do these fruits have fuzzy coating? In the photo, they shine like they don't have fuzz.
The white peach's skin is semi-thin, taut, and easily bruised, displaying an ivory base coloring covered in red and pink blush and a layer of velvety fuzz. specialtyproduce.com/.../White_Peaches_4194.php

Judy
Gold Post Medal for All Time! 677 Posts
June 28, 2021
0

found this helpful
It could be a crabapple
Answer

this Question