What Is This?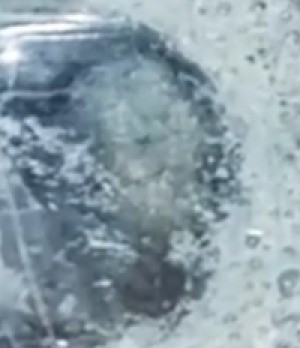 I have been feeling something move under my skin and people kept saying I was delusional but I know I wasn't. I finally found what it is and as intelligent as I am I have never seen anything like this. So I need someone else's intelligence to point me in the right direction.
So this first picture shows the top of the creature. But this thing easily separates itself sometimes shooting off "babies" off its back. It puffs itself up to look bigger just like a toad. But here's the thing, those babies that separate from this big one can use ANYTHING to hide. From your hair, nails, mucus in your nose, ear wax, saliva or plaque in your mouth, water, pretty much anything. Look, I've figured this thing out and I can tell you a million things about it if you ask me later. But I'm trying to see if anyone has ever seen anything like this? Did I mention that it has something like tentacles? I have video of it moving and some under my skin and nails moving. Even in my eyes. You tube latanyatate@gmail.com please help me cause thing thing is literally eating me!!
Add your voice! Click below to answer. ThriftyFun is powered by your wisdom!
April 6, 2021
0

found this helpful
I dont know what that is but I think you need to go to a specialist of some kind to find out what it is and get rid of it.
April 6, 2021
1

found this helpful
I do not believe this is a site that can help you identify what type of bug/infection that you have.
Is this the same problem that you commented on earlier this year?
www.thriftyfun.com/Identifying-Bugs-in-Human-Hair.html
This is definitely something that a doctor/dermatologist should be seeing. I know it's possible that have talked with or seen a doctor before but I feel sure a good dermatologist would have tests done to find out what is causing all of this.
You may even have to go to a wound/sore specialist but for sure it will most likely not be completely identified by a layperson.
There are numerous people who may have similar issues but each person's body and immune system is different and it may be dangerous for you to continue trying to solve this my yourself.
You may be able to ask your question on this site as the majority of people answering on this site are university people who study this type of thing all of the time.
ask.extension.org/.../about
April 6, 2021
0

found this helpful
I believe you may be suffering from Morgellons Disease, which produces uncontrolled/abnormal strands of keratin and collagen (the bases of hair and fingernails) beneath the skin. Medical experts consider it to be caused by a spirochete bacteria and possibly related to Lyme Disease. Unfortunately many doctors are unaware of this diagnosis or treatment options, so I'd like to suggest that you google < Morgellons Disease support group > to join or seek a university medical school Microbiology Department contact to assist you in addressing this condition. Long-term antibiotic use has shown some promise in clinical trials.
April 6, 2021
0

found this helpful
This can only be identified and cured by your doctor or dermatologist.
Good luck.
April 6, 2021
0

found this helpful
Contact professional advice, we are all guessing at this point. you do not want to second guess. This link has Doctors that you can ask about your concerns - https://www.justanswer.com
April 7, 2021
0

found this helpful
My niece had your symptoms and it was bird mites. If I were you, Id go to a dermatologist.
Add your voice! Click below to answer. ThriftyFun is powered by your wisdom!
Categories
Pages
More
Categories
Published by ThriftyFun.
© 1997-2021 by Cumuli, Inc. All Rights Reserved.
https://www.thriftyfun.com/What-Is-This-8.html