January 11, 2010
0

found this helpful
It's called a "gold dust" plant. It's in the same family as the "pink polka dot" plant. Here in Virginia they will grow outdoors under the right conditions. DC is right next door, maybe they will grow outdoors there too. Google the plant's culture and see.
January 14, 2010
0

found this helpful
Perf & Powd is right. It looks like an Aucuba Japonica. I am presently growing a cutting from a fellow growing several of these outside in Niagara Falls, Ontario (Zone 6). He does however, have a microclimate in his back yard. His four shrubs are about 2-1/2 - 3' tall.
January 14, 2010
0

found this helpful
Told it is a gold dust plant. I live in Oregon. Mine are 8 foot tall. Hearty in freezes.
January 14, 2010
0

found this helpful
You're all right - it's an Aucuba Japonica. I have them here in North Carolina and they thrive beautifully outside in filtered sun (full sun will scorch them) and good drainage. I expect they would do fine in D.C. Good luck!
January 14, 2010
0

found this helpful
Beautiful. So glad you saved it.
Marg from England.
January 15, 2010
0

found this helpful
Not to be obstinate, but it's not an Aucuba Japonica. The leaf whorls are nothing like a japonica.
The lady at the nursery was actually on the correct path. It is an Schefflera arboricola Variegata, of which there can be many subspecices, ranging from those whose leaves are a solid yellow, to a mix, to those whose leaves are simply spotted yellow.
They can grow quite large, and are often used in offices, and hospitals, etc.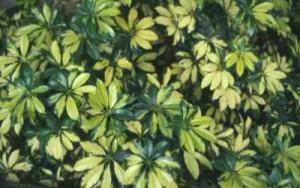 January 16, 2010
0

found this helpful
Thanks to everyone who posted feedback (and in advance to those who will). I am overwhelmed at the exposure my question has gotten. I let all my coworkers know about our plant being "famous" on ThriftyFun!
Attached is a picture of the plant that I snapped with my cell phone the moment I found it. You can see it still has the "trash" sign on the bottom.
Although it has since been pruned to fit in a wide hallway (it had been in the corner of a lobby), it still stands about six feet tall. But now it is approximately 3 feet wide, down from 5.
Other than small personal plants on individual desks, we haven't had a large plant in any public areas in our department for as long as I can remember (9 years). I can sense the positive difference it is making in our environment.
I took the pruned cuttings and put them in water, which I changed weekly. Most of them rooted. I will post a picture of the planted cuttings soon. Now I have one at work and a small one that fits at home.
I look forward to any additional feedback. Thanks again! Cheryl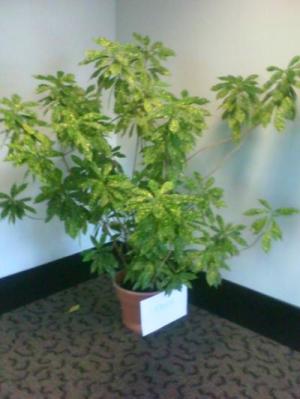 January 17, 2010
0

found this helpful
I agree with Jron7667 that it is a variegated umbrella plant aka Schefflera. I have one just like it but mine isn't as big. They are easy to grow but can be messy because the leaves drop quite easily. It is a beautiful plant! I am glad to hear you saved it.
January 21, 2010
0

found this helpful
A couple of days ago, some of my larger rooted cuttings were still in water and some of the smaller ones were planted in small pots. I planned to combine everything into one pot. I gathered soil, pots, rocks and cuttings and... the small cuttings seemed to be very happy in their small pot. It was overwhelmingly clear to me that I should not move them. I added one more small rooted cutting to the two already in the pot and agree this is as it should be. I also took a photo on the front steps so you could see.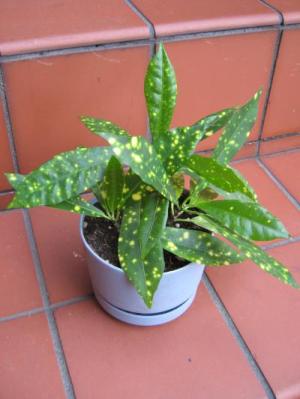 January 25, 2010
0

found this helpful
My gardening green thumb housemate & partner says this definitely is an arbicola schefflera (excuse spelling errors). These and others in the family grow wonderfully well here in Cennral Florida. We had regular tpe burst its pot in the front yard. It has survived being stripped bare by the four hurricanes of 2004 plus two hard freezes. Now the potted plant towers over the roof of the house in full glory!
Yours is lovely - looks very happy.
January 27, 2010
0

found this helpful
"Schefflera Arboricola Variegata" seems to be the agreed answer to my question. I'll continue my research using that name.
My last few cuttings are about to root. Some have just been sitting happily in the water without rooting still the leaves have remained bright and strong. I started them all at the same time. One is sprouting a tiny new leaf up top as the first little roots push out into the water. I have enough to fill one more small pot once they all develop root systems.
Thanks again to all who have been contributing to this discussion. I've attached a photo of the big pot I prepared using the larger rooted cuttings.
The delight of reading feedback from caring plant lovers from so many different places is only exceeded by the joy I feel every time I look at my little potted cuttings at home (in DC) or their big "mama" at the office (in Arlington, VA).
Sincerely, Cheryl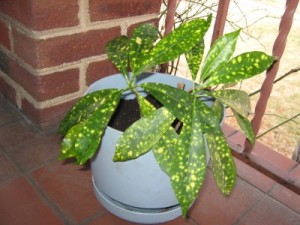 October 2, 2010
0

found this helpful
Now that summer is over and Washington DC was observed to have the worst summer weather in all of the US, the time has come for me to prepare my plants to come inside.
I want to show everyone how beautifully the plants grew over the summer. I was shocked when I looked at these pictures from late winter and early spring. You might not believe your eyes.
Watch this space. I will take and post photos of the same plants, still in the same pots, in the next few days.