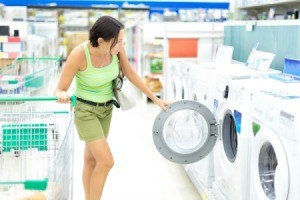 Do I need to replace my washer and dryer? They are still working, but around 20 years old. If one goes out abruptly then I'm at the mercy of the salesperson and can't wait for sales. I need your opinion.
By Betty
Answers
July 25, 2010
0

found this helpful
You should do to keep your current washer and dryer. If you are concerned about when they should stop working then consider buying a used washer and/or dryer at an auction or yard sale that isn't quite as old. Craigslist is another good option. If you have room to store extra appliances (like a garage, shed or basement then you could store the replacements till you need them. If your washer and dryer were built 20 years ago they are built better than most appliances made in the past 10 years. It may be worth just paying for a repair and have them last another 20 years.
July 25, 2010
0

found this helpful
I bought a very nice three year old top-loader washer and electric dryer at a used appliance store. Both of them were delivered and installed.
If you ever have a break down, you could temporarily use a laundromat if you live near a town or city.
Since our economy is extremely poor you will not find customers beating down the doors of many of the local businesses. There are so many people out of work in this country and they just are not buying consumer products like they used to years ago. So don't concern yourself about being at the mercy of a salesman. When you really stop to think of it, they are actually at your mercy, not the other way around.
To prove my point, I recently made a purchase for more exercise equipment. By talking to the salesman I bought an exercise bike from G&G Fitness and had $100.00 knocked off the price, and the store wasn't advertising a sale.
July 26, 2010
0

found this helpful
Newer models will be more energy efficient than the ones you have now, but if they are working and not causing a problem, then I would keep them. You could contact local repair businesses, and see if they have second hand appliances that they sell, when you have need for a replacement, rather than just buying new.
July 30, 2010
0

found this helpful
You are blessed to still have a running washer and dryer for twenty years and when the working time does expire for one or both you'll only be without one or both for a week or two. As the others said you can always purchase second hand. You can also buy new and no one, whether buying used or new, is at the mercy of a sales person. Personally, I would wait until they stop running and just go to a couple of appliance stores and choose the least expensive, most efficient you can afford.
Read More

Answers