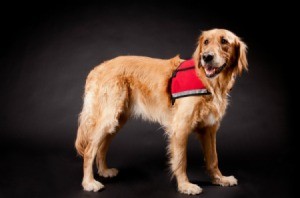 I really want to get a dog as a pet, but also as an assistance dog for my daughter. She is disabled (wheelchair/non-verbal/epilepsy), and I think it would be so great to have a wonderful dog for us.
I wonder what is the best breed for this type of thing? They, of course, have to easily trainable, smart, not too big, but big enough to do some service work, like picking up an item and giving it to my daughter in her wheelchair. I'd also prefer a short hair, but I can bend on that one. Any breed/type suggestions?
By Audrey Randall from Oak Park, IL
Answers
May 18, 2009
0

found this helpful
Best Answer
Golden Retrievers are wonderful service dogs. I was in a class with two deaf people and they had goldens. Each said they had owned a couple of them and wouldn't consider another breed. A blind friend has a golden. They are very kind and patient and will obey quite easily and will withstand a fair amount of "abuse" (hair pulling by children, etc.) without reacting.
May 26, 2009
0

found this helpful
Best Answer
Service dogs can be many breeds. Knowing how to train a service dog is really the challenge. I have a mixed breed therapy dog who is well trained but I do not really know how to go about training a service dog. Usually service dogs are trained by professionals and families apply to agencies to obtain one. Therapy dogs are just well trained family dogs that go about spreading good will in schools, hospitals, and other places. They just need a good temperment and their Canine Good Citizen and get hooked up with Therapy Dog Inc. or Therapy Dog International. I'd look up an agency if I were you.
May 18, 2009
0

found this helpful
I've often heard mix breeds are the best. We had a beagle/lab mix that was extremely easy to train. Anything with Shepard in it would most likely be also. Check your local animal shelter, they may even have a great dog in mind as they already know the temperament and train ability. There may even be some programs in your area. Do some searches and see if you can find one that is already in training or has been trained and ready for service. Labrador retriever German Shepard
May 18, 2009
0

found this helpful
A female German Sheperd or a female Lab.
flor2007
Read More

Answers