I want a small dog, but one that doesn't yap a lot. I like the Maltese terrier, but have been told they yap a lot? Is this true?
By mumacool from West Yorkshire

Answers

October 19, 2010
0

found this helpful
I have three Pomeranians, purported to be yappers, but none of mine are. They seldom even bark. I think it really depends on training, home environment, the dog's personality, and *some* on the breed themselves.

Keeper
Gold Feedback Medal for All Time! 690 Feedbacks
October 20, 2010
0

found this helpful
I had 4 Japanese Chins at one time. None were yappers. I agree w/Jron7667. My Panda Bear lived for almost 15 years and rarely. If she did it was to get my attention.You could go on line an check a particular breeds traits.
Chins are one of the most lovable lap dogs you'd ever want to have.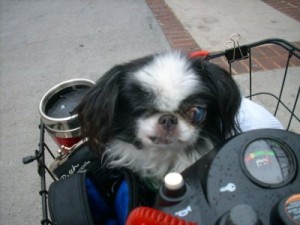 Lee Taylor
Bronze Feedback Medal for All Time! 171 Feedbacks
October 20, 2010
0

found this helpful
Terriers are often referred to as "terrors". It's not the easiest breed to deal with, so if you are up for the challenge.

xintexas
Silver Feedback Medal for All Time! 278 Feedbacks
October 20, 2010
0

found this helpful
Most little dogs are yappers. A true barkless dog is a breed called a Basenji. The African bush dog. It is a small short haired dog with a curly tail.
It think it is quite cute. You can look it up on line and get more details. I thought you should have a barkless choice also.

October 20, 2010
0

found this helpful
I have a Maltese X. She is the best pet I have ever had. When she does bark, she is telling me something. So as you get to know your dog you will be able to read her/him.
As a rule, she is quiet and keeps me company. So I would say go for a Maltese and teach them right.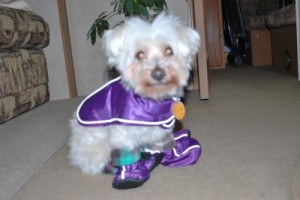 Beth
Silver Feedback Medal for All Time! 407 Feedbacks
October 20, 2010
0

found this helpful
Dogbreedinfo.com is a great web-site to check out different types of dogs. You can look them up alphabeticlally or by type. Not all small dogs are yappers. I have a Boston Terrier.
They tend to be quiet, only barking when someone comes to the door. He doesn't even bark when we go for walks and other dogs are barking their fool heads off!

October 23, 2010
0

found this helpful
Basenji's are the only ones that don't "yap". I think I have a Basenji mix and she rarely speaks.

October 29, 2010
0

found this helpful
For any breed, some dogs yap and some don't, it's specific to each dog. I've fostered a Chihuahua that barked all the time, and one that was silent. I would look up a local rescue, and go to an adoption event to actually meet a bunch of dogs (they usually have them at pet stores on weekends).
That way you can see how the different dogs and puppies act, and you might find one you fall in love with!
Read More

Answers
I am between a Pomeranian and Chihuahua? I really want a lap dog that really loves me and is loyal. Please help me!

Beth from Saint Charles, IL

Answers

Paula
Bronze Feedback Medal for All Time! 156 Feedbacks
October 22, 2006
0

found this helpful
Hi Beth,
I remember when I decided on getting a puppy and I did a lot of research before choosing a breed. The American Kennel Club has a wonderful site that tells you all about the different breeds. I think that Pomeranians would require a lot of brushing, that is something to consider when choosing a puppy, how much time do you have to spend maintaining their coats? My best friend had a Chihuahua and he was forever shedding! Have you ever thought of a Papillion? They are small like a Chihuahua, but have a longer, more silky coat. My sister-in-law has two of them and they are the sweetest little things. They have lots of energy and like to play, and they love to give lots of kisses. How about a Toy Poodle? My brother has two of them, they need to go to the groomer to get trimmed, but they don't shed, they are friendly little dogs that have a lot of energy and they are very affectionate.
My one friend has a Maltese and he is a wonderful little lap dog; he also goes to the groomer to be trimmed but he doesn't shed, he is friendly and playful, but likes to sit in your lap and cuddle too. I have two "furbabies" myself; I did a lot of research before I decided to get a Norwich Terrier, she is a little rambunctious and very stubborn, but likes her belly rubbed and loves to give kisses. My other was a rescue dog that loves to cuddle on your lap, she thinks she is a chihuahua but unfortunately is a German Shorthair mix and squishes me when she wants to cuddle on my lap! Best wishes to you, Paula

October 23, 2006
0

found this helpful
My mom has a wonderful miniature dachshund. She is the most loving little lap dog! When she was a puppy she was restless and chewed things, but since reaching adulthood she has calmed down. She would sit in Mom's lap all day if she could! Also she is low-maintenance, being a smooth short-hair.

October 23, 2006
0

found this helpful
Dear Beth,
You did not give any info about your livestyle, so it is hard to give you an answer. I have 2 very tiny Chis, both under 4 lbs. They are very spoiled, and expect to be. ;-) They are good watch dogs, as they will bark when there are people around the house and inside, if they do not know them. They are so small that they are really not good for children to be round.
Over the years I have always had mixed breeds, mostly chi's with something else and they have been very good, but alot bigger than mine now. I have short haired chis and they do shed some, esp. if they get stressed or nervous. They bond with one or two people and are very loving and close to them. There are regular sized chis too, and they are very loving.
Small poodles do not shed and need to be cut and groomed. I would agree with the poster who said to really do some research about the breeds you are thinking about. Many people I know have Tsi Shues or Lasos and love them dearly. Personally, I like a dog with a real nose. LOL Also I would get a mixed breed again in a heart beat, as they are usually really better dogs IMO.
Gayle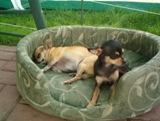 October 29, 2006
0

found this helpful
My sister has 2 pomeranians. They are wonderful little dogs and very good with her 4 year old daughter. One is 10 and the other is 5. One thing you need to be sure to check is the breeder. One of my sisters Poms has an inherited skin condition that made him lose most of his beautiful coat. He has never regained it. But as far as upkeep they do have very thick coats but if you brush every day it helps tremendously, you can also clip them in the summer. My sister does and they love it.
I own a toy poodle and he is such a lap dog. Poodles are very intelligent and can be trained quite easily. I groom my own poodle, it is quite simple to do and saves me lots of money.
Good luck with whatever breed you choose.

July 10, 2007
0

found this helpful
Alert and spirited, the Chihuahua is personality in a small package. Chihuahuas become very attached to their owners and are very willing to please. Very much a lap dog, the Chihuahua enjoys being pampered. But don't let the small size fool you into thinking these dogs lack spunk! They are affectionate but they're also alert and make a fine little watchdog.
Pomeranians are small dogs that can get plenty of exercise just following you around the house. This makes the breed an exceptional choice for dog lovers with limited mobility, elderly people and people with disabilities. Loveable lap dogs, Pomeranians are very content to spend every minute of the day in your presence, whether cuddled up warm and cozy in your lap, or snug in a comfortable small dog bed at your feet. That being said, a Pomeranian will gladly partake of a lively walk or jog with owners who are able to get out and get some exercise and fresh air.
So, with that said, I would say either one, but the pom would be better if you have children, and the chihuahua is better for someone who wants a campanion for life, and a copy cat...or should I say copy dog. I myself have one teacup chihuahua and love him to death, never owned a pom but always heard good things about the poms. I can tell you only good things about my dog too. tough decision, but totally different personalities in each!!!
OR YOU CAN JUST GO ALL OUT AND GET A POM CHI! (SHOWN IN PIC)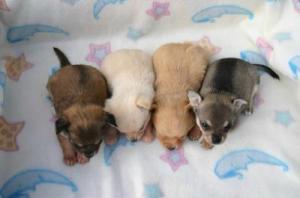 July 10, 2007
0

found this helpful
Hi Beth. Dogs love you and and are loyal. Many people will say this breed or that breed is better but to me that sounds too much like saying Hispanics are better than Eskimos. Every dog even in different breeds and litters has their own personality. And there are many things you can train a dog.
I think the beauty is in the individual dog, not what his ethnic background is, to draw a parallell, I mean.
I have 2 Poms but only because my husband made the choice. Of course I wouldnt trade them for anything but it's the first time I lived with purebreds. Every purebred has some sort of heredity tendency to specific health issues.
With Poms it is luxating patellas, which are basically loose knee joints that pop sometimes when you pick them up and can lead to arthritis in later years. And teeth problems which show up in later years. Basically they rot and fall out.
My 8 year old Pom recently was looking very bad cuz her eye was all crooked and the white was showing. It looked like wandering eye but was from a swollen absess in her mouth.
Not to scare you off at all, dog companionship is so unjudging, loving and wonderful. It's just something that comes with purebreds.
I brush my girls every week when they are shedding and otherwise they can go for a month or so at a time. I dont see brushing as a chore and think that if you dont have time to brush your dog you dont deserve her love and companionship. Whether you spend the time with her on your lap petting or brushing is all the same.
If youre concerned about dog hair--well a Pom isnt for you. I got a special pet hair vacuum just for the dogs hair which seems to wind itself into the carpet.
You can have them clipped in the summer and they look like chihuahuas.:-)
You havent said what sort of lifestyle you expect the dog to fit in to but you can discover a lot if you meet them with their litter mates. You can see which are the really active ones and the dominant one in the litter and which are the snuggle bunnies. Take some time to discern this for yourself.
Although Poms are usually only one or two to a litter.
Take lots of time to do your own research, notice other dogs.
I definitely wouldnt recommend a Toy Pom--anything under 5 lbs fully grown. They are bred to be small and have enormous health problems. it can be heart breaking.
My Swiffer was a real wiggle bunny as a tiny baby, her Mom had her in my house. As her fur grew in I would rub my face in it, it was so soft. And then she would stop wiggling and just melt. I guess she thought I was licking her like her Mom.
Now she just loves it when I rub my face in her belly and gets this look of pure ecstacy when the cat licks her bib.
I can still remember her as a little puppy running mad little circles around the living room while the cats took play swats at her.
I know that a perfectly delightful and wonderful little doggie is waiting to meet you. And you will have a wonderful life together.
By jean (Guest Post)
July 10, 2007
0

found this helpful
I have been owned by two dogs, a 100 pound lab mix, and an 8 pound toy poodle. The lab, Ma Barker,(she was a thief) lived to be 14. Pookie, the poodle is 17. If you want loyal, cuddly and small, you cannot beat a non-shedding poodle. If you start when the dog is young, you can do your own clipping. With short hair, Pookie needs brushing 2-3 times weekly. Not low/no maintenance, but not too demanding either. And while he doesn't like baths, he tolerates them, and is easy to handle. If there are children in your home, a poodle is probably better than a chi, because most chis bond to one person, and are highly protective. Some potential for nips/bites there. While all dogs have their own personalities, poodles(unless overbred) seem to be be more mellow. Whatever breed you decide to get, I hope that you and the dog enjoy a long, happy life together.
Answer

this Question