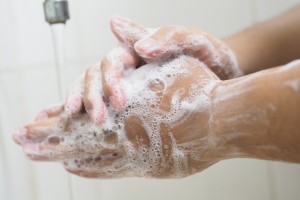 Everyone is sharing advice about washing your hands to decrease the spread of coronavirus. Many people have been using hand sanitizer instead, but this can be less effective over time. My husband and I recently watched a video by Alton Brown that spells out exactly why.
Basically, hand sanitizer doesn't remove the viruses and bacteria from your hands, it stunts its growth. A small percentage of the virus may still be able to infect after the hand sanitizer dries. In contrast, coronavirus (and other viruses and bacteria) can be broken by the emulsifying action of the soap. Handwashing with soap also removes the viruses from your skin, allowing it to be washed down the drain where it can't infect anyone.
Although most experts recommend washing your hands for at least 20 seconds, Alton Brown suggests 30 seconds to do a thorough job. And keep in mind that coronavirus lives in the air for several minutes and on hard surfaces for hours. That is why self quarantine and social distancing are so important to stop the spread of this nasty virus.
Stay safe, everyone!