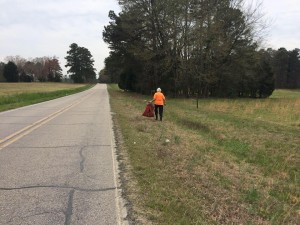 Since our daughter retired and moved in with us, until her house next door is finished, we have enjoyed getting outside and walking together. In our community, we have some nice farm paths to walk. This has been fun and has kept my mind off the troubles of the world.
She has been a big help around the house and has done all our grocery shopping so we can stay home. She has taken precautions in sanitizing, keeping her hands clean and keeping her distance from others.
Yesterday, she helped me pick up litter on the roadside in our neighborhood. It's much easier when there are two of you. Less zigzagging back and forth.
We had on gloves and used reach extenders and did not touch any of the litter. I felt safe doing this even with the coronavirus spreading. We live in a rural county and fortunately, so far, we have had only 5 cases of the virus.
On our way to take the trash to the dump, we stopped a couple of times and picked up litter that someone lost on their way to the dump. I do wish everyone would secure their loads.
It didn't take long to get this done and it sure did make a difference in the appearance of our country road.
Looks like we are going to be home bound for another month at least. I might have to cut my hair with the Flowbee. The beauty salons are closed until further notice.
Stay safe ya'll, but do get outside and exercise if you can. It's a real mood booster.