While walking out the front door to go walk the dogs with my husband, I spotted a tiny little praying mantis sitting on the back of our neighbor's car. Having frivolously forgotten my camera, I dragged my poor little puppy back inside by the leash and grabbed the camera. I raced back outside, thrust the leash lovingly (ok, could have been better there) at my husband, and carefully approached the car. Luckily, I know my neighbors well enough to feel completely comfortable leaning all over their car to take my shots.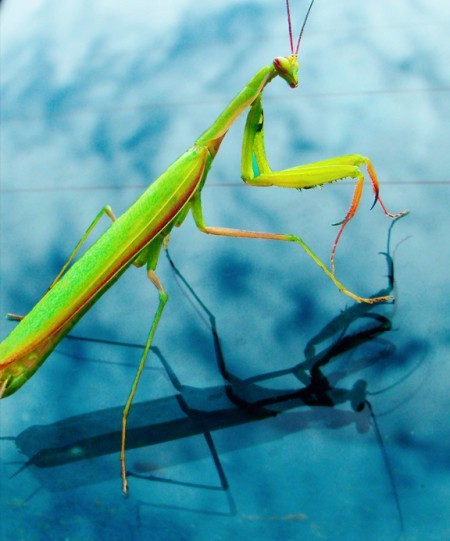 This little guy didn't deal with my photo shoot for too awfully long, but long enough to let me get a few different angles. I liked this one because of the reflection of the clouds in the window and the way the sun and its reflection bounced off the bug and made him glow! He truly is a beauty from God!
He eventually got sick of me and flew into another neighbor's field (in which I most definitely do not feel comfortable wandering in to!) and disappeared from my sight as well as that of my camera's. It was slightly sad to see him go, but I am so excited that I got the chance to meet him!
Whenever I am lucky enough to spot a praying mantis, I can't help but thank God for both the "mundane" as well as the spontaneous blessings in my life. Such graceful creatures remind me of the grace in which God gives as well as the grace He intends for us to conduct ourselves with. May you all have many blessings and much grace in your lives!
By Chelle152 from Coquille, Oregon