Jess
Silver Post Medal for All Time! 267 Posts
My son Ethan recently turned 10 and asked for a Zombie party. There are many directions you could go with a Zombie theme. We decided to have it in a local park and do a scavenger hunt. We were able to invite his whole class and his soccer team, along with siblings and family friends.
Because it was an outdoor party in October, we made sure everyone knew it was "rain or shine" to ensure everyone dressed for the weather. We lucked out with cloudbreaks at just the right times. We decided to forgo any zombie makeup or costumes this time. It would have been fun to dress up, but it would have complicated the party much more and we expended energy enough with the planning and execution of the hunt. The party cost us little, except for food, time, and brainpower. This is what we did.
Food
We started the party at noon so we decided to get pizza for all the kids. This was an added expense, but our son's soccer team had an early morning game and we didn't want the party to run too late in the afternoon. We got a variety of cheap pizzas from Little Caesars' and had them double cut them, to avoid waste. There was plenty for everyone and we wound up taking a bit of pizza home, which was eaten as leftovers for the next few days.
We also had a big bag of Nacho Cheese Doritos from Costco (the birthday boy's choice) and a few 2 liter bottles of generic soda in various flavors, including sparkling water for the grownups. We brought out bulk gummy worms and gummy brains midway through the party, after our scavenger hunt.
Cake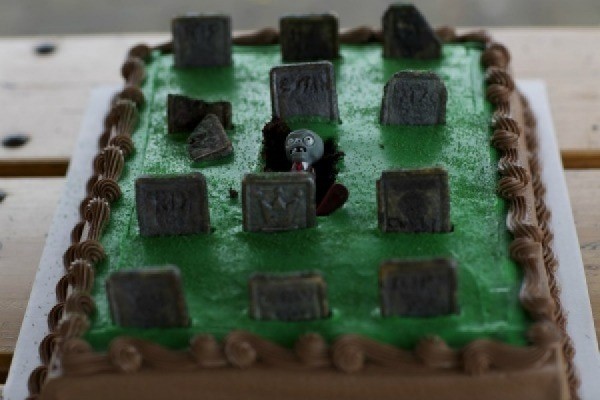 Ethan has clear ideas and input on the "zombie" cake, which was inspired from a Pinterest post I had seen recently. It was not too complicated but did take a bit of set up. I got a chocolate cake from Costco and asked them to just put a large rectangle of green in the middle with no writing or other decorations. This was the base of our graveyard. We used green sugar sprinkles to make it look a bit more like grass. I used Pepperidge Farm "Chessmen" cookies as gravestones. I could have just used them as is or written on them with icing, but I decided to go whole hog and make them as realistic as possible.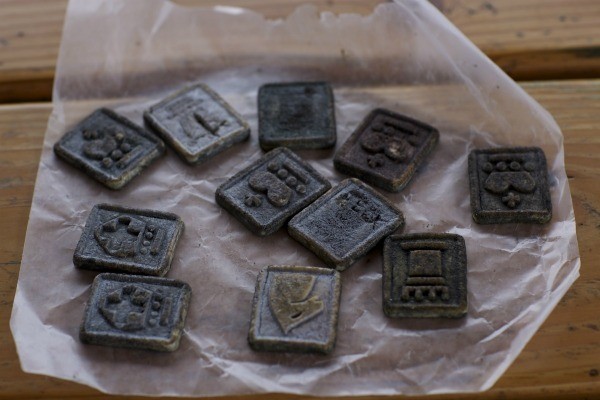 First, my friend and I scraped off some of the designs to make them flat. With toothpicks or skewers, we carved names and dates, or "RIP" on the tops. I would use metal tools next time as I think it would have been easier. I made sure to have a couple with Ethan's name on them and shaved off corners or broke a couple to give them a more aged look.
Ethan really wanted them to be grey so I found food decorating spray paint by Wilton at JoAnn's craft store. We got black and silver. The black looked too light and had a purplish hue so we quickly improvised with watered down black icing as a paint. The silver spray paint finished them nicely. I made sure to paint all the sides and back as well, allowing them to dry between coats. The cookies got a little gummy but they held up surprisingly well and dried nicely.
At the party, I placed the gravestones in rows and dug out a grave in the middle. I found a partially broken "Plants vs Zombies" figure to go in the grave and scattered some cake "dirt" around to make it extra creepy. Everyone loved it.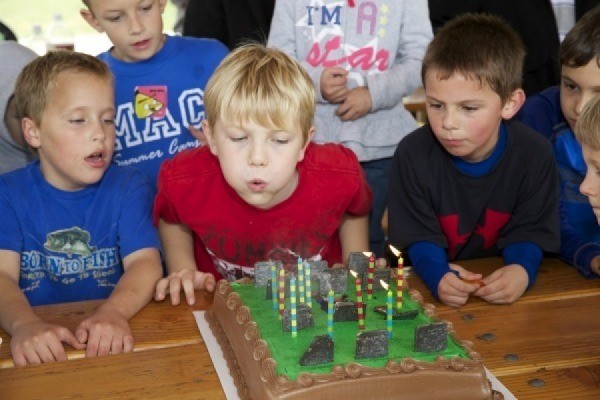 Activities
As we waited for all the guests to arrive and for the kids to finish their pizza, the kids played Zombie Tag (or Infection!). This is just like regular tag but each tagged person becomes a zombie until only one person is left. We set them up in a square section of the field so that there were boundaries. They had a great time with this simple game. We also were close to the playground so that was another option, especially for the younger siblings.
About an hour into the party, we started the scavenger hunt. My husband and I had scouted out the park earlier in the week and figured out good hiding places for the clues and the items, it took about an hour. Before the party, we hid ziplock bags with the clues and items. (Water bottle for water, Nerf guns for weapons, etc). We limited this part to only the 9 and 10 year olds but had older siblings and parents become part of the zombie horde. We cautioned them all to be very easy to get away from, to avoid making the game too scary. We split the teams into 2 groups and sent them in search of the clues, with an adult to guide them.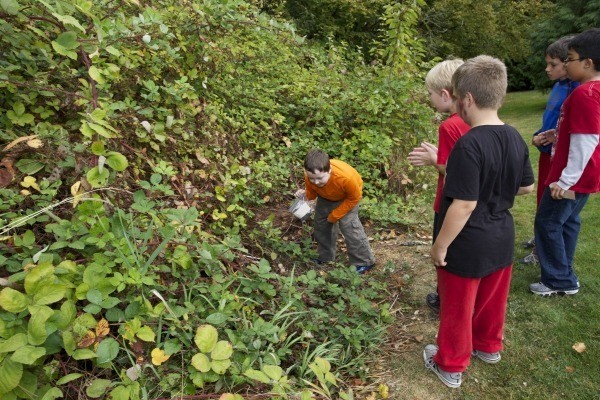 Clues
Zombies attack Hillsboro!  We are in the midst of a zombie apocalypse and need your help. The mission is to find the five items that we need for survival. They are: Food, Water, Weapons, Medical Supplies and Shelter. Each group will follow the instructions to find these essentials, being careful not to become infected or wounded by roving zombies.  

Zombies might look like anyone else at first but can be spotted by their telltale blank expression, shuffling walk and outstretched arms.  Zombies are easy to avoid as they are very slow, just keep walking fast and don't let yourself be cornered.

New instructions will be given after each item is found. Do NOT trust anyone outside your group, unless instructed otherwise.  Good luck, we are counting on you!
Here is an example of one of the group's clues. We tried to hide water near a stream, food near blackberry bushes so both teams had different clues in a different order but this will give you an idea.
Your first mission is to find some food. Head away from the sun. Look for a bench. You can't be tired already but you might find something to munch on while you look for your next clue. Hint: Stumps and logs make great hiding places.
We need some protection from those zombies. Continue along the path until you pass a stone horseshoe on your left.  After it, take the path that leads into the woods. Rocks and sticks can make good weapons but look behind a stump on your right for something a little more modern, along with your next clue.
Find a place to rest and patch up your wounds from the first zombie attack. Continue on the path through the woods then head left.  A clearing behind a bench should give you what you need, and another clue.
Wow, you haven't found water yet?  You won't survive long without it. Look across the grass and you may spy what you seek. Head to the far stone bridge for your next clue.
Almost done, except for somewhere to get out of the rain. Head back across the field and to the grass covered stone bridge. Look around for shelter for a large group.
Now that you have temporary shelter, you will need to work together to solve the final clue. Combine forces with the other team and share your discoveries. You might find out something surprising.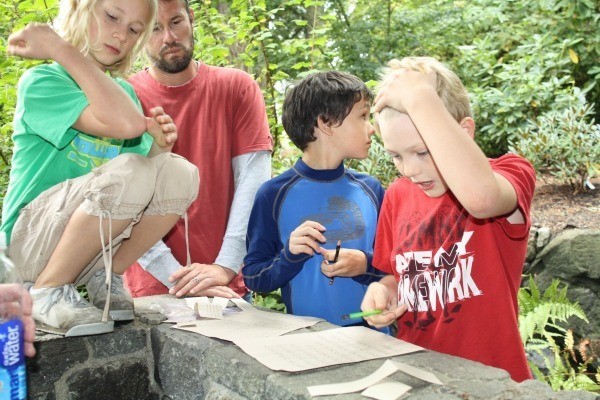 Both teams had the same clue at the end, hidden at a covered pavilion in the center of the park. They had to work together to decipher the final message, as one team had the code and one had the key. The message was:
Oh no! The grownups have been infected and are starting to show symptoms. Run back to the beginning before it is too late!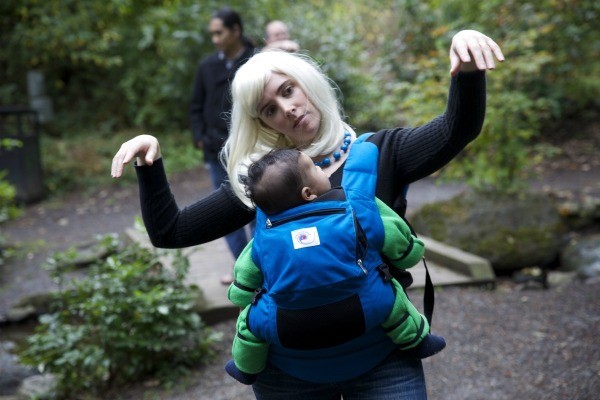 At this point, the adults in the party turned zombie and start shuffling toward the kids, which caused them to hurry back. When the teams got back to the party area, they were told "Oops, sorry! You have been infected too." and were offered a sour gummy "brain."
These brains were available in bulk at our local grocery store last year around Halloween but they didn't have them this year. I wound up spending too much money buying them from a little candy store but I had my heart set on them. I only bought a small amount. I also bought bulk gummy worms so there would seem like plenty of candy for all, and for those who didn't like the sour brains.
There were a couple of places where I would do it differently the next time. One was that the scavenger hunt was a bit too short. We should have made it longer or more complicated to take up a bit more time. The clue at the end was too hard to figure out so some of the kids started getting restless.
We also pulled the "zombies" aside at first and told them what to do but we really could have done that as the kids found their first clue, to better keep the zombie surprise. We could have had some volunteers dress as zombies and hide in strategic locations.
As it was, the kids seemed to love it and we received several compliments for creativity and all around fun. This would make a good birthday party any time of the year or could also be a creepy Halloween party.
Read More

Comments