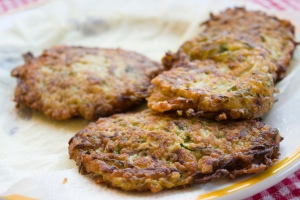 Yellow squash are plentiful this time of year, so they are frequent additions to our summertime suppers. I have tried many different recipes to add some variety. I found this recipe in our little country church cookbook. The ingredients are all something we have in our pantry, the squash were plentiful, and the recipe was simple and simply delicious.
When our boys were younger, I called them "Summer Pancakes" so they sounded a bit more enticing to them. They are grown with families of their own, but I'm still making "Summer Pancakes" and think back of those days when they were at the table with us.
Ingredients:
1 egg, beaten
1 Tbsp. (or less) of sugar
1/2 tsp. salt
Dash of pepper
2 Tbsp. milk
2 Tbsp. finely chopped onion
1 cup cooked, mashed squash
1/2 cup self-rising flour
Hot vegetable oil
Directions:
Combine all ingredients except salad oil and mix well. Heat the oil in a skillet. Scoop the batter and put it onto the skillet--as you would if you were making pancakes.
When bubbles start to appear on the top, flip the fritter and flatten it slightly to brown it on both sides.
Servings:
4
Time:
10-15 Minutes Preparation Time
About 10 until browned on both sides Minutes Cooking Time
Source: Fairview UMC Cookbook
By Sandy from Elon, NC
Comments
July 22, 2009
0

found this helpful
Top Comment
We absolutely love squash! I am always looking for another way to serve it too. I will definitely try this recipe. Thanks for sharing it with us!