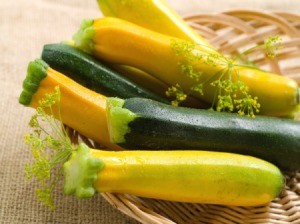 Here are ways to make use of excess yellow summer squash and zucchini. This time of year the garden always produces more than you can use and give away. I hate to wasted so I have several tasty uses listed below in addition to the tried and true zucchini bread recipes.
Summer Chicken Pasta
Dice one zucchini, one squash and one onion. Saute with a tablespoon of olive oil and a clove of minced garlic. Salt and pepper to taste, add hot pepper flakes if desired (or 2 dried hot peppers) and additional garlic powder, if needed.
At this point you can allow to cool, place in a quart freezer bag, press out air and freeze for later use. Repeat for all remaining squash and zucchini
OR continue by adding fresh tomatoes or one LARGE jar of diced tomatoes and one small can of tomato sauce.
Grill chicken breasts, cook pasta and serve.
A light, fresh and delicious summer meal. My children (ages 11 and 17) love this pasta sauce.
Tortellini With Vegetables
Cube a zucchini, saute in a tsp of olive oil with an onion if desired and a clove of minced garlic. Add fresh tomatoes (skin and seeds removed). Lightly saute. Add one jar of store bought Alfredo sauce and hot pepper flakes to taste. Serve over cheese tortellini and toss with grilled chicken or shrimp if desired. OR for a different flavor, mix in some diced ham instead.
This is a quick weeknight dinner and is loved by all the kids in the family.
Zucchini and Squash Marinara
Cut squash in half lengthwise. Slice. Saute with a bit of olive oil. Slice an onion and add to pan. When all are wilted to desired tenderness, add canned marinara sauce. You can add as little or as much sauce as your family prefers.
This is a nice side dish and can be served over rice or pasta if desired. It is a good accompaniment to Chicken Parmesan or grilled Italian sausages.
Freezer Squash
Lastly, I slice the remaining quash, blanch in boiling salted water for 3 minutes, drain and layer in freezer containers for use in the winter. These get a bit soggy but are OK for frying in bacon grease for a taste of summer or for use in soups and casseroles.
By Diana from Prospect, KY
August 12, 2009
0

found this helpful
Please share your summer (yellow) squash recipes that do NOT contain meat (or meat flavoring). Thanks!

Maryeileen from Brooklyn, OH
Answers:
Recipes Using Yellow Summer Squash
I love this site - one of my favorites. Google "yellow squash recipes" for many, MANY more. Enjoy. (08/16/2006)

By aardvark
Recipes Using Yellow Summer Squash
I just dice my yellow squash and an onion, put a little olive oil and about a tablespoon butter ,salt and pepper and bake in a 350 degree F oven about 45 minutes. stir a couple times during cooking process, I cook mine in an iron skillet and cover with foil. (08/16/2006)

By Annette
Recipes Using Yellow Summer Squash
Here is a recipe that I made myself and my husband loves it! You take yellow squash and zucchini squash cut up in slices, then add tomatillos (they are a small green tomato, I think from Mexico. I get them in the local grocery store). Slice them up too, put in a skillet with olive oil and low-fat margarine. Simmer and saute' till soft and looks like it's cooked. Then add some salt and pepper and YUM! It's so good! Hope you try it, if you do tell me if you like it, ok? (08/16/2006)

By Gepe
Penne with Summer Vegetable Ragout
These ingredients are only suggestions; use whatever is ripest, from the market or your own garden.
2 cups diced eggplant
2 sprigs fresh rosemary
1/4 cup olive oil
1 cup diced yellow squash
1 cup diced zucchini
Salt and freshly ground black pepper, to taste
1 medium bulb fennel, thinly sliced (about 1 cup)
2 cups thinly sliced red onion
6 cloves garlic, smashed
1 red bell pepper, seeded and cut into small pieces
1 yellow bell pepper, seeded and cut into small pieces
1 Tbsp. chopped fresh thyme
1 Tbsp. freshly grated orange zest
2 cups seeded, diced ripe tomatoes
1/4 cup balsamic vinegar
10 oz. penne pasta
In a large pan over high heat, saute' eggplant and rosemary in oil for 5 minutes. Add squash and zucchini, and saute' a few minutes more. Salt and pepper lightly. Add fennel, onion, and garlic, and saute' until soft. Add peppers, reduce heat, and cook for 4 minutes. Mix in thyme and orange zest; add tomatoes and vinegar. Cook for 5 minutes. Remove from heat, and adjust seasonings with salt, pepper, vinegar, or oil. Cover, and keep warm.

Cook penne in a large pot of boiling salted water, according to package instructions, until al dente. Drain. Toss with the vegetables. Serve hot or cold.

marthastewart.com
(08/16/2006)

By mef1957
Recipes Using Yellow Summer Squash
Any vegetable goes with cheese sauce! Fry them like zucchini. Use them the same as zucchini in breads and fritters (I like some onion shredded in with the squash and use a tempura type batter). You can use them instead of cucumbers in bread and butter pickles. They'll taste mostly of vinegar and onion but it will use them up! (08/17/2006)

By Carla
Squash Dressing (yellow summer squash)
In this you may use other "cream soup"
3 cups cooked squash (well drained)
1/2 cup chopped onion
1/2 cup chopped celery
1/2 cup chopped bell pepper
1 stick margarine
2 cups milk
1 small pan corn bread, baked and crumbled I use one pkg. cornbread mix
1 can cream of chicken soup
2 eggs
2 teaspoon sage
Saute' onions, celery, and pepper in margarine and add to squash. Add corn bread. Mix soup, milk and eggs and add to squash. Add sage and mix well. Put into baking dish and bake at 450 degrees F until brown.

This is a very good side dish, especially good with beans. In the summer when I have plenty of squash I cook, measure and freeze it to have to make this dish the year around.
(08/18/2006)

By me_ma
Zucchini Cheese Pie
This recipe calls for zucchini but I don't see why you couldn't substitute yellow squash or mix the two squash. This is a very yummy meatless meal.
1 pkg Pillsbury Crescent Rolls
2 tsp. mustard (prepared yellow)
1 cup grated mozzarella cheese
4 cups sliced zuchinni (tiny ones)
1/4 cup chopped onion
1 stick butter
2 tsp. parsley
1/4 tsp. salt
1/2 tsp. pepper
1/4 tsp. oregano
1/4 tsp. garlic powder
1/4 tsp. basil
2 eggs
Separate, spread and pat the crescent roll dough into a 9 inch pie plate. Spread mustard over crust. Saute zucchini, onion and parsley in butter till tender. Add spices and let cool down. Beat 2 eggs well. Add eggs and cheese to sauteed mixture and pour into pie plate. Bake 20 minutes at 375 degrees F.

Note: If you want to double this you can fix in a 9x13 inch baking dish.

Ovens vary so check to see that it is not mushy in center. It should be firm.
(08/20/2006)

By Debbie52
Recipes Using Yellow Summer Squash
Southern Style

Slice squash, put oil or bacon grease (really good!) in skillet. Chop an onion. Put onion in hot skillet, stir a bit then add the squash. Fry then cover and let steam. Clearly done when soft. Salt and Pepper and put it on the table. Love it!

If you want, crumble a slice of cooked bacon over the dish. Good Eats!! (08/21/2006)

By omajust
Recipes Using Yellow Summer Squash
Thanks for your ideas, minus the bacon! (08/22/2006)
Recipes Using Yellow Summer Squash
I make a recipe with yellow squash corn and onion saute them together in olive oil, salt and pepper to taste and that is it. (07/15/2007)

By Belinda
Recipes Using Yellow Summer Squash
This isn't exactly a recipe, but I dice the squash, add a little water, and cook it in the microwave for 4-5 minutes. Then I add it various dishes- soup, casserole, rice or pasta dish. (06/21/2008)

By SusannL